The History of Cocktail Rings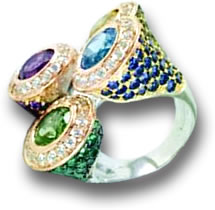 Fancy Multi-Gem Cocktail Ring
Cocktail rings were originally dramatic rings that had large center stones and were accented with pavé diamonds. However, nowadays any "statement" ring is generally called a cocktail ring. These large rings are usually worn on any finger except for the left ring finger, which is reserved for engagement and wedding rings. While some jewelry lovers may consider the cocktail ring to be somewhat gaudy, others enjoy this as the whole point of cocktail rings. In fact, the bigger and more ostentatious, the better when it comes to cocktail rings.
In order to appreciate the cocktail ring, it is essential to understand its background. The history of the cocktail ring goes back to the American prohibition era of the 1920s. During this time, alcoholic beverages were banned. This caused people to hold illegal drinking parties, including cocktail parties. The 1920s were a time of great social change, especially for women, who enjoyed greater freedom, most notably, the freedom to vote. Women's freedom was expressed in the flapper fashions of the time, which favored short hair and short skirts. Women enjoyed smoking and drinking, the freedom of the contraceptive cap, and greater spending power. Not surprisingly, the glamorous Art Deco jewelry worn in the 1920s reflected this new-found consumerism.
During the Prohibition Era, alcohol-related crime escalated, most notoriously, bootlegging led by Al Capone's gangsters. The term "bootlegging" comes from the act of concealing alcoholic drinks in boot tops. It is known that banning things seems to make the desire for them even greater. Indeed, it is thought that alcohol consumption increased to an all-time high during the later stages of prohibition in the USA. Since stronger drinks made more profit, due to their potency and easiness to manufacture, they were more prevalent. Illegal alcoholic drinks were sold in establishments called "speakeasies". Before the speakeasy, women did not usually attend public bars. But during the Roaring Twenties, women both frequented and managed these drinking places.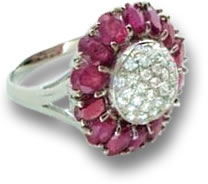 Ruby and Diamond Flower Cocktail Ring
The strong-tasting and low quality alcohol during prohibition led to creative cocktail concoctions, which rendered the drinks more palatable. Other cocktails contained imported alcohol and simply appealed to women. Some of the cocktails of the era include the Mary Pickford, the Gin Rickey, the Tom Collins, the Whiskey Sour and the Sidecar. "New Women" of the Jazz Age would sip these sumptuous cocktails at clandestine parties, clad in their most glamorous gear including oversized gemstone rings, which were the ultimate accessory of excess.
In the 1920s, the most valuable cocktail rings showcased large diamonds or other precious gemstones such as emeralds and sapphires set in platinum or gold and surrounded by pave diamonds. More interesting designs used colorful gemstones such as opal, or novel and abstract shapes.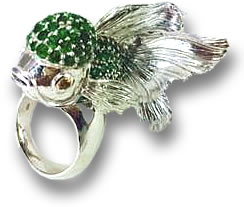 Silver Fish Design Cocktail Ring with Tsavorite & Spessartite Garnet Gems
Nowadays, the possibilities for cocktail rings are limited in some ways due to the decreasing availability of large gemstones. But this can be solved by using other gems such as quartz, tourmaline, blue topaz or citrine. These are still available in large sizes. In other ways, possibilities have increased due to innovative techniques that allow for an infinite variety of designs. For example, precious metals can be shaped into almost any form and then intricately set with micropavé colored gems. This means that large central gems are no longer necessary, since small, closely set stones can create as dramatic an effect. Cocktail ring designers can also blend colored gemstones with enameling techniques to produce various textures. Some of the most remarkable cocktail rings are designed in this way to look like natural objects, such as flowers or animals.
There has never been such a wide variety of cocktail rings, encompassing all the colors of the rainbow and virtually every style imaginable. For jewelry lovers who like to make bold statements, a cocktail ring is a wonderful addition to a jewelry collection.