Stacked Jewelry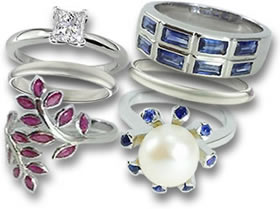 Stacked Gemstone Rings
Iconic fashion designer, Coco Chanel famously said, "Simplicity is the keynote of all true elegance" and advocated looking in the mirror and then taking off at least one piece of jewelry before leaving the house. But lately, it seems that many people have been ignoring this advice and adding more jewelry before leaving the house. Stacked jewelry tends to be concentrated on one body part, rather than all over. Therefore, several rings may be worn all at once, but other jewelry is minimal. This draws attention to one area of interest without overwhelming the whole body.
People have been stacking earrings for many years, but nowadays this is easier than ever because various types of earrings can be purchased in sets that are ready to stack. These can be clip-on, pierced earrings, or a mixture of the two. Some stacked earrings are actually a single piece in the form of an ear cuff. These give the impression of carefully stacked, separate earrings, but are one single, easy-to-wear, clip-on piece.
Other jewelry items can also be successfully stacked. When it comes to necklaces, a few delicate necklaces with varied details look good together. For example, a plain chain can be worn with other chains of different lengths; one with a small gemstone pendant and another with a cross or other embellishment. Necklaces that are not too different in thickness often work the best when worn together, and the clothing should also be taken into account. A plain background is usually a good choice, but a top with a fussy collar may be too much for several necklaces. Long, layered necklaces also look attractive dangling below a scarf in cooler weather. Another tip is that the necklaces should not swamp the neck, but should dangle at intervals to lengthen the neck. If beads are stacked, it is a good idea to wear at least one pendant to divide the beads up a little.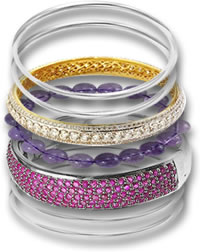 Stacked Gemstone Bracelets
Bracelets are easier to stack than necklaces, since different thicknesses and mixed metals work better. Just a few bracelets look good, as do an armful of them. Bracelets with different shapes also complement each other. For example, bangles, cuffs and chains can be mixed together. The same goes for anklets, which are like bracelets worn on the ankles. However, anklets work only with some clothing and shoe types. Stacked anklets look great worn in the summer with simple shoes or sandals, at the beach with barefoot sandals, and clothes that reveal at least part of the leg.
Mixed metals also work on stacked rings. Part of the knack of stacking rings is to leave one or two fingers bare. Stacked rings can have different shapes and textures, or can be very similar rings worn together or on several fingers. Knuckle rings and midi rings also add interest to fingers. It is a good idea to wear just one oversized ring and keep the others smaller to avoid discomfort. Mixing and matching works with rings; different types can look good together. For example, between the finger rings, plain bands and gemstone rings can be mixed, with large gems or closely-set melee stones.
While Coco Chanel may have advised jewelry stackers to tone it down, she embraced costume jewelry and accessories that were wearable by all. Indeed, Chanel mixed and matched both affordable materials and fine jewelry, making her a trailblazer. She was known for wearing several strands of faux pearls. While Chanel embodied simple elegance, modern style calls for something a little more interesting and unique.