A Few Famous Pearl Necklaces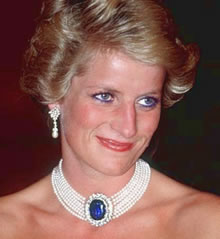 Princess Diana Wearing a Pearl Choker
The queen of gems, the pearl, prized since ancient Egyptian times, has adorned royalty for centuries. Pearl necklaces predate the glamour of Coco Chanel and Jackie Kennedy. However, the aforementioned fashion icons made them popular, and both cultured pearls and imitation pearls allowed the queen of gems to become available to the masses. Although Jackie Onassis owned a wonderful collection of fine jewelry, according to some sources, she also loved costume jewelry, and many of her pearls were apparently not the real thing. Famous Hollywood actress, Audrey Hepburn, wore an iconic pearl necklace with a large diamond brooch when she played Holly Golightly in "Breakfast at Tiffany's". This necklace comprised four strands of faux pearls and a crystal brooch.
As for the real thing, one of the most famous pearl necklaces is the one containing La Peregrina Pearl, which was owned by Elizabeth Taylor, after passing through the hands of various monarchs including Queen Mary. Queen Mary's successor, Elizabeth I of Britain, had an impressive collection of pearls. Many of her portraits show her wearing several strings of pearls. The pearls are said to symbolize purity. Later, Queen Alexandra also wore several strands of pearls at once in the form of chokers. Apparently, this was intended to cover a scar, but resulted in starting a trend. The personal jewel collection of the current British reigning monarch, Queen Elizabeth II, includes Queen Alexandra's Necklace, which features several large pearl drops and round pearls surrounded by diamond clusters.

The Empress Marie Feodorovna Necklace
Also owned by the current queen is the Empress Marie Feodorovna of Russia Necklace, which is a four-strand choker, with diamond-studded vertical bars and a blue sapphire clasp. The choker was originally bought by Queen Mary. A Cartier single strand pearl and diamond necklace that previously belonged to Queen Mary was bought by Calvin Klein in 1987 for a record $733,333. The necklace was later sold in 2007 for over $3 million. Queen Elizabeth II has inherited a great deal of remarkable pearl jewelry and the Queen Anne and Queen Caroline Pearl Necklaces are part of her collection. These are a pair of two pearl necklaces, each comprised of a single row of large graduated pearls. They were presented to the Queen by her father, as a wedding gift, which she wore on her wedding day.
An American-style icon and owner of a famous sapphire necklace, Countess Mona von Bismarck, owned a valuable two-strand pearl necklace, thought to have been designed by Cartier. The Countess was voted "Best Dressed Woman of the World" in 1933. It is thought that the pearls are natural, due to their lack of uniformity. The Countess received her regal title from her fourth and penultimate husband, Count Albrecht von Bismarck-Schonhausen. However, it is believed that her priceless jewels were acquired during her previous marriage to Harrison Williams, when the newlywed couple traveled the world on his luxurious yacht, "The Warrior". Her last marriage took place when she was 73 years old, to her dead husband's doctor, who later died in an accident. Her pearl necklace was sold at Sotheby's Geneva in 1986, for $410,000. Countess Von Bismarck's estate was used, according to her wishes, to establish a charitable foundation.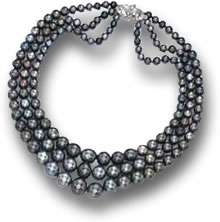 Nina Dyer Three-Strand Black Pearl Necklace
A more unique and intriguing pearl necklace is the Three Strand Black Pearl Necklace which was owned by Anglo-Indian model, Nina Dyer. The necklace was designed by Cartier and features 151 black pearls in total, which are mostly spherical and perfectly matched. The necklace could have been a gift from one of Nina's extremely wealthy two husbands, Baron Heinrich Thyssen-Bornemisza, who also gave her a Caribbean Island, or Prince Sadruddin Aga Khan, who presented her with an incredible collection of jewels. Unfortunately, neither of the marriages lasted. Sadly, Nina took an overdose in 1965. After her death, the necklace was auctioned by Christie's Geneva, and then, in 1997, it was auctioned once again and reached almost $1 million. The buyer is unknown. In her will, Nina expressed wishes that her entire estate should be given to cat and dog homes in Europe or be used to preserve African or Asian wildlife.
These are just a few natural pearl necklaces that have been loved and treasured by their owners. Each has a timeless beauty and value that can be appreciated by generations of women. These gems will never lose their appeal, value or luster. As they say, "girls love pearls".