Abalone Pearls; Rare Iridescent Treasures of the Sea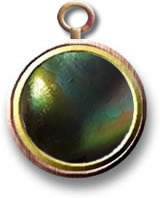 Abalone Pearl Pendant
The abalone is a type of marine gastropod (sea snail) of the genus Haliotis (from the Greek for "sea ear") with an ear-shaped shell that has a row of holes on the outermost edge. Due to their Latin name and shape, they are also known as "ear shells". Like other marine gastropods, the abalone produces pearls. Natural abalone pearls are extremely rare. The color of these rare pearls reflects the color of the shell interior. Like the shell interior of abalone, the pearls are various colors, such as cream, blue, green, red and purple. This is partly due to the color of the material that the abalone feed on. Iridescent abalone pearls with blue, violet and green hues are most desired. Spherical abalone pearls and other symmetrical shapes are incredibly rare, and most natural abalone pearls are horn-shaped.
There are around one hundred species of abalone. The interior of some, including Haliotis rufescens, (red abalone) and particularly Haliotis iris (also called "paua, blackfoot paua or rainbow abalone), have a colorful iridescence. The inner shell coating is made of nacre and is often used for making mother-of-pearl ornaments. In fact, abalone mother-of-pearl has been used for thousands of years, evidence of which has been found in archeological sites. The Maori of New Zealand have used abalone mother-of-pearl in their traditional art for centuries, and polished abalone shells and abalone mother-of-pearl ornaments are available as souvenirs in New Zealand.
Haliotis rufescens, (the red abalone) that is native to the Pacific Coast, is the largest species of abalone in the world and can grow up to a foot long. Abalones from this region of the world have known to yield large pearls. According to the Guinness World Records, the largest abalone pearl in the world is a 718.50-carat iridescent baroque, horn-shaped abalone pearl. It measures 14 by 8 cm. The pearl was found by American, Dat Vi Truong, in Mendocino, California, in 2010. Wesley Rankin's "Big Pink" 469.13-carat baroque abalone pearl, also from California, held the previous record. Pacific abalone pearls have been treasured and traded for thousands of years by Native American tribes.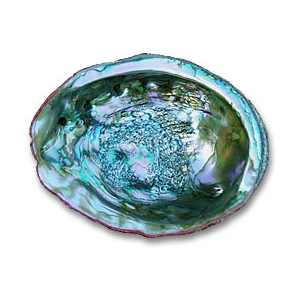 Iridescent Abalone Shell
Culturing abalone pearls is difficult because abalones are very sensitive creatures. They do not respond well to being handled, are sensitive to temperature and bleed to death if their flesh is pierced. Greater success has been realized with the culturing of blister pearls, rather than whole spherical pearls. Therefore, cultured abalone pearls tend not to be full spheres, but half-spheres (sold as "mabé pearls" or "half-pearls"). Some of these are assembled with a mother-of-pearl backing and then buffed to enhance the luster. Assembled abalone pearls must be treated with care when used in jewelry, to avoid the separation of the layers. Blister abalone pearls (pearls that are attached to the inside of the shell) have been cultured in Paua, New Zealand, California, USA, and Japan.
Haliotis gigantea (giant abalone, awabi or Siebold's abalone) come from the waters that surround Japan and Korea. The meat of abalone is a delicacy in Japan and many other parts of the world, especially China and Hong Kong, and is believed to have medicinal properties and aphrodisiac effects. Japan has exported dried abalone to China since the Qing Dynasty. In Japan and China, abalone is believed to be good for the eyes. It has been highly prized for centuries. The samurai of Japan believed that abalone was revitalizing.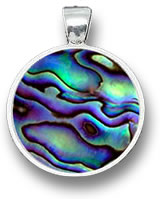 Silver and Abalone Shell Necklace Pendant
The "ama" (women of the sea) are Japanese ladies who traditionally free-dive in cold water to depths up to 25 meters and hold their breath for up to 2 minutes at a time to collect sea creatures. The practice dates back at least 1,000 years, but both the abalone and the ama divers are now in decline. There are very few of these incredible women in existence today and, not surprisingly, some of them are elderly. Their healthy lifestyle has enabled them to live for many years. However, these senior citizens are not frail, and many continue to collect abalone, seaweed and other marine treasures for up to 2 hours per day. Though the ama mainly harvest edible items, some have been lucky enough to also find pearls, which, along with Mikimoto Kokichi's use of ama divers has resulted in the romantic name "pearl divers".
The abalone is treasured by the ama and many other people all over the globe in its entirety. It provides luxurious sustenance, nutrients, a colorful shell and the ultimate treasure; rare and beautiful, lustrous pearls.