The King of Pop's Rocks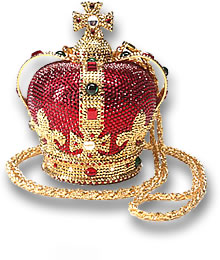 Replica of Michael Jackson's Crown-Shaped Minaudiere
Often regarded as "The King of Pop", Michael Jackson often wore custom jewelry onstage, such as his rhinestone-encrusted costumes, a single jeweled glove and clothing covered in gold or crystal beads. He was even said to have had a pair of gold-plated pants, which he wore during the HIStory tour. Michael Jackson liked to wear bracelets and rings, but he was better known for his elaborate stage costumes, including jackets embellished with silver studs. During his Victory Tour, he wore a custom-made shirt studded with Swarovski crystals on one half and seed pearls on the other.
The King of Pop was said by friends to be extremely generous, often presenting people he was fond of with lavish gifts. He gave his friend, Elizabeth Taylor several pieces of jewelry, including a platinum and diamond bracelet, which sold at Christies after her death, for $194,500. Among other gifts he gave her was a diamond and emerald necklace. It was once reported that Michael Jackson declared he would buy jewelry only for three women; Elizabeth Taylor, his mother or any girl he was interested in at the time.
Not content with a simple lifestyle, Michael Jackson lived like a true king on his Neverland ranch. He had a gold decorative coat of arms on the gate that was reportedly covered in gold leaf. Other golden items owned by him included a gold bust in his own image, a crown, a throne and a regal red velvet cape. He also owned gold-plated sunglasses, a crown brooch with multicolored gemstones, a crown-shaped, jeweled minaudière (see, top image) and jeweled epaulettes.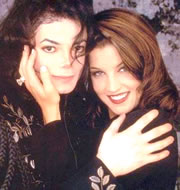 Michael Jackson and Lisa Marie Presley Engagement
Despite his wealth and fame, Michael Jackson's life was not without its ups and downs. While he was filming a Pepsi commercial in 1984, his hair caught fire. His charred hair was collected from the floor and bought by a hair collector called John Reznikoff, who later arranged with Life Gems to create synthetic diamonds out of the carbon content of the charred hair. Upon his engagement to Lisa Marie Presley, Michael Jackson bought her a 10 carat diamond ring. However, the marriage was short-lived. His second marriage to Debbie Rowe, the mother of two of his children, was a much quieter affair, but also did not last.
Michael Jackson faced a lot of negative publicity due to his changing appearance and his intimate relationships with children. There were also rumors that he suffered from financial trouble and an addiction to prescription drugs. It was when he was planning a comeback tour in June 2009 that he suddenly died from heart failure and acute sedative intoxication at the age of 50. The King of Pop was buried in the style in which he lived. The memorial began with his children placing a golden crown on his coffin, which was 14K gold-plated bronze and he was dressed in a cream jacket decorated with pearls and beads, and a gold belt. According to one newspaper, his daughter, Paris, wrapped one half of a heart necklace pendant around his wrist and decorated his body with colored stones. He is sadly missed by his children and fans all over the world.