The Osbourne Family Jewels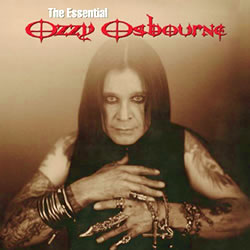 Ozzy Osbourne Album Cover Showing His Jewelry
The Osbourne family is known for starring in the reality TV MTV series, "The Osbournes", heavy metal music, talent shows, TV presenting, fashion lines and so on. Probably the best-known member of the family is Ozzy Osbourne, the patriarch, who has has a long and successful career in rock music, with Black Sabbath and then solo. Ozzy Osbourne is partial to jewelry, and can often be seen wearing several rings, necklaces, bracelets and a luxury watch, all at once. He is known for his rock star lifestyle of excess and his struggle with addiction. In Ozzy Osbourne's young and wild days, he did many crazy things, one of which was spending almost half a million dollars on pearls while in Japan. Apparently, the rock star was intoxicated when he contacted the pearl seller, but later received an angry phone call from his accountant about his spending spree.
The Osbournes have been quite unlucky with holding on to their jewelry; both Sharon and Jack Osbourne have had extremely valuable items stolen. In 2004, several pieces of jewelry were stolen from the Osbournes' UK home. Ozzy awoke in the small hours to use the bathroom and found one of the two thieves taking Sharon's jewelry from the bedside table. Ozzy grabbed the burglar, but could not keep a firm grip, and the burglar escaped by jumping out of a window with the jewels. The stolen items included a diamond daisy chain necklace, a pearl necklace, a 10-carat Tiffany diamond wedding ring and a 24 carat blue sapphire ring. Sharon Osbourne was later happily reunited with her wedding ring after her daughter Kelly spotted it on a UK Crime show.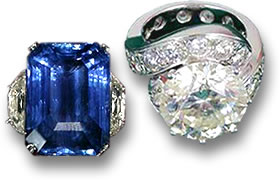 Blue Sapphire Ring and Reclaimed Tiffany Diamond Wedding Ring
Shortly after his parents' jewelry was stolen, Jack Osborne was a victim of crime, when jewelry worth over $380,000 was stolen from one of his suitcases during a flight from LA to London. The stolen jewelry included valuable watches. Jack married to Lisa Stelly in 2012 and they have a daughter named Pearl. Jack has presented travel, sports and paranormal investigation shows.
In 2012, Sharon Osbourne revealed her own jewelry collection that was marketed on HSN (Home Shopping Network). The collection included crosses, angel wings and simulated gems such as cubic zirconia. News reports stated that the jewelry sold out extremely quickly. Like her mother, Kelly is fond of her gems and has worn some enviable jewels to celebrity events. Kelly caused some controversy when she wore a $250,000 black diamond nail polish to the 2012 Emmys. Although she did not pay for it herself, some fans were not amused by the excess. Not so many people commented on the cocktail ring she wore, containing an enormous red gemstone. At the 2013 Golden Globes, she wore a pair of $3 million emerald drop earrings and an emerald cocktail ring by Jacob & Co. In true Osbourne spirit, Kelly had her 2 extracted wisdom teeth gold plated; one was for her on her 30th birthday and one for her dad on his 66th birthday.
The Osbournes certainly seem successful, popular and unique. Whether you are a fan of the Osbournes or not, their jewels can be admired by all gemstone jewelry lovers.