Rocks for Rockers Part II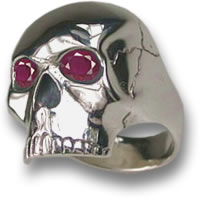 Silver Skull Ring with Ruby Eyes
Rock music and style branched off into many sub-genres since its emergence in the 1940s and 50s, from rock and roll, to British mods and rockers, psychedelic rock, glam rock and punk rock. Another branch of rock is heavy metal, which developed during the 1960s and 1970s in the US and the UK. This was often a more aggressive form of rock, pioneered by the likes of Black Sabbath, Alice Cooper and Led Zeppelin.
Chain necklaces and pendants were popular with heavy metal musicians. Led Zeppelin's Robert Plant often wore his shirt wide open, with a chain or medallion resting on his bare chest. Other bare-chested chain-wearing artists included Freddie Mercury of Queen; one of the biggest British rock bands ever. Freddie mercury also wore silver bangles on the cover of the "Queen II" album, and a silver studded armlet during his white-vest days. Queen had an eclectic, often operatic style that was not serious, hard-edged rock, but was accessible to a broad spectrum of fans. In fact, "Bohemian Rhapsody" remained at number one in the UK Singles Charts for nine weeks.
Harder rock bands such as Black Sabbath favored occult symbols and wore large crosses on silver chains. Both Black Sabbath and Alice Cooper were inspired by horror; Alice Cooper staged elaborate performances that aimed to shock the audience and liked to wear snakes alongside his Celtic cross necklace, silver rings and skull motifs. Ozzy Osbourne shocked many when he bit the head off a bat during a live performance in 1982. He apparently thought the bat was made of rubber and was as surprised as the audience. In his later years, Ozzy took to wearing gold, in the form of several large necklaces, including a protective eye pendant, rings, such as armour-style jointed rings and skull rings, bracelets and luxury watches. His wife, Sharon Osbourne also owns a fabulous jewelry collection, part of which was stolen from their house in 2004. The stolen jewelry included a 24-carat blue sapphire "swimming pool" ring and a 10-carat Tiffany diamond wedding ring that was later returned to her by police.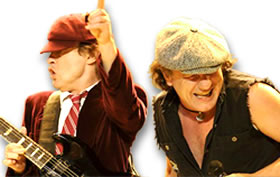 ACDC's Brian Johnson Wearing His Signature Necklace Pendant and Angus Young in His Schoolboy Uniform
Australian pioneers of rock considered one of the greatest rock bands of all time, ACDC, introduced a lightning bolt motif to rock jewelry. The lightning bolt was their logo, suggesting an element of danger and the powerful energy of their music. Their album and song titles also indicated danger, such as "High Voltage", "The Razors Edge" and "Black Ice". Some band members wore jewelry items such as leather bracelets and leather necklaces with silver pendants. However, the band members were not great wearers of jewelry, preferring, in the case of Angus Young, to wear a schoolboy uniform and a devil's horn headband. Part of his act was performing a striptease while on stage and then mooning the audience. In recent years, ACDC have been extremely successful in merchandising, selling a great deal of wristbands, buttons, patches, stickers and keychains. Many heavy metal bands sell accessories, such as T-shirts and patches that can be sewn onto denim jackets. Denim jackets adorned with heavy metal patches were popular during the 1980s. Such accessories used to be sold at gigs, but can now be purchased online and encompass everything a rocker could wish for.

Steven Tyler's Jewelry
Legendary American rock band, Aerosmith is one of the best-selling American rock bands of all time. Frontman, Steven Tyler gets his rocks on in many forms, such as beaded turquoise necklaces, colored gemstone bracelets, rings and so on. He also wears feather earrings and layers his jewelry. Skull bracelets and rings have an added bling factor of red ruby stones for the eyes. A 1980s heavy metal band who used skull motifs is Guns N Roses. In fact, Guns N Roses embraced skulls, crosses, guns, and, of course, roses. Skulls and roses had been used earlier by the peace-loving, community-minded rock band, Grateful Dead. The Guns N Roses logo referred to the surnames of band members and also presents a nice juxtaposition of destruction and love. Axl Rose and Slash perfected the bare-chested medallion look, along with layered leather and chain bracelets. Slash had the added interest of a silver nose hoop and a top hat.
Another important 1980s rock band are the Red Hot Chili Peppers, who took inspiration from funk, punk and other genres. This branded them "alternative". They took bare-chestedness to another level when they became known for performing in only socks, worn over their members. Like their clothing, jewelry and accessories worn by the Red Hot Chili Peppers are few and far between, though they wore body art in the form of tattoos. Nirvana marked the development of "grunge" (also called the "Seattle sound"), a sub-genre of rock that gets its name from the distorted guitar sound and unkempt appearance of artists. Like punk, grunge brought rock back to basics, and the grunge style reflected this, with minimal accessories and simple non-name branded clothes.
Into the 1980s and 90s, rockers have experimented with body jewelry, such as nipple and nose piercings. These are worn by rockers such as Dave Navarro of Jane's Addiction/Red hot Chili Peppers and Tommy Lee of Mötley Crüe, along with his skull rings and pendants. Rock continues into the 2000s with bands like The White Stripes, the Foo Fighters, Franz Ferdinand, Marilyn Manson and surviving icons such as ACDC and The Rolling Stones. Many of these rockers continue to live fast, cause controversy and rock their style.