Punk Style and Jewelry (Is Not Dead)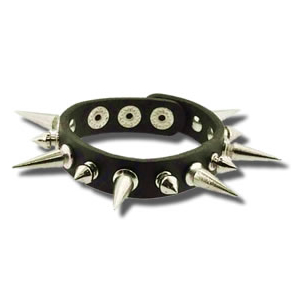 Dog Collar Choker with Silver Spikes
Punk is a musical genre and subculture that emerged in the 1970s in the West. It is characterized by anti-establishmentarianism, individual freedom and anarchism. Aspects of punk style include studs, dyed hair, body jewelry, BDSM fashion, leather, chains and pins. Original punk style used everyday objects as decorations, such as safety pins and even razor blades. Punks also took clothes and customized them with rips, graffiti, chains or studs, and used innovative juxtapositions, such as a ballet tutu with masculine boots. The intention was to deliberately shock.
It is said that the punk movement was largely anti-fashion. In fact, one of the pioneers of punk, John Lydon (best-known by his stage name, Johnny Rotten), once wore a pink rubbish bag as a dress. Therefore, it is ironic that punk later became a fashion trend, as seen in items such as Karl Lagerfield's creations for Chanel in 2011. Yet, irony is something that the punk scene enjoyed. This can be seen in the use of the British flag and the Sex Pistols' song, "God Save the Queen".
Vivienne Westwood is a British fashion designer who made punk fashion mainstream. Before she became a world-renowned fashion icon, Westwood was a primary school teacher who made her own jewelry and sold it at a market stall in Portobello Road in London. Westwood later met Malcolm McLaren (who became manager of the Sex Pistols), and together they opened a fashion outlet. In 1975, they began to sell homemade fetish wear and T-shirts such as the iconic "God Save the Queen" design, which has been duplicated to this day. The style later evolved in various ways as Westwood's collections changed. Nowadays, Westwood's collections are more upscale, such as the "Jordan Collection" with pearls and yellow gold safety pins and paper clips. Other items are skeletons in rose gold, skull studs and rings in the style of armour.


Rose Gold & Pearl Safety Pin Pendant
"Princess of Punk", Zandra Rhodes is another pioneer of punk fashion, and brought upmarket punk chic to wealthy fashion-forward customers. She decorated clothing with gold and silver chains and safety pins. Zandra Rhodes is known for having brightly colored hair and wearing bold, theatrical-style makeup. She has produced high-end jewelry that features punk style safety pins and spikes. This is said to have inspired a Versace dress held together by gold safety pins, worn by Liz Hurley to the premiere of Four Weddings and a Funeral. Her jewelry incorporates the same motifs. Her "Punk Chic" collection includes silver safety pin brooches with pink gemstones and white gold safety pin brooches with aquamarine and blue topaz.
Jean-Paul Gaultier is a French fashion designer who incorporated street fashion into his collections and caused a stir with his skirts for men, bondage-wear and use of unconventional models, such as larger models, older models and models with tattoos and body jewelry. The London punk scene attracted him and Vivienne Westwood and Malcolm McLaren's shop influenced his designs. Jean-Paul Gaultier's Spring 2011 collection was a marriage of punk and cancan dance style with prominent mohawk hair styles, with names such as "Vicious" and "I am an anarchist".
Damien Hirst is a contemporary artist and jewelry designer who has confessed to being "a punk at heart" and has taken some inspiration for his work from the punk style. Hirst collaborated with Alexander McQueen to design a collection of scarves. Although Hirst was too young to see the evolution of punk culture, he has incorporated the style into his jewelry, clothing and art. Hirst's 2007 piece of art known as, "For the Love of God" is a platinum replica of a human skull, with its original teeth. The skull is covered with thousands of glittering diamonds, (8,601, to be exact) with the crowning glory a large, pear-shaped pink diamond. The skull failed to sell at auction, but later sold for $100 million. It is considered to be the most expensive piece of contemporary work. Another of Hirst's similar pieces is a platinum cast of a 19 century infant's skull covered in pavé set pink and white diamonds. The title is "For Heaven's Sake". Artist, John LeKay stated that some of Hirst's ideas came from LeKay's own work, such as a skull covered in crystal quartz, entitled Spiritus Callidus.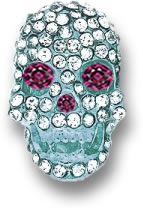 Skull with Diamond & Rhodolite Garnet
The late Alexander McQueen brought a new approach to punk fashion in the 1990s and beyond. He took fashion shows to new levels with restrictive body jewelry inspired by alternative culture and a bold depiction of Joel-Peter Witkin's bizarre photo, "Sanitarium". While he was influenced by various historical periods and aspects of life and culture, McQueen's tendency to challenge established norms could be seen as punky. His last collection was punk-inspired and his jewelry range often featured skull motifs.
Some true punks believe that it should be a philosophy that is felt, rather than worn as a fashion choice. Therefore, incorporating and wearing punk style as a badge of "cool", without any understanding of the culture can have the opposite effect. Yet, some would say that fashion is influenced by art and culture, and should be fun. If society in general is not "allowed" to treat punk as a trend, it could end up designated to museums rather than mainstream culture. Thankfully, as The Exploited famously named their 1981 album, Punks Not Dead.