The Best Gem and Jewelry Trade Shows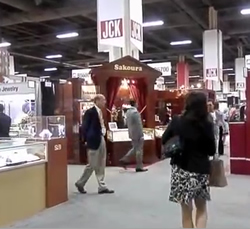 JCK Las Vegas Jewelry Show
Every year, gem and jewelry events are held all around the world. Trade shows and fairs can range from small local events to luxurious international premier events. For those in the gem and jewelry trade, attending events is usually a part of doing business, but it isn't all work and no play. Jewelry fairs can also be fun and exciting, especially for those who have a real passion for their profession. So, for many gem suppliers, manufacturers and jewelry retailers, attending trade shows can be the highlight of their year. The trade events truly bring the industry together, providing an opportunity for consumers to meet retailers; retailers to meet wholesalers; and wholesalers to meet manufacturers. In a single trade show venue, everyone involved from the mine to the market can network and showcase the best of the best, from the latest jewelry trends and designs to new and exciting gem finds.
Jewelry fairs provide an opportunity to meet industry leaders face-to-face. Comparable to the Grammys and Oscars for Hollywood's A-listers, each gem and jewelry show is a platform of opportunity, whether the agenda is to buy, sell or just network with other professionals. But of the thousands of events hosted every year, which gem and jewelry events are simply not to be missed? It can be tough deciding on which jewelry fair to attend. Since it is not feasible to attend them all, industry professionals have to be selective.
Narrowing it down to just the biggest and main events, here are some of the most important annual gem and jewelry events that you won't want to miss!
India International Jewelry Show (IIJS)
The IIJS is considered to be India's most spectacular jewelry event of the year. It is held annually in Mumbai, the capital city of Maharashtra State, and is organized by The Gem & Jewellery Export Promotion Council of India. The show features almost 1000 exhibitors and attracts visitors from 875 cities in India. In 2013, registered attendees included industry professionals from 85 countries. The Bombay Exhibition Centre encompasses over 46,000 square meters and inside the venue, visitors can find everything jewelry-related, including loose diamonds, colored stones, machinery and supplies for jewelry production.
HKTDC Hong Kong International Jewellery Show
HKTDC Hong Kong Jewelry Show
The Hong Kong International Jewellery Show is one of Asia's most anticipated industry events. Organized by the Hong Kong Trade Development Council (HKTDC), and held in Hong Kong's Convention and Exhibition Centre (HKCEC), this event brings together almost 4000 exhibitors. In 2014, the show attracted visitors from 145 countries, with over 70,000 attendees. At the HKTDC Jewelry Show, there is no shortage of gems and jewelry, as well as production tools and supplies. In 2014, HKTDC expanded the show to occupy two venues in response to the increasing demand for more exhibitors and space. Finished jewelry is exhibited at the HKCEC, while loose and rough materials are showcased at the HK International Diamond, Gem & Pearl Show in the AsiaWorld-Expo.
JCK Las Vegas
The JCK Las Vegas gem and jewelry show is the USA's leading jewelry event. Held annually in the Mandalay Bay Resort and Casino in Las Vegas, Nevada, the spectacular event attracted over 20,000 visitors last year, and featured around 3000 exhibitors from over 22 different countries. The extraordinary event is hosted by the Jewelers Circular Keystone (JCK) Magazine, which is considered to be America's industry authority when it comes to jewelry. At JCK, you'll find the world's biggest names in jewelry, gems and watches. This is America's premier jewelry show and should not be missed.
Tucson Gem, Mineral & Fossil
The Tucson show is actually a combination of many different shows over a 2 week period and is held in America's Tucson, Arizona. It attracts over 55,000 visitors and is one of the world's biggest international gem and mineral shows. The main show event takes place in the Tucson Convention Center in downtown Tucson, while across the city, there are smaller events taking place at over 40 different sites. The local organization known as the Tucson Gem and Mineral Society began the annual show over 60 years ago for all those interested in gems, minerals, geology, gemology and anything jewelry-related. Today, Tucson offers everything including fossils and minerals, rough stones, cut stones and finished jewelry. Since recent years, gemstone beads and local native jewelry has become increasingly popular and the list of exhibitors grows every year. Indeed, the Tucson events are ranked among the favorites for America's jewelry professionals.
Baselworld Watch and Jewelry Show
Baselworld
Baselworld is Europe's answer to America's JCK Vegas. Held annually in Basel, Switzerland, the phenomenal event features watches, gems and jewelry from the world's leading and most prestigious designers. The event attracts almost 100,000 visitors and over 2000 exhibitors from at least 45 different countries. In 1999, the Congress Center of Basel expanded to accommodate the annual event, adding an additional 36,000 square meters to its floor space, and in 2004, a new hall complex was constructed which doubled the original venue size to 160,000 square meters, making it one of the largest exhibition venues in the world. Originally, Baselworld was focused on clocks and watches, but today, the event showcases everything, including loose and raw gems, fine jewelry and of course timepieces, which is certainly one of Switzerland's specialties.
The above list of gem and jewelry events is nowhere near comprehensive and only represents a fraction of the top jewelry fairs held around the world. There are many other important industry events held annually across Europe, Asia, Australia, Africa, and North and South America. Other notable shows include the Vicenzaoro Gold and Jewelry Fair in Italy; the UK's Birmingham Jewelry Fair and the International Jewellery London show; the International Jewelry Tokyo Show (IJT) in Japan; Bangkok Gems and Jewelry Fair in Thailand; Beijing International Jewellery Fair in China; the GLDA Jewelry Show in Las Vegas; the American Gem Trade Association Gem Fair (AGTA); the Jewelers International Showcase Show (JIS) in Miami; and the Jewelers Association (JA) Show in New York.