GemSelect September 2014 Newsletter - Dragon City; Gems in Hong Kong
| | |
| --- | --- |
| | Hong Kong |
In Cantonese, "Kowloon", the mainland part of the city of Kong Hong, means "nine dragons". The nine dragons are the eight mountains of Hong Kong and Chinese Emperor Bing of the Sung Dynasty. A legend states that when Emperor Bing was pursued by the Mongol leader, Kublai Khan in 1276, he sought refuge in the area that makes up modern day Hong Kong. Emperor Bing was protected by the eight mountain peaks that surrounded the area, so decided to call it "Eight Dragons", since it was believed that a dragon resides in each mountain. However, a servant pointed out that Emperor Bing was also thought to be a dragon, making a total of nine dragons.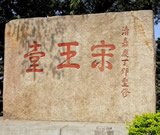 "Sung Wong Toi"
There is no evidence to prove or disprove this story, but there is an ancient rock carving that records the imperial visit, known as "Sung Wong Toi" (the words of the inscription, which mean "terrace of the Sung kings). The rectangular rock was originally part of a huge boulder on the seashore, but during the Japanese occupation, the boulder was blasted to clear more space for Kai Tak Airport. Luckily, the inscription remained intact and after the war, the inscription was cut from the boulder and placed in Sung Wong Toi Garden.
The number nine has special significance in Chinese culture, and is often associated with dragons. There are said to be nine attributes of Chinese dragons, nine dragon types and so on. Nine was also the imperial number, with only the highest ranking officials being permitted to wear robes decorated with nine dragons. Therefore, places that are called "Nine Dragons" are considered to be particularly auspicious. There are several such-named places in China. Furthermore, it is a taboo to deface dragon symbols.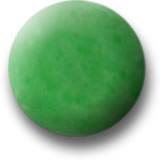 Jade
Another auspicious item in Chinese culture is jade. Jade is a very important material in China and it has been used by the Chinese for over 12000 years. It had a ceremonial significance and was thought to facilitate communication between the human and spirit world. Jade was also thought by the Chinese to provide protection for the body and spirit of both the living and the dead. Jade was also displayed in the form of everyday items, ornaments and jewelry to imply status. The Chinese named jade "yu", meaning "heavenly stone", "imperial gem" or "precious gem", and in China, jadeite symbolizes goodness, beauty and purity. In China, jade is considered to be so precious that there is a Chinese saying that goes, "gold is valuable; jade is priceless".
The Chinese often carve jade into traditional figures that bring further meaning, such as dragons, which are symbols of power and hope. Dragons were the jade ornaments favored by Chinese emperors and empresses. In 1971, a semi-circular jade dragon was discovered in the Inner Mongolia Autonomous Region, which is dated to 6000-5000 BC. It is displayed in the National Museum of Chinese History in Beijing.
The Chinese love of jade and belief in the healing and protective powers of jade is so deeply ingrained in the culture that it survives to this day. Many Chinese people continue to wear jade jewelry and give jade jewelry to loved ones. This means that the gemstone trade in Hong Kong is dominated by the jade market in Kowloon, which is known as "Jade Street". A three ton jade stone serves as a landmark for this area.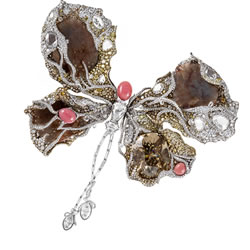 Ballerina Butterfly Brooch
Apart from the jade market, Hong Kong also has a wholesale gemstone and bead market that offers a wide variety of gemstones. With the expansion of the Chinese middle-class, the market for other colored gemstones in Hong Kong is growing. Although most of the ruby and sapphire that is sold in Hong Kong comes from Thailand, Hong Kong is a center for fine consumer goods, including jewelry and hosts several important international gemstone and jewelry trade shows, such as Hong Kong Jewellery and Gem Fair and Hong Kong International Jewellery Show. Christie's and Sotheby's have salerooms and offices located in Hong Kong, and hold 'Magnificent Jewels' auctions. On October 7th 2014, Sotheby's Hong Kong will be auctioning a one of a kind "Ballerina Butterfly Brooch", designed by Cindy Chao and Sarah Jessica Parker. The beautiful brooch features a 26.27 carat, cushion-cut cognac diamond, 3 conch pearls and 3 rough diamond slices in addition to a multitude of white and colored diamonds. The proceeds will go to the New York City Ballet. The brooch is expected to achieve between $750,000 and $950,000.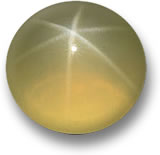 Star Lemon Quartz
Star lemon quartz, as the name suggests, is a lemon-yellow type of quartz that displays a star. In the trade, the star effect is known as "asterism", which is the result of the alignment of rutile needles within the gemstone. The best way to see the asterism is by shining a single source of light, such as a flashlight, directly above the gemstone. As the light is moved back and forth, the rays of the star will move across the gemstone. Star lemon quartz does not exhibit a very sharp star, but it has an attractive soft yellow color that is not often seen in star gemstones. Quartz has good hardness, which makes it a durable gemstone that is suitable for any kind of jewelry design. However, in order to see the star, it is recommended that star gemstones be fashioned into jewelry that is likely to catch direct light, such as rings.
Pearl Bead
Pearl is an organic gemstone that forms in bivalve molluscs. Natural pearls are incredibly rare, so they have been cultured to allow many people to enjoy them. The first person to do this was a Japanese man called Mikimoto Kokichi. Pearls are known for their pearly luster and a natural pearl can be identified by its slightly rough surface texture. The best pearls are regular spheres or symmetrical drop shapes, however, some people like misshapen pearls known as "baroque pearls". Since pearls are available in a wide variety of colors, there is a pearl to suit every skin tone. Pearls make beautiful jewelry but need to some care, since they are relatively soft and sensitive to chemicals. Pearls should always be put on last and taken off first when dressing, to avoid exposure to perfume and suchlike. Pearls are the birthstones for June and are also given for the third and thirtieth years of marriage.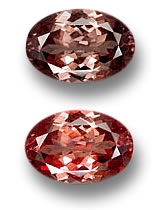 Color-Change Garnet
Color-change garnet is one of the lesser-known members of the vast group of gemstones known as the garnets. The change of color can be seen in this gemstone when viewed in daylight (top image) and incandescent light (lower image). Color-change gemstones exhibit a rare phenomenon that is caused by having two light transmission windows of approximately the same size. Gemstones usually have one light transmission window that causes them to have a single color. Color-change should not be mistaken for pleochroism, which means the ability to display different colors when viewed along different axes. Color-change gemstones exhibit different colors under different lighting, regardless of the angle that they are viewed at. Color-change garnets often show a dramatic shift of color. Garnets make ideal jewelry gemstones due to their brilliance, excellent hardness and durability. Garnet is the birthstone for January, the zodiacal stone for the sign of Aquarius and the gemstone used to celebrate two years of marriage.
On October 7th in Hong Kong, Sotheby's will be auctioning an 8.41 carat pear-shaped purple-pink diamond in its Magnificent Jewels and Jadeite Autumn sale. It is said that the gemstone could reach over $15 million. The price per carat has been estimated at a record $1.8 million. The highest price per carat to date for a fancy vivid pink diamond is $2.2 million, achieved by Christie's in Hong Kong in 2009.
Milenyum Mining Ltd, (MML) has been granted trademarks for a gemstone that it calls CSARITE®. This gemstone was previously marketed by MML as "zultanite", and is more widely known as color-change diaspore. Color-change diaspore is becoming an increasingly popular gemstone and is sourced only from the MML-owned mine located in the mountains of Anatolia, Turkey. The Courtney Collection® by Erica Courtney will be showcasing CSARITE® at the September Hong Kong Jewellery & Gem Fair.
| | | | |
| --- | --- | --- | --- |
| Event Name | Location | Venue | Dates |
| BIJORHCA Paris - The International Fine & Fashion Jewellery Show | France | Paris Porte de Versailles, Paris, France | September 5 - 8, 2014 |
| Delhi Jewellery & Gem Fair | India | Pragati Maidan, New Delhi, India | September 6 - 8, 2014 |
| Midora Leipzig 2014 | Germany | Messegelande Leipzig, Germany | September 6 - 8, 2014 |
| Denver Coliseum Mineral Fossil Gem & Jewelry Show 2014 | USA | Denver Coliseum, Denver, USA | September 6 - 14, 2014 |
| 54th Bangkok Gems & Jewelry Fair | Thailand | Impact, Muang Thong Thani, Bangkok, Thailand | September 9 - 13, 2014 |
| Fashion Jewellery Autumn 2014 | Russia | Gostiny Dvor Exhibition Complex Moscow, Russia | September 10 - 12, 2014 |
| 8th India International Fashion Jewellery Accessories Show 2014 | India | Bombay Exhibition Centre, Goregaon (E), Mumbai, India | September 12 - 15, 2014 |
| Junwex Moscow 2014 | Russia | All Russia Exhibition Centre (WC), Moscow, Russia | September 13 - 17, 2014 |
| Bisutex September 2014 | Spain | Ifema- Parque Ferial Juan Carlos, Madrid, Spain | September 10 - 14, 2014 |
| Shenzhen International Jewellery Fair 2014 | China | Shenzhen Convention & Exhibition Center Shenzhen, China | September 11 - 15, 2014 |
| Hong Kong Jewellery & Gem Fair | Hong Kong | AsiaWorld-Expo (AWE) | September 15 - 19, 2014 |
| Hong Kong Jewellery & Gem Fair | Hong Kong | Hong Kong Convention & Exhibition Centre (HKCEC) | September 17 - 21, 2014 |
| Portojoia Expo 2014 | Portugal | Feira International Do Porto, Porto, Portugal | September 25 - 28, 2014 |
Every month we answer questions of general interest from our customers. Please feel free to send your questions or suggestions to our support team at Help@GemSelect.com!
| | |
| --- | --- |
| Q: | Hi, I notice that a lot of gemstones are described as "fancy colored". What exactly are these? |
| A: | Fancy colored gems are gems that have a special or different color from the usual or expected color. For example, "fancy colored sapphires" are sapphires in colors other than blue. The color of a "fancy" gemstone depends on the gem type and what is a special color for it. |
| Q: | I notice that you have melee gems. What are these and how are they used? |
| A: | Melee gemstones are simply very small stones. Melee gems are available in a variety of shapes and one set may contain only three gems or as many as five hundred tiny gemstones. These are not just gemstone chips, but are properly cut gemstones. It is amazing that these tiny gems can be faceted. Melee gems can be used as accent stones, channel settings, for pavé styles or micro-pavé (the setting of small gemstones very closely together). |
We hope you found our topics interesting. Please feel free to send us your questions, comments or feedback!
Also, if you haven't already, be sure to join us on any one of our social networking pages. We love interacting with our customers. You can visit us on Tumblr, LinkedIn, Twitter, Facebook or Pinterest!
To ensure you can receive our emails, please be sure to add help@gemselect.com to your list of safe contacts, or you add us into your email address book! Please feel free to contact us with any questions, comments and queries! We respond to each and every email we receive.
Happy gem hunting,
Your friends at GemSelect