GemSelect - January 2014 Newsletter
Jade - Asia's Royal Gem
There is an old and well-known saying throughout China and South East Asia:
-- "Gold is valuable; jade is priceless." --

The Chinese and Asian fascination with jade can be dated as far back as the 18th Century BC, during the time of the great Shang Dynasty. Even up to the present day, jade has long been influencing decorative Asian art during almost all periods of recorded Chinese history. Commonly known throughout Asia as 'the royal gem', jade is a special stone not just for artistic and commercial use, but also for religious and ceremonial traditions. Many believe that this magical gem links the physical and spiritual worlds, encompasses yin and yang and balances the heavens and earth. When the Book of Songs was first written during the Zhou Dynasty, jade grew even further in stature and was often used in burial ceremonies as it was thought to benefit those seeking of eternal life. Later in Chinese writings, jade was defined as a stone of five virtues; charity, righteousness, wisdom, equity and courage.
Although jade mines in China have long been worked-out, the admiration and fondness for jade remains strong. Though Chinese and Asian buyers have increasingly expressed interest in some of the world's most extravagant diamonds and gold jewelry, fine royal jade remains the favorite. Along with the growth of China and Asia's wealth, demand for fine jade has skyrocketed. But due to increased demand, sources have sharply deteriorated, especially over the last four years.

Myanmar (Burma) is considered to be the finest source for quality jade. Emerald-green jade from Burma is colored by chromium and is referred to in the trade as 'imperial jade'. Myanmar's jade supply is now a fraction of what it once was. In fact, of the former 50 to 60 jade sources in Myanmar, only 10 jadeite mines remain today. Many traders estimate that there are only 10 to 20 years of jade mining left for Myanmar's reserves, which means that jadeite value will continue to rise. Myanmar is also the only source for rare maw-sit-sit, a gemstone composed of jadeite, albite feldspar and kosmochlor (a jadeite-related mineral).
Chinese New Year is considered a public holiday not only in China, but also in a number of other countries around the world. According to legend, the birth of Chinese New Year began with a fight against the mythical beast known as the 'Nian'. Every first day of the New Year, the terrible beast would devour livestock, crops, villagers and even children. To protect themselves against the Nian, villagers would place food outside their doors at the beginning of each year. By placing food outside their doors, it was believed the Nian would eat only the food they prepared, rather than attack the village. It was also later noticed that the Nian feared a child wearing a red garment, so at the beginning of each New Year, villagers would hang red lanterns and red scrolls to keep the Nian away. From then on, the beastly Nian never returned to the village again.
This year, Chinese New Year celebrates the year of the horse beginning January 31st. The horse is one of the most treasured animals in Chinese culture. The horse is a symbol of speedy success and quick travel or transportation. Those born in the year of the horse are thought to be very competitive by nature and are born with a strong instinct for freedom and leadership.

Some celebrities and famous people born in the year of the horse include:

Emperor Kangxi and Yongzheng of the Qing Dynasty, Genghis Khan, Paul McCartney, Ashton Kutcher, Jerry Seinfeld, John Travolta, Emma Watson, Teddy Roosevelt, Sir Isaac Newton, Barbara Streisand, Cindy Crawford, Cynthia Nixon, Denzel Washington, Harrison Ford, Jackie Chan, Oprah Winfrey, Paul McCartney, Josh Hartnett, Katie Holmes, Kristen Stewart and Kobe Bryant.
GemSelect is pleased to introduce our new wishlist and compare feature!
Now you can view, filter and compare gems easier and quicker than ever before! We've even set up an advanced sorting feature so that you can list your gems by size, weight and price.
To add items to your compare and wishlist, simply tick the radio-box above any of our gemstones (see below).


Once you're ready to view your selections side-by-side, simply click on the 'compare' pop-up button that appears on the lower-right corner of your screen.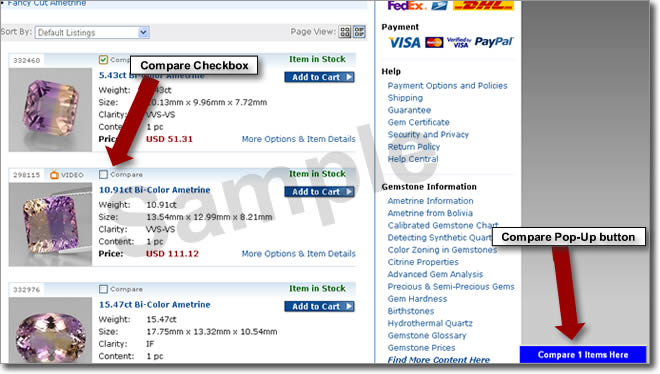 Items added to your compare list will remain until you remove them - even after they've been sold or are no longer available. This means you can refer back to them if you need to find replacements later on. As long as you don't clear the browser cookies or cache, your 'wishlist' will remain saved for up to one year!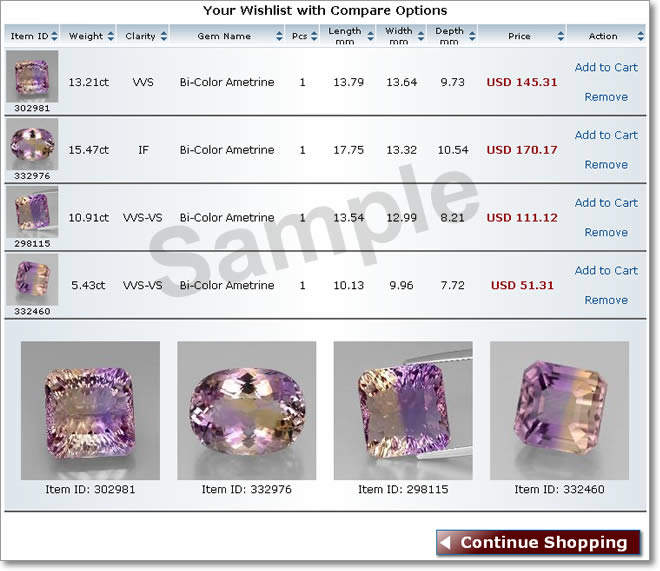 This month, our featured gems include 4 wonderful gemstone carvings. These exquisite carvings will make perfect gifts for those celebrating Chinese New Year and for those born in the year of the horse:

| | | | |
| --- | --- | --- | --- |
| Event Name | Location | Venue | Dates |
| GEM Awards | New York, USA | Cipriani 42nd St | January 10th |
| Gem Faire | Hillsboro, Oregon | Washington County Fairgrounds | January 3 - 5 |
| The Whole Bead Show | Honolulu, Hawaii | Blaisdell Center | January 3 - 5 |
| International Watch & Jewelry Guild Show | Las Vegas, Nevada | Tropicana Las Vegas | January 6 - 7 |
| Oklahoma Gem, Jewelry, & Bead Show | Oklahoma City, USA | Oklahoma State Fairgrounds | January 10 - 12 |
| Jewelers International Showcase | Miami Beach, Florida | Miami Beach Convention Center | January 11 - 13 |
| Kolkata Jewellery & Gem Fair | Kolkata, India | Milan Mela Exhibition Complex | January 11 - 13 |
| Malaysia International Jewellery Fair | Kuala Lumpur, Malaysia | Kuala Lumpur Convention Centre | January 11 - 14 |
| Seattle Gift Show | Seattle, Washington | Washington State Convention Center | January 18 - 21 |
| VicenzaOro Winter | Vicenza, Italy | Vicenza Fairgrounds | January 18 - 23 |
| HOMI Show | Milan, Italy | Fiera Milano | January 19 - 22 |
Q:
What does A, B and C mean when referring to jadeite and jade grading?
A:
The terms A, B and C are often used for jadeite grading when it comes to quality and enhancements regarding jadeite gemstones.



Grade A: Untreated jadeite - not dyed nor impregnated. Some may have been coated with a clear surface coating of resin. The clear waxy coat is considered stable and acceptable as long as it is disclosed.

Grade B: Jadeite that has been impregnated with wax or resin to improve color. It may also have been bleached to remove blemishes, but it has not been dyed.

Grade C: Jadeite that has been dyed and impregnated to improve color.

Grade D: Not real jadeite - likely to be only imitation jadeite or a composite stone. In many cases, the grading term is used to refer to doublet stones with a jade top and plastic backing.



Q:
What is omphacite jade? I knew about nephrite and jadeite, but omphacite is nothing I've heard about.
A:
Nephrite and jadeite are the only 2 pure forms of jade. However, there are several gemstone varieties which include jadeite or nephrite as part of their composition. Some jade mixes include jade-albite, maw-sit-sit and omphacite jade. Jade omphacite is a mixture of jadeite (25-75%) and augite (0-25%) or aegirine (0-25%).


We hope you found our topics interesting. Please feel free to send us your questions, comments or feedback!  Also, if you haven't already, be sure to join us on any one of our social networking pages. We love interacting with our customers.
Happy gem hunting,
Your friends at GemSelect
P.S. To ensure you can receive emails from us, please be sure to add us to your list of safe email contacts - help@gemselect.com