GemSelect's July 2013 Newsletter
Why Jewelers are Saying 'No' to Diamonds!
Did you know that the diamond trade is worth over $30 billion US dollars? Based on recent reports, the colored gemstone industry is estimated to be worth around $10 to $12 billion US dollars. Why is this so surprising? Because there are hundreds of colored stone varieties available, yet, all of the world's entire supply of sapphire, emerald, ruby and various other colored stones combined do not come close to the staggering $30 billion dollar figure of diamond alone!
Emerald from Colombia
Fact: The diamond trade is controlled by corporations. The De Beers group controls approximately 85% of the world's entire diamond supply, from mining to distribution. The diamond industry has very little room for competition and growth. De Beers essentially controls pricing, supply and demand for all diamond. The entire trade is manipulated by large corporations and because of this, most people instinctively think of De Beers, Blue Nile or RapNet when hearing the word 'diamond'. Since the entire trade is stabilized by way of CEOs and shareholders, the diamond market is very predictable, and experts forecast it will likely remain steady with no tremendous growth. Prices for diamonds are at a high, so everyone is now looking for cheaper alternatives, and because many jewelers are heavily invested in gold, they have a lot less spending power to purchase stones. This is why many jewelers are saying 'no' to diamond and 'yes' to the new colored gemstone trend.
Would you believe that that emerald production alone increased over 78% between the years of 2000 and 2010? Despite increased supply and production, emerald value increased more than ten-fold over the past decade (according to statistics provided by Gemfields and WWW Int'l Diamond Consultants Ltd). The tremendous growth in value and production is owed to the fact that the colored stone industry lies in the hands of smaller entities and not large corporations and company shareholders like the diamond trade.
Even though the cost of mining has dramatically increased over the past years, and despite many of the world's once-plentiful mines being completely worked-out, colored stone prices continue to be very affordable.

Sources from recent events such as the JCK Vegas show, Tucson Gem show and last month's Hong Kong Gem and Jewelry Fair reported a bright future for colored stones and designer lines that combine the elements of silver, diamond and fancy colors.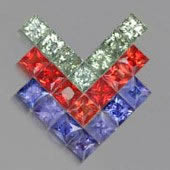 Fancy Color Melee Gemstones
Latest statistics are reporting that jewelry buyers are looking for attractive prices. How attractive? Based on the most recent results from jewelry events, the top jewelry designer lines focused on silver jewelry featuring small fancy color melee stones retailing for just under $500.00! This is testament to the fact that buyers are younger than ever before and that the younger generation seems to prefer colored stones over plain white diamond. Surprisingly, many of the world's wealthiest people are now investing into colored stones instead of gold or diamond, proving that the color trend has gone viral, especially in the Asian market. China is quickly developing into one of the biggest colored stone markets, with a huge increase in demand for top-grade colored gems.

Ian Harebottle, CEO of Gemfields, claims that he "sees colored gemstones and diamonds as complementing each other, rather than in competition with each other". Since colored stones are the trend of the decade, we're noticing more unique designs from well-known brands, but nothing makes us happier than seeing independent jewelers show off their craftsmanship.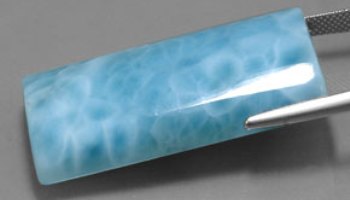 We encourage all of our readers to support the colored gem trade and help keep the colored stone industry in the hands of independent jewelers and not corporations, CEOs and Wall Street.
The gemstone industry is thriving and will continue to grow faster, so there is no better time to start looking for colored stone bargains than now!
Each month we feature rare and unusual gems from our inventory. Here are some of our favorite staff selections and featured colored stones of the month:
1. July's Birthstone - 1.50 Carat Red Burma (Myanmar) Ruby.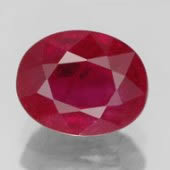 Fine Burmese ruby can be more valuable than diamond. Most Burmese rubies originate from Upper Myanmar, but only about one percent of the find is of gem quality. Ruby from Burma is considered to be the most valuable of all. Compared to other ruby origins, Burmese ruby is said to have the best color and clarity. The most desirable Burmese rubies are those with color described as being "pigeon blood-red". In addition to being one of July's birthstones, ruby is also the planetary stone assigned to Mars and Pluto.

2. A 121.20 Carat Chalcedony Quartz Cameo Carving.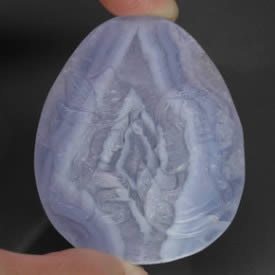 Chalcedony quartz has a highly desirable, soft blue-lavender color. Chalcedony has become one of the most popular gemstones seen in jewelry today. Chalcedony is a popular choice for handmade jewelry designs, such as strung jewelry and beaded designs. Chalcedony is very affordable when compared to other gemstone types. Chalcedony gems possess an excellent hardness making them perfect for any type of jewelry. Cameo carvings are very popular for creating beautiful pendant jewelry. In addition, chalcedony quartz carvings can also be found in the form of animals, flowers and other ornaments.


3. A Huge 57.44 Carat Cushion-Cut Black Tourmaline Gemstone.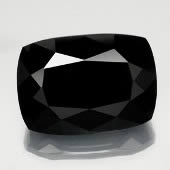 Tourmaline has become a huge hit over the past year. Many people are unaware that there are very few gemstones that naturally occur in black. Tourmaline and spinel are two of the best black gemstone options available, but spinel is not typically found in large sizes as tourmaline is. Usually, only tourmaline can be found available in sizes like this huge, black cushion-cut specimen. Tourmaline is one of the harder stones, and since it has such excellent durability, it is a favorite among jewelers. Tourmaline is ideal for any type of jewelry application and varieties such as watermelon tourmaline and bicolor tourmaline are often cut into elongated bar shapes and used for dangling earrings or dazzling pendants.

4. A Very Rare, Huge 47.35 Carat Golden Zircon.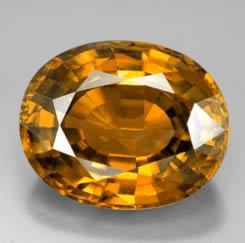 Zircon should not be confused with the diamond simulant known as cubic zirconia. Natural zircon is much rarer and much more valuable, especially in huge sizes like this golden specimen. Zircon is also one of the most durable stone types to work with. It is ideal for any jewelry design, therefore, jewelry designers love zircon and its extraordinary value. What makes zircon really unique is that it is not very well-known, despite it being one of December's official birthstones.
| | |
| --- | --- |
| Event - When and Where | Date |
| Gem, Jewelry & Bead Show: At Raleigh, NC - USA | July 5th - 7th, 2013 |
| Marlborough Gem Show: At the Best Western Royal Plaza Trade Center. Massachusetts, USA | July 5th - 7th, 2013 |
| 10th Annual Jovella International Jewelry Exhibition: At Tel Aviv Fairgrounds in Israel | July 2nd - 3rd, 2013 |
| Malaysia Int'l Jewellery Fair (MIJF): At KL Convention Center - Kuala Lumpur, Malaysia | July 12th - 15th, 2013 |
| Inter Jeweller: Soud Exhibition: At South Russia's Jewelry Center | July 18th - 24th, 2013 |
| Beijing Int'l Jewellery Fair: At the capital city of China - Beijing | July 19th - 22nd, 2013 |
| Jaipur Jewellers Association Show (JAS): At Birla Auditorium in Jaipur, India | July 19th - 22nd, 2013 |
| Treasures of the Earth Gem and Jewelry Show: At Virginia Beach, USA | July 19th - 21st, 2013 |
| NY Antique Jewelry & Watches Show: At Metropolitan Pavilion - NYC, USA | July 26th - 29th, 2013 |
Auction Gems of 2013 - $40 Million Dollars!

This year had some record-breaking stones fetching millions of dollars in recent auctions.

A pear-shaped 101.73 ct diamond was sold for $26.7 million at Christie's Geneva. The purchase set a new world record and was bought by the legendary Harry Winston Company, which as of recently, belongs to the Swatch Group.

$39.3 million was paid for the famous "Princie Diamond" at Christie's in New York. The auction purchase set a new world record for a Golconda diamond. The Princie Diamond is now the most valuable diamond ever sold at Christie's. The previous record was $24.3 million for the famous Wittelsbach Diamond, sold to Laurence Graff.

Consumer Spending at an ALL-TIME Low?

It has been reported that recent gold market drops have slowed consumer spending and selling. Despite this, the jewelry industry is still moving forward. Many jewelers are now looking toward silver and other alternative materials such as ceramic and titanium as affordable alternatives. There has been a tremendous shift this year and in order to compete, jewelers across the world are looking for new innovative materials and designs. As we discussed in our article above, the most popular designer lines are aiming for attractive price levels of $500 USD or less! - That means bye-bye to diamonds & gold and hello to silver & fancy colors!
Every month we answer questions of general interest from our customers.

Please feel free to send us your questions or suggestions to our support team at help@gemselect.com!
| | |
| --- | --- |
| Q: | Good day! I was on your site and noticed that there were not many round cabochons available. There were a lot of ovals and other shapes, but I couldn't find many round ones. Why is this? Are they worth that much more than other shapes? This seems to be the case everywhere. |
| A: | It is a fact: Round stones are not as common as oval gemstones and often they are more expensive when it comes to price per carat. Why? Because gemstones are sold by their weight. When cutters cut stones, they try to preserve as much carat weight as possible, so this means cutting stones into shapes that are close to the original rough stone. This is why round cabochons are rarer and often more expensive than most oval stones. |
| Q: | You have carnelian available on your website, but it is described as being translucent. Should genuine carnelian be partly transparent? How can I tell if carnelian has been dyed? |
| A: | Carnelian is a variety of agate, more specifically, chalcedony quartz. Agate never occurs in transparent form. Carnelian is a cryptocrystalline quartz. Macrocrystalline stones can be transparent but cryptocrystalline is typically translucent to opaque. Many carnelian stones today have been dyed, because natural carnelian is becoming very rare. You can usually tell if carnelian has been dyed by holding it up against a bright light. If it has not been dyed, it will have a cloudy distribution of color. If it has been dyed, it will usually have quite noticeable striping. |
To be sure you can receive email from us, please add help@gemselect.com to your list of safe contacts or just add us into your email address book!

Happy gem hunting,
Your friends at GemSelect