The King of Bling
Elvis Presley Showing off His Rings
Bling may be associated with hip hop artists, but musicians began wearing gemstone jewelry long before hip hop and rap. In fact, the King of Rock N Roll was also the king of bling. Elvis Presley owned an incredible collection of gemstone jewelry, which included luxury watches, rings, necklaces and bracelets. His jewelry was made from a diverse range of colored gemstones, such as rubellite, tiger's eye, turquoise, opal, black star sapphire and citrine. The jewels owned by the King of Rock & Roll were a veritable gem lover's paradise.
Being a superstar, Elvis had many girlfriends; some of them his co-stars. He met Priscilla Presley in 1959 while he was serving in the US army. She was 14 at the time and he was ten years older. Upon their engagement, Elvis bought them a pair of matching diamond horseshoe-shaped engagement rings. They were married in 1967 and the next year their daughter, Lisa Marie, was born. Elvis wore a platinum wedding band with a middle row of eight baguette-cut white diamonds between two rows of 8 brilliant-cut diamonds. It is said that eight was Elvis's lucky number. He chose a large diamond for his bride, surrounded by a detachable halo of smaller stones. Sadly, they separated in 1972 and were divorced in 1973.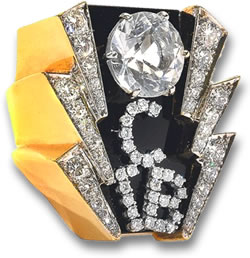 Elvis's Gold and Diamond TCB Ring
After he and Priscilla were divorced, Elvis had a four-year relationship with beauty queen, Linda Thompson, the former wife of Bruce Jenner (now known as Caitlyn Jenner). Elvis gave Linda Thompson a beautiful citrine ring. Elvis also had many male friends and his entourage was dubbed "The Memphis Mafia". An acronym that they used was "TCB", which referred to "Taking Care of Business", the name that Elvis gave to his backing band. He had jewelry custom-made, embellished with the letters TCB and flanked by lightning bolts. Elvis gave his close friends and associates TCB jewelry. This was accompanied by the "TCB Oath" written by his daughter, Lisa Marie. Arguably the best-known TCB jewelry owned by Elvis was his diamond ring (see image, above left) and gold pendant necklace.
Elvis shared his jewelry with many, even fans. During a concert in Asheville, NC, in 1975, he gave a gold and diamond ring to Lloyd Perry, after Perry and another fan had both caught Elvis's guitar when it had been thrown to the audience. Perry had kindly allowed the other fan to keep the guitar, and as if rewarding Perry for this, Elvis motioned for him to come to the stage and slipped the ring onto Perry's finger. The ring is known as the Asheville Ring. It is said to have cost Elvis $16,000, and sold at auction for $107,500 in 2009.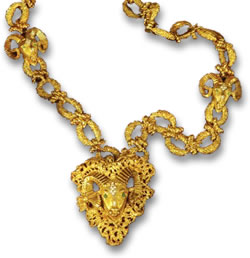 Elvis's Ram's Head Necklace
One of the best-known necklaces worn by Elvis Presley was a gold ram's head necklace (see image, right). The ram's head centerpiece features emerald cabochon eyes and brilliant-cut white diamonds. There are also two smaller ram's heads; one on each side. The necklace was given by Elvis to Ginger Alden, who was his fiancée at the time of his death. Ginger Alden later auctioned the necklace for $90,000 in 2008. Elvis was known for his lavish gifts to friends and girlfriends were no exception. Ginger was also given a large diamond engagement ring, a "TLC" diamond necklace and many other items of jewelry, including a 14K gold ring containing a black star sapphire surrounded by white diamonds. The ring achieved $12,000 at the same auction as the ram's head necklace.
Tragically, Elvis died suddenly, before his wedding plans were realized. He was found by his fiancée on the bathroom floor on August 16th, 1977. He was only 42 years old.