Jackie O's Jewelry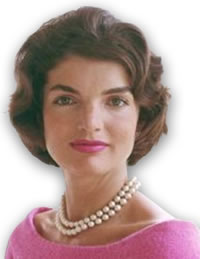 Jackie Kennedy Wearing a Signature Pearl Necklace
Jacqueline Kennedy Onassis was more than just a pretty face. She was an avid reader, keen photographer, polyglot, dedicated First Lady and editor. While she lived a privileged and glamorous life, she also suffered great loss. First, her third son died shortly after his birth in 1963, and then only a few months later, she was widowed at the age of 34 when President Kennedy was assassinated. Just five years later, her brother, Robert, was assassinated. Jackie Kennedy then became Jackie Kennedy Onassis when she married Greek shipping tycoon, Aristotle Onassis, but was made a widow for a second time when he passed away in 1975. "Jackie O" spent her later years with diamond merchant, Maurice Templesman, who quadrupled the fortune left by her late husband.
As befitting a lady with such wealth, Jackie Kennedy Onassis owned some astounding jewels. During her life, she was known for being a fashion icon who inspired women everywhere. One of the most iconic pieces of jewelry worn by her was the pearl necklace. She created a sensation by wearing simulated (man-made) pearls and other so-called "fashion jewelry". Some of her famous simulated pearl jewelry was sold for record prices, including one three-strand pearl necklace that was auctioned for over $44,000 at Bonhams in 2010.
The first engagement ring worn by Ms Kennedy Onassis was a Van Cleef & Arpels 2.84-carat emerald and 2.88-carat diamond ring, with smaller diamond accent stones. The baguette-shaped accent stones were later replaced with round and marquise diamonds. However, after her husband's assassination, Jackie returned the ring to its original design. One of the doctors who attended to JFK after he was shot revealed that Jackie took her husband's wedding ring and may have placed her own engagement ring upon JFK's finger before holding his hand and kissing him goodbye.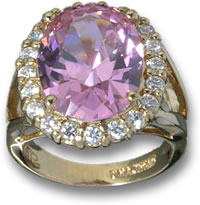 Jackie Kennedy's Kunzite Ring
After the loss of their son Patrick, JFK bought Jackie a Christmas present of a gold kunzite ring from Van Cleef & Arpels. The oval kunzite gemstone was surrounded by twenty white diamonds. JFK wrote his beloved wife a note to go with the ring, but was shot just three weeks later. This was the last gift from JFK to Jackie. This ring auctioned for over $400,000 in the Sotheby's auction of Jackie's estate.
Jackie Kennedy's second engagement ring contained an incredible 40.42-carat, marquise-shaped diamond known as the Lesotho III. The diamond gets its name from the place of its discovery in South Africa. The original rough gem weighed 601 carats and was cut into 18 gems after being exhibited in the USA. The third largest gem was given to Jackie Kennedy by her second husband, Aristotle Onassis. In 1996, the ring was auctioned by Sotheby's and achieved almost $2.6 million.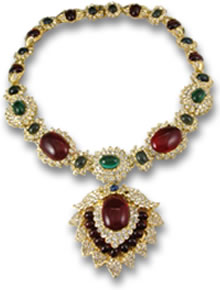 Jackie Kennedy Onassis's Colored Gemstone Cabochon Necklace
Another of the most sumptuous pieces in the collection of Jackie O given to her by her second husband was a Van Cleef & Arpels ruby, emerald and sapphire cabochon necklace. The colored gemstones are surrounded by diamonds and set into yellow gold. Its crowning glory is a large ruby cabochon pendant. The necklace achieved $288.5 at the Sotheby's auction of Jackie Kennedy Onassis's estate in 1996. Not all of Jackie's jewels were gifts; she bought several pieces for herself, including a Van Cleef & Arpels brooch in the form of a yellow gold scarecrow, with a gold hat, green gemstone head and faceted sapphire, ruby and diamond decorations. This was also auctioned in 1996 for $101,500. The Van Cleef & Arpels items alone formed a large collection.
Following the death of her second husband, Jackie returned to New York and focused on her career. She took an editing position at Viking Press, and later, was made senior editor at Doubleday. Sadly, in 1993 she was diagnosed with cancer. Jackie Kennedy Onassis died in her sleep at the age of 64 on May 18, 1994 from non-Hodgkin's lymphoma. She was buried at Arlington National Cemetery, Virginia, alongside President Kennedy. She lives on in her daughter, Caroline Bouvier Kennedy, 29th US Ambassador to Japan, and grandchildren. The legacy of Jackie Kennedy Onassis includes not only her astounding jewels and impeccable style, but also other notable aspects of her life, such as her good works in the preservation of American cultural heritage.