A Few Shades of BDSM Jewelry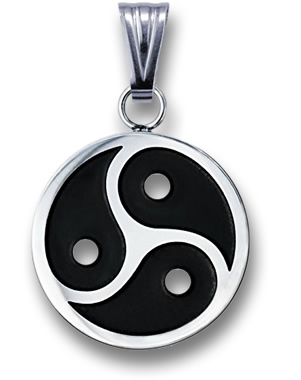 BDSM Silver and Onyx Triskele Pendant
BDSM jewelry existed before the popular E.L. James trilogy and Universal movie, Fifty Shades of Grey, brought BDSM to the forefront and inspired a whole range of jewelry related to the novel. These pieces are often aimed at fans of the books and movie rather than people who live a BDSM lifestyle. Some examples of Fifty Shades of Grey jewelry are cuff and key necklaces, riding crop earrings and handcuff bangles.
The BDSM scene has existed for over a hundred years, before the term was even used. BDSM refers to B&D: bondage and discipline; D&S: dominance and submission; and S&M: sadism and masochism. BDSM fashion emerged in popular culture during the punk era when Vivienne Westwood had a London boutique called "Sex", where she and Malcolm McLaren sold fetish wear in the 1970s. Popular materials for BDSM fashion-wear are rubber, leather and black, white or gold metal. Members of the BDSM community have worn jewelry to signify their involvement or for functional use for years.
A generally recognized BDSM emblem is based on a triskele or triskelion motif, which has three interlocked spirals within a circle (see, image above). Triskeles have been used by various cultures for thousands of years. The BDSM triskele can be identified by its metallic outline color, black inner color and holes rather than dots. This motif helps fellow BDSM enthusiasts to identify each other easily. The three parts of the triskele are related to the three parts of BDSM; B&D, D&S and S&M, and the threefold principle, "safe, sane and consensual". The BDSM triskele can be worn as a pendant on a necklace, earrings or other jewelry. It may be made from steel with enamel or precious metal with gemstone inlay. Plain round pendants or rings are also traded as BDSM jewelry.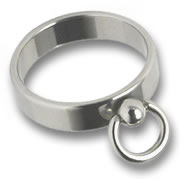 Silver Ring of O
Another popular BDSM jewelry item is the "Story of O" slave ring. "Story of O" is a French erotic novel which was published in 1954 under the pen name "Pauline Réage". It was written in response to the idea that a woman was incapable of writing erotica, and was not intended for publication. "Story of O" tells a tale of female submission and male dominance, with the main female character being known simply as "O". The identity of the author was revealed some 40 years after its publication to be Dominique Aury. There were several film adaptations made. The Ring of O commonly worn is a style from one of these movies (see, image above). The Ring of O originally described in the novel featured a triskele motif. Necklaces and collars of a similar style are also popular.
When it comes to neck jewelry, chokers, chains, collars and bondage-style necklaces are popular BDSM items. These may be symbolic and subtle for everyday wear, in which case they may be decorative and beautiful. Alternatively, BDSM neck jewelry can be large, obvious and functional. Such a collar may be attached to a leash for role-playing. Such neck jewelry may be made from gold or silver and decorated with colored gemstones, or it could be fashioned out of more affordable titanium, steel or leather and embellished with a ring, chain or padlock.
An obvious choice for BDSM wrist jewelry is cuffs. As with neckwear, these may be ornamental or functional. Cuff-style bangles are a fashionable interpretation of BDSM bracelets. Unlike normal cuff bracelets, which have a gap at the back, BDSM cuffs tend to be closed by a ring or a padlock. Padlocks of BDSM jewelry are often heart-shaped. Cuffs may be worn in pairs that are joined by a chain for functional use. Similar items may be designed to be worn on the ankles as well as wrists.
This is by no means a definitive list of BDSM jewelry, there are many more forms ranging from fashion jewelry with a hint of BDSM to luxury items that are also functional, such as companion sets of jewelry and genital jewelry.