William Earl Hidden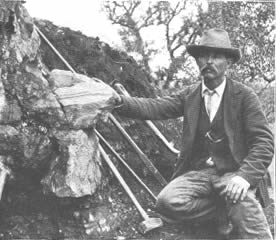 William Earl Hidden
William Earl Hidden, best known for the discovery of the mineral hiddenite, was a 19th century American geologist and mineralogist.
Born in Providence, Rhode Island, in 1853 and educated in the public schools of New York and Washington, Hidden was first employed as a draughtsman in the American Bank Note Company. Despite great success in this field, his abiding love was for the collection of minerals, stamps and coins, which finally led him to abandon this career in 1884.
Hidden was a keen member of the Rocky Mountain Club and the Royal Geological Society of London. These interests, together with his education in the mineral sciences, brought Hidden to the attention of Thomas Edison who had recently introduced his electric light. Edison sent Hidden on an exploratory expedition to the Appalachian Mountains in search of platinum to use in the production of electric light bulbs. While Hidden failed to find any platinum, he was later successful in locating other minerals in the Carolinas for the Welsbach Light Company.
It was during his first trip to North Carolina when Hidden met local mineralogist, J. Adlai Stephenson, who had been collecting minerals in the area for some years and had discovered some small emeralds at Stony Point. He had also come across a chrome-green mineral, which he believed to be diopside.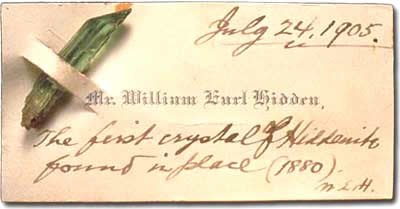 First discovered Hiddenite
Intrigued, Hidden sent samples of the strange green mineral to a colleague in Kentucky, John Lawrence Smith, who was a well-known chemist and mineralogist. Smith identified the samples as a variety of spodumene, and after some contention, named it hiddenite in honor of Hidden. The area around Stony Point, where it was first found, was also renamed Hiddenite after the gemstone and retains that name today.
Recognizing the value of the distinctively colored emeralds and the potential of the new green gem, Hidden bought some land adjacent to the original discovery site and formed the Emerald and Hiddenite Mineral Company, which immediately began recovering loose hiddenite and emeralds from the topsoil and, at a depth of only 26 feet, from solid bedrock.
Besides his role in the identification of hiddenite, Hidden was also credited with the discovery of a purple-red variety of garnet known as rhodolite, which he discovered in the Cowee Valley in Macon, North Carolina, though some believe that rhodolite was known in Sri Lanka for a long time before this.
Hidden was a great explorer, and he discovered and named several minerals. He also did some early research into meteorites and was a pioneer in developing gem mining in North Carolina and the mining of turquoise in New Mexico.
William Earl Hidden was 66 when he died of heart trouble in Newark, in 1919.