Gemstones from Mozambique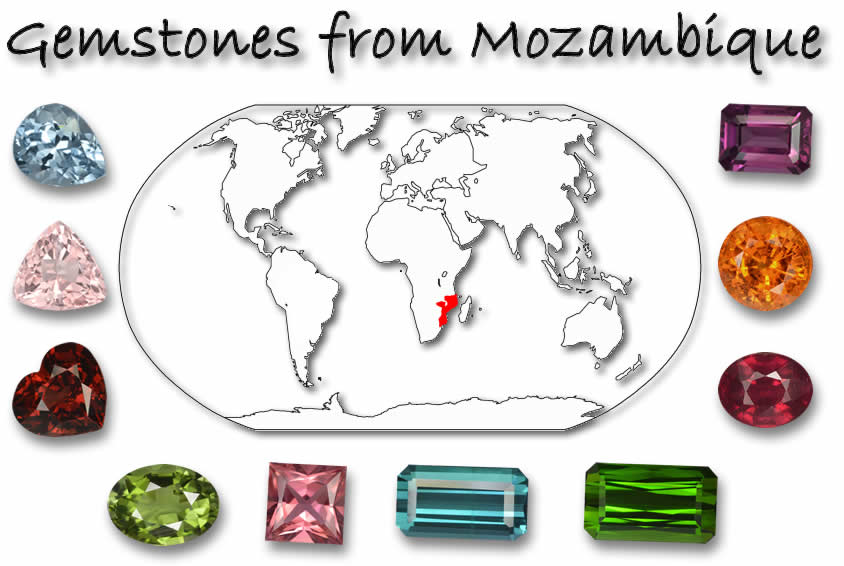 The country of Mozambique came into being in 1974 after 400 years as a colony of Portugal. Its first decade or so was dominated by civil war and natural disasters from which it is only now just emerging.
It is a large nation in south east Africa bordered by South Africa to the south, Zimbabwe to the west and Tanzania to the north. To the east, across the Mozambique Channel, lies the large island of Madagascar in the Indian Ocean.
Mozambique is divided in two by the mighty Zambezi River. In the south, lies the capital Maputo and the touristy coastal areas while the north is more sparsely populated and contains the gemstone mining localities.
The wealth of gemstones found in Mozambique is the result of geological activities 100 of millions of years ago. In the dim and distant past the land that makes up present day India, Sri Lanka, Madagascar, Antarctica, South America and much of east Africa was all one large continent known as Gondwana.
The plates that made up this super-continent ground together and were subject to enormous volcanic activity which provided the heat and pressure needed to create gemstones.
Rubies, for example, were created some 600 million years ago at a depth of around 20 kilometers. Over the millennia since then the plates drifted apart to form new lands and mountain ranges. The rocks containing the rubies were slowly raised to the surface then eroded to reveal the precious gemstones.
This is why rubies can be found in Madagascar, Tanzania, Sri Lanka, Myanmar, Pakistan and Mozambique to this day as well as numerous other valuable stones.
As a central part of this geological treasure trove, Madagascar is home to many gemstone types but as yet we have only touched the tip of the iceberg as it were. Following independence and the civil war, it is only now that exploration can be properly undertaken and the results are spectacular.
Rubies have been discovered in abundance since the turn of the century as well as various garnets and tourmalines and it is surely only a matter of time before supplies of other valuable gemstones such as emeralds, sapphires and spinel turn from sporadic to prolific.
We take a look at the best on offer from this exotic tropical nation.
Quick Guide to Mozambique Gemstones

| Gemstone | Color |
| --- | --- |
| Aquamarine | Light Blue |
| Morganite | Pastel Pink |
| Pyrope Garnet | Red |
| Rhodolite Garnet | Purple / Red |
| Ruby | Red |
| Spessartite Garnet | Orange |
| Tourmaline | Multi-colored |