Kyanite from Nepal
There are not many gemstones that occur in a deep saturated blue. Sapphire is the most famous, and with good reason, since it is exceptionally hard and has excellent brilliance. Indeed, there are very few alternatives to the deep blue of sapphire.

Emerald-Cut Kyanite from Nepal
Topaz tends to a lighter blue, and even the so-called London blue topaz (produced by irradiation) is more of a medium blue. Spinel is only rarely found in a cobalt blue, and most blue spinel gems, if you can find them, have a grayish secondary hue.


Natural Kyanite
Kyanite is a gem that sometimes shows a sapphire-like blue, but a medium blue is more typical. In addition, the color of kyanite typically not consistent throughout the crystal and can appear to be blotchy or in streaks. However, recent finds of very high quality kyanite in Nepal are changing the perceptions of this gem. Where the kyanite from Cambodia and Burma rarely delivers on the promise of a sapphire-like blue, the Nepalese material sometimes comes surprisingly close to the velvety blue of the best Kashmir and Ceylon sapphire.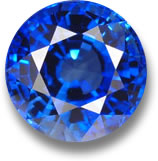 Sapphire from Madagascar
Miners in Nepal discovered high quality kyanite in 1995. Kyanite is known to occur in the Dolakha, Rasuwa, Dhadhing and Jajarkot areas. According to the Nepalese mining department, four small-scale kyanite mines are currently in operation in Daha and Suneri in Jajarkot, and Barah in Aachham District. Production is very limited and will probably remain so.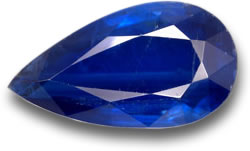 10ct Kyanite from Nepal
Kyanite is composed of aluminum silicate; the same as andalusite and sillimanite. However, kyanite has a different crystal structure (triclinic) and thus exhibits different physical properties. One of the unusual properties of kyanite is that it has a variable hardness - it is fairly soft when cut parallel to the long axis of the crystal, with a hardness of only 4 to 4.5 on the Mohs scale. But it has a hardness of about 6.5 when cut perpendicular to the long axis. Kyanite has a vitreous to pearly luster.
Generally kyanite gems are not found in large sizes, and a 2 carat stone would be considered a very good size. But we have occasionally found high quality Nepalese kyanite gemstones with good color, weighing as much as 10 carats.