Gem Mining in Tanzania
There is a geological formation in East Africa known as the Neoproterozoic Mozambique Belt. Extending from Kenya southward through Tanzania, Mozambique and the large island of Madagascar, it is thought to contain the world's richest unexploited deposits of colored gemstones. Gem varieties that have been found there include sapphire, ruby, emerald, spinel, tanzanite, alexandrite, tourmaline, zircon, aquamarine, tsavorite, spessartite, rhodolite and demantoid garnet.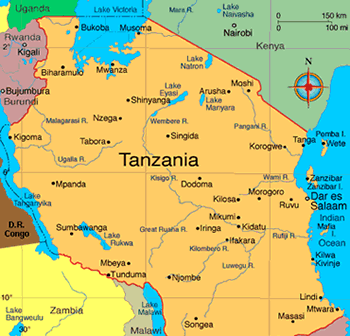 Map of Tanzania
Tanzania has emerged as one of the most important gemstone producing countries in the region. Tanzania is best known for the gemstone that bears its name, tanzanite. Tanzania (along with neighboring Kenya) is also the main source of the world's supply of the rare tsavorite garnet. Additionally, in the last few years, Tanzania has become an important source of sapphire, with some of the material being of sufficiently high quality that it can be sold without any heat treatment. Tanzania has also produced some very fine spinel and zircon in recent years, and Tanzanian ruby is starting to make an impact on the world market.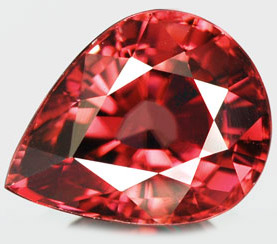 Red Zircon
The most famous and productive mining area in Tanzania lies in the Merelani Hills, which is in the north of the country near Mt. Kilamanjaro. This is the location of the famous tanzanite mines, as well as some tsavorite garnet deposits.
The second most active gem mining area is in Mahenge, where some outstanding bright red spinel has been found. Mining reportedly stopped here in 2007 due to a dispute over mining rights, but resumed in 2009.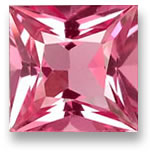 Unheated Sapphire
Longido, just north of Arusha near the Kenyan border is the source for large quantities of low-grade ruby in green zoisite. This attractive but inexpensive material is used mainly for cabochons and carvings.
Rubies have been discovered in the Winza area of Morogoro Province in Tanzania. Where there is ruby there is almost always sapphire and a number of sapphire mines are also active there.
The Songea and Tunduru areas in the south near the border with Mozambique are important sources for fancy colored sapphires. Songea sapphires contain significant levels of magnesium, resulting in a wide range of fancy colors. Many of the Songea sapphires respond very well to heat treatment with beryllium, producing some stunning colors.
The Umba valley in the north-east has red zircon deposits, as well as a wide range of other gems, including rhodolite, tsavorite garnet, malaya garnet, ruby and sapphire.
Exploration for colored gemstones is still at an early stage in Tanzania. Though there are many active mining areas already, most mining is still very small scale. We expect many important new discoveries still to come.
| | |
| --- | --- |
| | |
| Spinel from Tanzania | Tanzanian Tanzanite |