We compared the top green gemstones for jewelry - The 9 best revealed here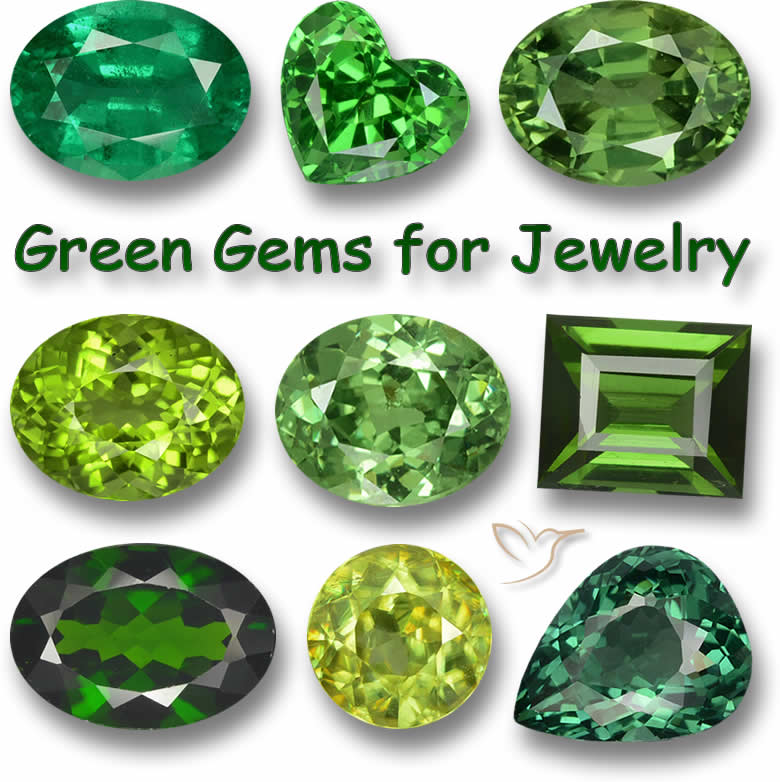 Green, the color of nature, spring, energy and new life. Think of all the shades of green and the wonderful things they are named after, mint green, olive green, forest green, lime, sage, apple, the list goes on. The world of gemstones has a variety of green hues that rival anything nature and paint makers can produce. We sorted, searched, examined, appraised and argued until we were able to present the 9 best green gemstones for jewelry.
We established a few ground rules, the gemstones have to be generally faceted as befitting a high quality piece of jewelry, available in a regular supply, recognizably green (no yellows or blues) and durable enough for most forms of jewelry design.
Here we go, the top 9 green gemstones for jewelry, I bet you can guess number one!


Yes, of course the emerald. Revered for centuries, valued above all others and possessing a rare natural beauty that makes this the iconic green gemstone throughout the world. The most prized emeralds have a pure green color with a vivid color saturation that is evenly distributed throughout the stone with no visible color variations. Flawless emeralds are almost impossibly rare but even the inclusions are worthy of praise in this unequalled gemstones.


The garnet family has two outstanding green gemstones but I feel Tsavorite just pips its cousin. A stunning green saturated color with brilliant sparkle and a deep tone will match any gemstone. This gemstone has an added bonus of being all natural and named after a National Park in Kenya.


Sapphires are not just blue, they come in every color except red, then they are rubies! Nearly all but the rarest and most expensive sapphires are treated in one way or another and so are green sapphires – usually with some low heat treatment to activate the gemstone's natural mineral impurities. Being sapphires they are a rare gem but for a sapphire quite affordable. Their hardness is only bettered by diamonds in this list and as an engagement ring this could be important.


Green Peridot is a naturally occurring vibrant green gemstone which in the past has been mistaken for emeralds. They can come in nice large sizes and display double refraction which gives them a lovely sparkle. This undervalued and underrated gemstone has been discovered on meteorites.


Demantoid Garnet gets its name from its similarity to diamonds with its colored sparkle. Traditionally and most valuably from Russia, this is a very valuable and rare gemstone which can actually increase in value with the presence of flaws or 'horse tail' inclusions. Nowadays usually mined in Namibia.


Green Tourmaline almost matches the greens of Tsavorite but at a much more affordable price plus they are available in larger carat sizes and are usually transparent. Tourmalines have a natural phenomenon whereby they can show two different shades of green when viewed from different angles.


Chrome Diopside is a very saturated vivid green gemstone which is quite common in sizes around the one carat size making it very suitable for the jewelry market as an affordable alternative to emeralds. It is a natural gemstone which is not normally heat treated.


Sphene or Titanite is an olive green to yellow green gemstone with more 'brilliant fire' than a diamond and flashes three different colors when moved around. A chrome sphene with displays of yellow and orange is a sight to behold but its relative softness means careful setting is needed in jewelry.


Apatite just makes the top ten. It is only 5 on the Mohs hardness scale so it needs protective settings if made into a ring or bracelet but the untreated greens are very attractive especially the light green 'asparagus apatite'.
Top 9 Green Gemstone Hardness Chart

| Gemstone | Mohs Hardness Rating |
| --- | --- |
| Green Sapphire | 9 |
| Emerald | 7.5-8 |
| Tsavorite Garnet | 7-7.5 |
| Green Tourmaline | 7-7.5 |
| Peridot | 6.5-7 |
| Demantoid Garnet | 6.5-7 |
| Chrome Diopside | 5-6 |
| Sphene | 5-5.5 |
| Green Apatite | 5 |
See our article on the Mohs hardness scale right here
Top 9 Green Gemstone Anniversary Chart

| Gemstone | Wedding | Birthstone |
| --- | --- | --- |
| Emerald | 20th | May |
| Tsavorite Garnet | 2nd | January |
| Green Sapphire | 5th, 40th, 75th | September |
| Peridot | 16th | August |
| Demantoid Garnet | 2nd | January |
| Green Tourmaline | 8th | October |
| Chrome Diopside | n/a | n/a |
| Sphene | 66th | n/a |
| Apatite | n/a | n/a |
So that was our top 9. Could we have made it a top 10 or top 15? Perhaps Chrysoberyl could have made it twice but the standard version is just too yellow and the color-change variety Alexandrite is red half the time! Kornerupine is a gorgeous gemstone but the somber coloring is not to everyone's taste.