GemSelect Newsletter - June 2011
Sapphires are Forever!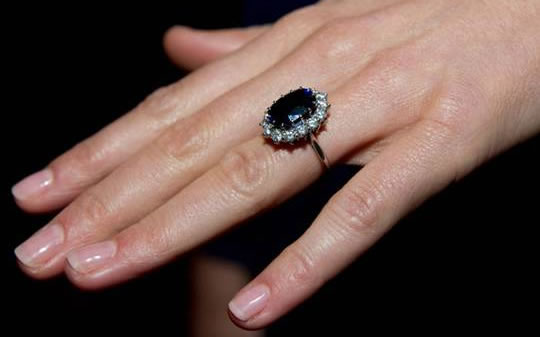 Kate Middleton's Engagement Ring
Kate Middleton's Engagement Ring - A 12-Carat Blue Sapphire Surrounded by 14 White Diamonds
Diamonds are forever, and now sapphires too! The whole world tuned in to the marriage of Kate Middleton, now the Duchess of Cambridge, and Prince William, now the Duke of Cambridge. It was widely reported that the engagement ring given to Kate Middleton from Prince William was an 12 carat sapphire surrounded by 14 smaller white diamonds. This ring had a very famous previous owner - Princess Diana.
This lovely blue sapphire was given to Diana, Princess of Wales, in 1981. Prince Charles presented it as an engagement ring to Princess Diana and after her untimely death, the ring was kept in the family. Prince William gave the engagement ring to Kate to ensure that his mother would be present at the wedding in spirit.
This lovely blue sapphire was purchased from the world renowned Garrard of London. The stone was mined from Pelmadulla in Sri Lanka.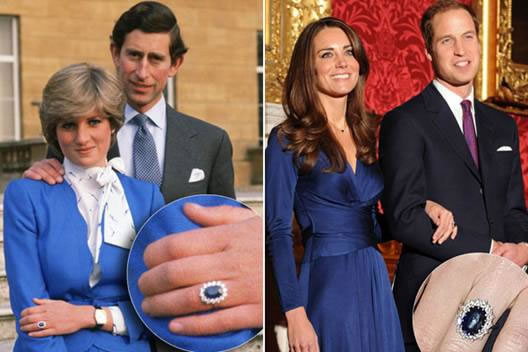 The Sapphire ring of Princess Diana and Kate Middleton
So, What Exactly is a Blue Sapphire?
Sapphire refers to the blue variety of corundum (aluminum oxide). The sapphire is the most precious of blue gemstones and is desirable due to its color, hardness, durability and luster. Sapphires are found in Madagascar, Thailand, India, Sri Lanka, Myanmar, Australia and the United States. To date, the second largest faceted blue sapphire in the world is the 423 carat (84.6 g) Logan Sapphire in the National Museum of Natural History in Washington D.C.
GemSelect.com has a large selection of blue sapphires. Our natural sapphires come with a money back guarantee and are ready for immediate shipment. Visit our website to browse our selection of natural gemstones or visit our sapphire webpage to purchase a precious blue gemstone just like the one owned by Princess Diana and Kate Middleton.
Click here to shop for blue sapphires
Keep up with our new arrivals before they hit the newsletter by joining our thousands of fans and followers on our social networking pages. We love interacting with our customers - you can visit us on LinkedIn, Twitter, Facebook or Pinterest!
To ensure you can receive our emails, please be sure to add help@gemselect.com to your list of safe contacts, or you add us into your email address book! Please feel free to contact us with any questions, comments and queries! We respond to each and every email we receive.
Happy Gem Hunting!
Your friends at GemSelect