GemSelect Jewelry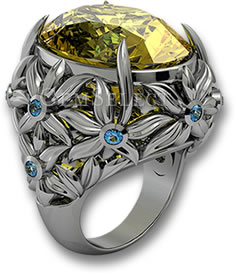 Silver Apatite Ring with Blue Topaz Accent Stones
We at GemSelect have successfully sold loose gemstones for over ten years now, and one if the things that we are always asked by customers is whether we can provide ready-made jewelry as well as settings and semi-mounts. Therefore, we are delighted to announce that we are offering unique jewelry that is fashioned from our loose natural gemstones and designed and made in-house. We have been working closely with our in-house professional jewelry designer to create new and exciting colored gemstone jewelry products. Each piece of GemSelect jewelry is designed from artistic inspiration and imagination. The designer first observes the gemstones and makes preliminary sketches around the gems, to document the idea and plan the design, before the precious metals and natural colored gemstones are crafted into an individual wearable product. Since these products are made from natural gemstones, each and every item is one-of-a-kind.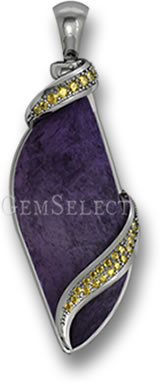 Silver Charoite & Sapphire Necklace Pendant
GemSelect jewelry includes ready-to-wear colored gemstone necklace pendants. These are not simple, mass-produced pieces of jewelry, but are intricately designed for the particular gemstones that they display, so that they take into account the gemstone properties, colors, shapes and styles that are suitable. For example, fancy-shaped gemstone cabochons require a little imagination when it comes to the setting, and octagonal faceted stones may be juxtaposed with a setting that features flowing, curved lines. Furthermore, the physical aspects of each design are considered, to ensure wearability and durability. Many GemSelect necklace pendants make use of attractive colored accent stones or unique millgrain designs that embellish the colored gemstones with exquisite detail. While we pride ourselves on our gemstones, we are also able to produce high-quality finished precious metal.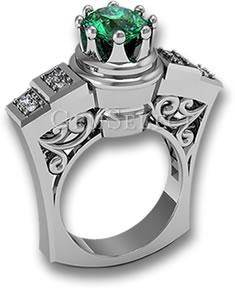 Silver Emerald Ring with White Diamond Accent Stones
Also on offer are rings, which typically feature a central gemstone with tasteful accents, such as complementary colored gemstones or precious metal details. We design rings for gemstone cabochons and faceted gems by integrating shapes and settings. Customers can choose from an extensive inventory of precious and semi-precious gemstone rings for almost any occasion, from engagements and anniversaries to casual-wear and cocktail rings. GemSelect colored gemstone rings are constructed to international standard ring sizes, so it is easy to order the perfect fit for your finger size. Unlike many other standard jewelry designs, we begin with a gemstone, rather than a setting, and let the stones guide us.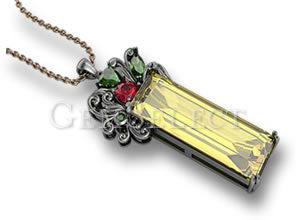 Silver Lemon Quartz, Chrome Diopside & Songea Sapphire Pendant
We continuously build up our jewelry collection, adding earrings, bracelets and other items to our inventory. Some exciting, new ready-to-wear products made from high-purity, locally sourced Thai silver and gold are available. Now you can own a unique piece of gemstone jewelry that you will not see in your local jewelry store, made with natural gemstones and at a fraction of the price that a local jeweler would charge. A wide choice of colored gemstones and designs will allow you to select the style that best suits you. We let the gemstones themselves inspire us and lead us on a journey of artistic and technical expertise, to bring you GemSelect jewelry.
First Published: September-24-2015
Last Updated: November-08-2018
© 2005-2021 GemSelect.com all rights reserved.
Reproduction (text or graphics) without the express written consent of GemSelect.com (SETT Company Ltd.) is strictly prohibited.