The Joy of Jade Jewelry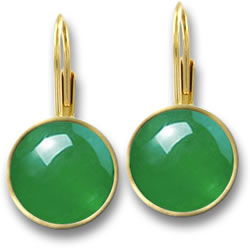 Imperial Jadeite and Yellow Gold Drop Earrings
Jade is not only beautiful, but is a durable and versatile material that can be fashioned into a wide variety of jewelry items, from intricate carvings and pendants, to earrings, rings, bangles and simple beads. Jade is suitable for high jewelry designs with rubies, diamonds and yellow or white precious metal, and also for more simple, tribal-style items. There are two main varieties of jade; jadeite and nephrite. The colors of jade vary greatly and include white, yellow, lavender, pink, green and even black. Jade has been treasured since the days of ancient China and is prized in countries all over the world, from New Zealand to Hong Kong. However, as jade becomes rarer, its price is rising.
One of the most famous pieces of jadeite jewelry is the "Hutton-Mdivani Necklace". The necklace is made up of twenty-seven large jadeite beads. The platinum and yellow gold clasp contains rubies and diamond baguettes. This was added to the necklace by Cartier at the request of Barbara Hutton's father. The necklace was then given to Barbara as a wedding gift when she married Prince Alexis Mdivani from Georgia. At the time, Barbara Hutton was one of the wealthiest women in the world and heiress to the Woolworth fortune. The jadeite beads match perfectly and have an emerald-green color and a high level of translucency that classes them as "imperial jade", the most valued jadeite of all, which comes only from Burma. The beads are thought to have been around since Qing Dynasty China. The necklace has appeared at several auctions, and each time, it has achieved record prices. In 1988, it reached $2 million, and then in 1994, it was auctioned for $4.2 million. Ten years later, in 2014, it reached a remarkable $27.4 million.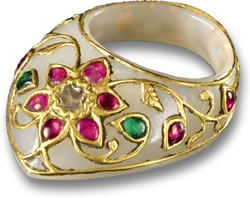 White Nephrite Jade, Gold, Ruby and Emerald Mughal Archer's Ring
Another prized type of jade is creamy white jade that is known as "mutton fat jade" because of its resemblance to sheep's fat in color and luster. This was carved into various decorative objects in ancient China, such as snuff bottles, bowls, bangles, pendants, rings and so on. Additionally, some ornate jewelry belonging to the Mughal Empire of India and Pakistan was fashioned from white jade. The Fifth Mughal Emperor, Shah Jahan, the man behind the construction of the Taj Mahal, owned a white nephrite thumb ring and an exquisitely carved white nephrite wine cup. The Mughals called jade yashm, as did the Persians. The Indian National Museum in Delhi has a collection of jade artifacts from the Mughal period, including several archers' rings. These were worn on the thumb during archery practice to protect the fingers from being hurt by the string of the bow. The Chinese also carved archer's rings from jade.
Popular jade pendants include the Chinese bi, which is a circular disc with a small, round hole in the middle. It is thought that these are associated with heaven. Bi can have smooth surfaces or low relief carvings. These discs have been found laid on the bodies of the dead in ancient tombs dating back to the Hongshan Culture of around 3800-2700 BC. Other important jade pendants are symbolic Chinese motifs, such as peonies and birds, which were carved on jade pendants given to infant boys. Maori pounamu (jade) pendants from New Zealand also carry symbolic motifs, such as fish hooks and human figures.
Lavender Jadeite Bangle
Since jade occurs in various colors and patterns, it can be fashioned into jewelry to suit any occasion. One of the softer, more feminine colors of jade is lavender, which varies from pink to violet. Lavender jade is treasured in the Far East. This was evident in the Sotheby's Magnificent Jewels and Jadeite auction of April 2014 in Hong Kong, when a lavender jadeite necklace achieved $1.2 million. According to a traditional Chinese belief, jade is thought to protect its wearer by absorbing negative energy. In fact, there are stories of jade bangles breaking during near-fatal accidents or illnesses, after which the wearer experiences a full recovery.
If you are a fan of jade jewelry, we would advise you to collect it while it lasts. This is especially the case with the most sought-after rich, green imperial jadeite. As the spending power of Chinese jewelry collectors increases, and this emerald-green form of jade becomes rarer, prices are escalating at an alarming rate. Thus, owners of imperial jade jewelry can be now counted among the lucky few. It could be said that the Chinese were right in placing jade above gold in value. It seems that the wheel of jade will spin full circle, since in ancient China, only the elite owned imperial jade.