GemSelect Newsletter - August 2015 When Accent Stones Take Center Stage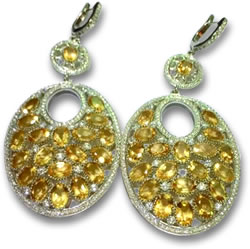 Citrine & Silver Earrings
Setting very small stones requires a great deal more time, patience and skill than setting a single large stone, but the end result is often well worth the effort. Using small gemstones is affordable and can make colored gems go a long way, eliminating the need to buy one large, valuable gemstone. Small gems can often look even more impressive than one large gem and if set in a certain way, they can give the illusion of a large gemstone. With modern jewelry innovations, it is now much easier to make beautiful jewelry with intricately set small gemstones in unique and interesting metal designs. The main attraction can be the shape of the jewelry and the color of small, closely-set gems. When small stones are closely set, the gems rather than the metal of the jewelry are showcased.
Unlike some large gemstones, small gems are available in every color and many shapes. Some gemstone types are rarely available in large sizes, so several smaller gemstones are often a better option. It is amazing how incredibly small gemstones can be precisely fashioned into brilliant-cut gems. When it comes to very small round gems, a simplified version of the brilliant cut is sometimes used, with fewer facets. This reduces the possibility of a milky or fuzzy looking stone due to the difference in dispersion of smaller gems. Small gems can exhibit a high level of brilliance, and when the light hits them all, they make the whole surface of the jewelry dazzle.
Silver Amethyst Ring
Pavé setting means "paved" like a cobblestoned street. Pavé settings give the impression of a continuous surface of gemstones. The gems are typically round and are held in place by small metal beads. When using such intricate settings, care should be taken to ensure that the settings are well-aligned and even. Imagine that you are walking down a paved street or looking at a tiled bathroom, does it look better when it is evenly spaced and smooth, or when it is crooked and tilted? A jeweler known for his beautiful pavé-set jewels is Joel Arthur Rosenthal (known simply as "JAR"). He has created astonishingly beautiful jewels that appear like colorful flowers. Such jewelry truly showcases the most prized quality in colored gemstones; color.
Channel setting is the most common type of setting for melee stones (very small matched parcels of gems). With channel setting, it is important that the girdle of the stone is snug in the grooves, so the width and angle of the crown and pavilion should be properly measured. Channel setting is ideal for rings such as wedding bands.
Another setting technique is "invisible" setting. This is where no prongs can be seen and the gemstones appear to form an interrupted surface. Invisible-set gems are secured by the girdle in metal channels below the surface. This works best with gems that have straight edges, such as princess-cut or emerald-cut gems that can fit together with no spaces between them. Van Cleef & Arpels have been credited with developing the technique, which they named "Mystery Setting".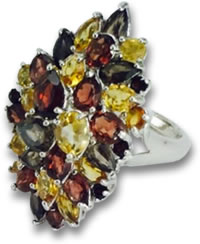 Multicolored Gemstone Ring
When choosing small stones that will be set closely together to form a single block of color, it is important that they are well matched, since the color of the stones is flaunted in such jewelry. However, for multicolored jewelry, a difference in gemstone color is attractive.
Parcels of gemstones that are well matched for color and lots (groups of matched stones) with multicolored gems are both easily available. Multicolored gemstone lots work well when cool or warm colors are placed together. For example, blues, greens and violets are attractive, as are yellows, reds, oranges and browns (see image, left). Cool colors can be placed with contrasting yellow or rose gold, or cool platinum or silver. Warm colors contrast with white precious metal or match yellow and rose gold. Such multicolored jewelry can be custom-made especially to match the wearer's skin tone or the season. Also, pastel or vivid colors can be placed together or mixed.
Unisex Spessartite Garnet Ring
Some designs and jewelry types are particularly well suited to small gems. For example, men's necklace styles such as dog tags and crosses can be given a modern look with rows of melee gems. One, large gemstone may appear a little out of place in such a design. Likewise, many men's pinky rings are not solitaires, but have small, closely-set gems. These are comfortable to wear, since the small gemstones are set snugly around the band. A large, bulky single stone can be difficult to wear on the pinky finger because it tends to get in the way and catch on things during manual activity.
If you are looking for gem lots to make some attractive colored gemstone jewelry, please visit our gem lots page. You can filter the results by gem type, size, shape, color and more. Please bear in mind that the carat weight shown is the total carat weight of the whole gemstone lot, not individual gems. You can get an indication of the actual size of the gems by checking the measurements in millimeters. This will give you a good idea of what you will be working with and how well the gems will fit your intended design.
Featured Gems - New Arrivals: Sillimanite, Peridot & Rhodolite Garnet
Back to Top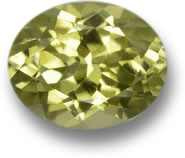 Sillimanite Gemstone
We have recently acquired some faceted sillimanite gemstones which range from yellow to green in color, though sillimanite can also occur in colorless, grayish-white, bluish and brownish hues. Sillimanite is a rare, collector's stone that is more often seen as cat's eye cabochons. Sillimanite was named after Benjamin Silliman, who identified it and was the founder of the American Journal of Science. While sillimanite was first found in Connecticut, it is the official state mineral for Delaware. Sillimanite gems have a good level of hardness (6.5 - 7.5), but should not be exposed to hard knocks, since sillimanite possesses perfect cleavage, like diamond and topaz.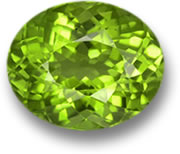 Oval Peridot Gemstone
Peridot is the birthstone for August. It is often described as being a "lively green" and it is easy to see why by looking at the gem, which is a bright green. Furthermore, this vividly colored gemstone is completely untreated. Unlike many other gems, peridot gets its color from its composition rather than trace elements. Another interesting fact about peridot is that it has been found in meteorites. One example of this is the Fukang Meteroite, which was found in the Gobi Desert and is thought to be around the same age as our solar system. Peridot is suitable for any jewelry application and looks equally good in white or yellow metal. It can be found in many shapes and sizes, including matched lots.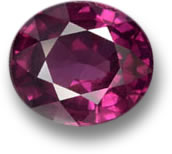 Rhodolite Garnet Gem
Garnet is one of the most important gem types, which is mainly known for the brownish-red pyrope garnet variety. Another beautiful garnet variety, which occurs in rose-pink to deep-red hues is rhodolite garnet. Rhodolite garnet is composed of a mix of pyrope and almandine garnet and is known for its attractive raspberry red color. If you are looking for an untreated rose-pink or red gemstone with more purplish tones than orange-red, then rhodolite garnet may be the perfect choice. Rhodolite garnet is found in many shapes and in gems weighing over 5 carats. It is a very durable and versatile jewelry gemstone.
The International Colored Gemstone Association (ICA) has recently announced the appointment of gemstone expert, Gary Roskin, as executive director. Mr Roskin is a respected gemologist who established Roskin Gemological Services and previously worked for GIA, European Gem Lab and Jewelers Circular Keystone Magazine.
A new type of diamond has been discovered by Russian scientists in the solidified lava of the Tolbachik Volcano. The interesting new stones appear like synthetic diamonds, but were formed by volcanic gases under extremely high pressure and then crystallized by electrical discharges during lightning strikes. Diamonds usually form deep inside the Earth's mantle and then come to the surface through volcanic eruptions.
Every month we answer questions of general interest from our customers. Please feel free to send your questions or suggestions to our support team at help@gemselect.com!
Question
Hi, I recently purchased a beautiful pair of tanzanite gems and would like two more of the same. Can I repeat my order?
Answer
In most cases we can find gemstones that very closely match a previous order. We keep a database of all sales, including photos of the gems, so if you are looking for a replacement gem and don't have your previous order details, even if it was several years ago, feel free to contact us and we will be happy to help. Please bear in mind that our gemstones are all natural colored stones, this means that each item is unique. But we have an extensive inventory and if you kindly let our staff know your specifications, we will be able to find gemstones as similar to your original ones as possible.
Question
Hello GemSelect, I really like some of the marquise-shaped gems on your site, but I'm not sure what to do with them. Could you give me some ideas?
Answer
We are always happy to make suggestions for jewelry designs.
Marquise gems
are wonderful for solitaire rings because they give the appearance of long, elegant fingers. For those who have very long fingers, the marquise can be placed widthwise. Alternatively, placing three marquise gems side-by-side makes for a more unique ring than using round or oval gems. Marquise shapes are ideal for pendants, such as dangle earrings and necklace pendants. As for smaller marquise-shaped gemstones, they look especially impressive when set side-by-side in gemstone bracelets or band rings.
We always welcome your questions, comments and feedback! For those who are interested in attending some gem and jewelry events, please see the details below.
Event Name
Reed Gift Fair
Venue
Melbourne Convention & Exhibition Centre and Melbourne Showgrounds, Melbourne, Australia
Event Name
Australian Opal Exhibition
Venue
QT Gold Coast Hotel, Queensland, Australia
Event Name
India International Jewellery Show
Venue
Bombay Convention & Exhibition Centre, Mumbai, India
Dates
August 6 - 10, 2015
Event Name
Dallas Summer Gem, Jewelry & Bead Show
Venue
Grapevine Convention Center, Grapevine, TX, USA
Event Name
Atlanta Jewelry Show
Venue
Cobb Galleria Center, 9 Lobby, Atlanta, GA, USA
Dates
August 8 - 10, 2015
Event Name
Memphis Gift & Jewelry Show
Venue
Memphis-Cook Convention Center, Memphis, TN, USA
Dates
August 14 - 16, 2015
Event Name
Bead Fest Philadelphia
Venue
Greater Philadelphia Expo Center, Philadelphia, PA, USA
Dates
August 19 - 23, 2015
Event Name
Malaysia International Jewellery Fair 2015
Venue
Kuala Lumpur Convention Center, Kuala Lumpur, Malaysia
Dates
August 21 - 24, 2015
Event Name
Ambermart 2015 - 16th International Fair of Amber
Venue
AmberExpo Convention & Exhibition Centre, Gdansk, Poland
Dates
August 26 - 28, 2015
Venue
Frankfurt am Main, Frankfurt, Germany
Dates
August 29 - Sept 1, 2015
Location
Russian Federation
Venue
All-Russian Exhibition Centre, Moscow, Russian Federation
Dates
August 30 - Sept 4, 2015
Keep up with our new arrivals before they hit the newsletter by joining our thousands of fans and followers on our social networking pages. We love interacting with our customers - you can visit us on Tumblr, LinkedIn, Twitter, Facebook or Pinterest!
To ensure you can receive our emails, please be sure to add help@gemselect.com to your list of safe contacts, or you add us into your email address book! Please feel free to contact us with any questions, comments and queries! We respond to each and every email we receive.
Happy Gem Hunting!
Your friends at GemSelect