Gemstone Necklace Pendants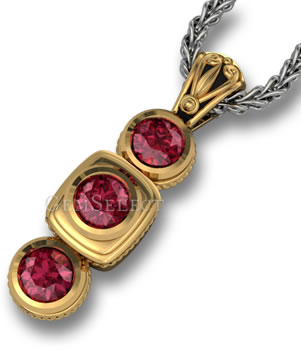 Gold Red Spinel Pendant
Pendants are one of the easiest jewelry items to wear; they are simply threaded onto a necklace. A pendant can be affordable or valuable; tribal style or formal; a statement piece or delicate, and any color you like. Any kind of gemstone can be used in a pendant, from cabochons to faceted gems. The necklace itself can be short or long, and made from leather, string, beads, steel or precious metal. Moreover, one necklace can have a single pendant or several. Pendants can feature a single gemstone, or numerous gems. Additionally, pendants are ideal for any kind of gemstone, since they do not usually undergo hard knocks like rings and other items of jewelry.
When choosing a gemstone for a pendant, it is important to consider the kind of setting. For example, a half-drilled gem would be suitable for a capped pendant that will be set onto a post, such as a pearl. Drilled gems such as briolettes make good pendant stones. These can be capped so that the hole is not seen, or may be simply threaded onto the necklace. For wire-wrapped pendants, any shape, size and cut of loose gem can be used. Wire-wrapping is also more secure than half-drilled settings, since wire-wrapped gems are cradled rather than pierced and glued. Bezel settings are also very secure, but can hide the brilliance of a gem more than prongs, which let more light through.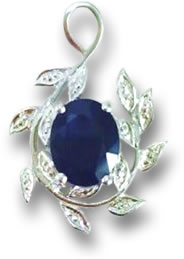 Silver, Diamond and Sapphire Necklace Pendant With White Accent Stones
Gems for pendants can be stand-alone pieces or may have accent stones. Some pendants use a cluster of small gems that match in color or size and are set into a shaped metal pendant. Gemstone pendant findings can also come with small accent stones, usually white gemstones. If you are buying ready-made findings, it is important to shop for a center stone by size, so that it fits the setting and to be aware that the densities of colored gems vary. In some cases, it is usually easier to make a setting to fit a gemstone, rather than buy a gem to fit a setting. Sometimes the desired size and shape of a certain gem type may not be available. However, calibrated sized gems make finding the right gem much easier.
For those who prefer a simple pendant, a single gemstone may be the best choice. The size of the gemstone and chain it is intended to be worn on may dictate the style of the pendant. For example, a small, but high quality gemstone may look best with a delicate gold chain and some extra precious metal framing it; otherwise the pendant would be lost. However, a frame that is too large would only swamp the gemstone and make it appear even smaller. Conversely, a large gemstone pendant would not need a frame to draw attention to it, and could look a little strange on a delicate necklace.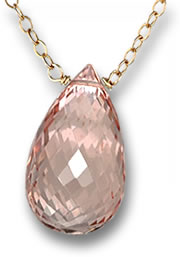 Gold Necklace with Morganite Briolette Pendant
Precious metal necklace pendants should be matched to the necklace that they will be worn on. Therefore, it is important to note the purity and color of the metal because the color can vary. For example, alloys such as 18k yellow gold and 24k yellow gold can appear different. Therefore, an 18k gold chain may not match a 24k gold pendant. Another thing that should be considered is the length of the necklace. There are standard necklace size charts, but people vary, so a sixteen inch necklace may sit in the right place for some, but be a little too short or too long for others.
Finally, pendant necklaces can be worn in different ways. A tribal style necklace is perfect for the beach or casual wear, whereas a precious metal necklace will add sparkle and glamour to more formal wear. Pendant necklaces can be worn with other jewelry as a suite, or alone. If you are wearing earrings with a pendant necklace, it is better that the earrings are kept subtle. Sometimes, when it comes to jewelry, less is more. However, when it comes to necklace pendants, you can never have too many. More pendants allow for the freedom to change your style whenever it suits you.