The World of Quartz Gemstones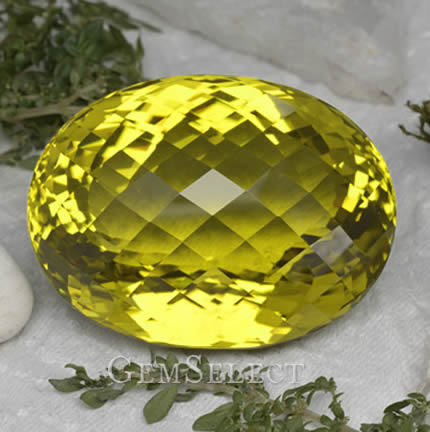 Natural Lemon Quartz Gemstone
Quartz is the second most common mineral on earth, making up about 12% of the Earth's crust. Only feldspar is more common. However, one shouldn't conclude from this that quartz gemstones are uninteresting. In fact the quartz family is surprisingly diverse. The fact that quartz is inexpensive just means there are more opportunities for collectors.

Natural Amethyst from GemSelect
All quartz is silicon dioxide, but this was not discovered until the early nineteenth century. Prior to that, many different forms of quartz were thought to be distinct minerals.
This is not really surprising, since there are two very different branches of the quartz family. When most people think of quartz, they think of what is known as macrocrystalline quartz, which includes rock crystal, amethyst, citrine, smoky quartz, rose quartz and tiger's eye. Macrocrystalline quartz, as the name suggests, has large crystals that can be distinguished by the naked eye. This type of quartz is mainly transparent to translucent, with a vitreous luster.

Chalcedony from GemSelect
The other type of quartz is known as cryptocrystalline quartz. It has microscopically (or submicroscopically) small crystals and is usually translucent to opaque, with a waxy to greasy or dull luster. This kind of quartz has fibrous and granular subcategories. The fibrous varieties are known as chalcedony, but this name covers a remarkable variety of stones.
Natural Onyx
In practice, the name chalcedony refers to solid colored cryptocrystalline quartz, especially of a light color. The patterned varieties tend to have their own names. The most famous of these include agate, distinguished by its bands of color; onyx, which is black and white layered chalcedony (and is usually dyed to produce a uniform black); carnelian, a yellow-orange to reddish-orange type of chalcedony, colored by iron; and chrysoprase, an apple-green variety that is colored by nickle.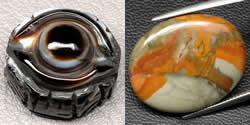 Jasper Gemstone
The granular varieties include jasper and bloodstone. Jasper is typically multicolored, spotted or flamed. Especially treasured pieces form patterns that look like natural landscapes. Bloodstone, also known as heliotrope, is dark-green with flecks of red, caused by iron oxide.

The diversity of many of these quartz varieties is remarkable. Agate, for example, has more than a dozen different types, many of them much sought after by collectors. They have quaint names like eye agate, which forms ring shapes with a point in the center; moss agate, distinguished by its moss-like patterns; and fire agate, which displays an unusual iridescence.