Drusy Gemstones
In mineralogy there are geometrical terms to describe the various crystal systems, such as cubic, tetragonal, monoclinic and triclinic. Moreover, there are other terms that mineralogists use to describe the typical appearance, or habit of crystals. They include various shape and size descriptions such as bladed, botryoidal (globular), columnar, and sphenoid (wedge-shaped).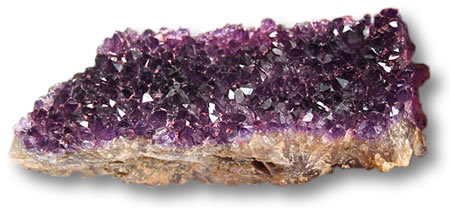 Amethyst Drusy
Many of these are technical terms that are specific to mineralogy, but one of them has also become important in the world of gems and jewelry. The term drusy, used to refer to encrustations or clusters of minute crystals, has become familiar to many jewelry designers and consumers. Drusy gemstones that are incorporated into jewelry provide a unique look like the sparkling of sugar or snow.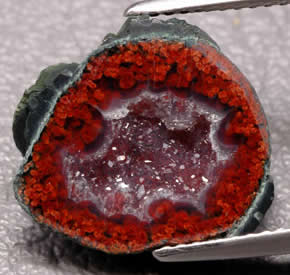 Agate-Geode Drusy
You will sometimes see the term spelled druzy, druse or drusies. All these terms refer to the same thing - tiny crystals that form within or on the surface of other minerals. By far the most commonly found drusy is quartz (agate or chalcedony), but many other gem types exist in this form. Other types of drusy include uvarovite garnet, rainbow pyrite, rainbow hematite, chrysocolla, calcite, dolomite, sphalerite, demantoid garnet, melanite garnet, azurite, dioptase, turquoise and vanadinite.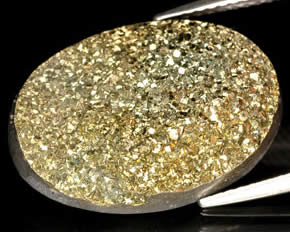 Rainbow Pyrite Drusy
In drusy gemstones, quality is determined not just by color, weight and clarity, but also by the size and evenness of crystal coverage. The evenness with which the matrix is covered is an important value factor. Good drusies are relatively rare, especially in non-quartz species.
Drusy can be quite delicate compared to typical faceted and cabochon gemstones. The toughness of each drusy piece depends on the nature of the crystals themselves and the matrix in which they are embedded. For example, quartz drusy is relatively durable while calcite drusy is quite fragile. Any drusy is probably more fragile than a single crystal of the same gem variety. This is because in addition to the usual worry of scratching or breaking, there is always a risk of detachment of the tiny crystals from the matrix.