Semi Precious Turquoise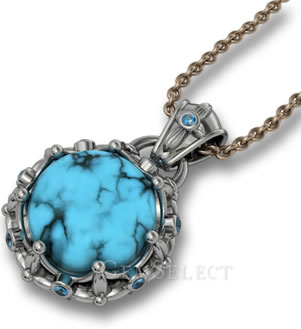 Turquoise Necklace Pendant
The history of turquoise use goes back centuries in various parts of the world. Turquoise was used by the ancient Sumerians and Egyptians. It was prized for its blue color, which represented regeneration. One of the most famous ancient Egyptian artifacts is King Tutankhamen's burial mask, which contains turquoise inlay. The turquoise was mined from the Sinai Peninsula in Egypt, which was referred to as "Mafkat", meaning "the land of the green minerals". It is still known by many as "the land of turquoise".
Turquoise was also important in Persia; what is known today as Iran, and it is the national gemstone of Iran. Persian turquoise has been mined for thousands of years and transported along ancient trade routes, such as the Silk Road, to other parts of the world. Early writers and explorers helped to spread the word about Persian turquoise. In Shakespeare's "The Merchant of Venice", a turquoise ring is taken by the daughter of the main character who exclaims, "Out upon her! Thou tortuest me, Tubal: it was my turquoise; I had it of Leah when I was a bachelor: I would not have given it for a wilderness of monkeys." The name, "turquoise" comes from French words meaning, "Turkish stone", since the beautiful blue stone reached Europe via Turkey and Turkish traders. Due to its trade, Persian turquoise gained a reputation for fine quality. Such fine turquoise is generally considered to be turquoise that does not contain the matrix (host rock) and has a smooth texture. The most treasured turquoise color is known as "Persian turquoise" and is a sky blue ("robin's egg blue") color. Uniformly colored turquoise such as this is generally only found in small cabochons. While most people know and love blue turquoise, many also admire yellowish-green, bluish-green or lime-green turquoise.
Turquoise and Mixed Metals Ring
Another important source of turquoise is China, particularly Hubei Province. While the ancient Chinese imported a great deal of their gemstone material, in more recent times, China has supplied a large proportion of the world's turquoise. The Chinese have traditionally treasured jade for jewelry and used turquoise to produce carvings and inlay. Tibetans consider turquoise to be a protective stone that brings good fortune and secures sound health. Additionally, turquoise is tied in with Tibetan spiritual beliefs. Turquoise is the color of Tibetan sacred lakes and the clear blue sky. It is valued for its beauty and special properties. Turquoise is set into traditional Tibetan jewelry, which can be found in Tibet and Nepal.
In the continent of America the Aztecs used turquoise for decorative and spiritual purposes, and fashioned beautiful mosaic masks and a double-headed mosaic serpent out of turquoise. It is said that the last Aztec emperor, Montezuma II, presented the Spanish conquistador, Hernando Cortés with gold, silver and the more treasured turquoise. Alas, the Aztec emperor was captured by the Spanish and later died. There is a mine known as the Montezumo Turquoise Mine in Nevada, USA. Other North American mines exist in California, Arizona, New Mexico and Colorado. Turquoise was prized by Native Americans, who traditionally used turquoise beads and mosaic work. The Navajo Tribe became known for their metalworking skills, though turquoise was not set into Native American silver jewelry until 1880. As the USA road network developed, many Americans migrated west, drawn by better prospects, and turquoise trade increased. It is said that the color of fine turquoise was the inspiration behind "Tiffany Blue"; the signature color used by Tiffany & Company, who began using turquoise in jewelry in the 1860s. During the late 1800s, Tiffany turquoise and pearl brooches were popular wedding gifts given by grooms to their new brides. Thus, the place of turquoise in North American jewelry was secured.
Turquoise Rose Gold Ring
Turquoise would have reached Europe via trade with Persia and when the Spanish conquistadors returned from South America. Turquoise was referred to by Pliny the Elder and Shakespeare, and became popular in jewelry during the 19th century, especially in "forget-me-not" jewelry, which was given as tokens of love and remembrance. Turquoise is the perfect blue color to capture the likeness of the blue forget-me-not flower. Turquoise also featured in Art Nouveau jewelry and then in the 20th century, Art Deco jewelry showcased turquoise surrounded by white diamonds and black onyx. Later, turquoise was used in tribal-style jewelry which was popular during the Hippie Movement. This may have caused turquoise to be thought of as an affordable gemstone used mainly in Native American jewelry, rather than a fine material used by internationally renowned jewelry designers, such as Van Cleef & Arpels and Bulgari. In fact, one of Elizabeth Taylor's necklaces by Bulgari was made in 1965 and featured emerald, amethyst and turquoise. In recent years, turquoise has been making something of a comeback, showing its true value on red carpets and in gem and jewelry trade shows such as Baselworld.
Fine turquoise is becoming scarcer in certain areas, such as the American South West, yet it remains labeled as a "semi precious" gemstone. This could be due to its lack of hardness or its opacity rather than its unique and beautiful color. Turquoise is stunning with black, white and neutrals, and looks incredible with either cool white metal or yellow gold. In fact, turquoise is so versatile that it is equally at home in tribal silver jewelry or platinum and diamond Art Deco jewelry. Turquoise is so deeply entrenched in world history that it will never go out of fashion. As sublime as the Mediterranean Sea, it is just as treasured in modern times as it was by the ancients.
First Published: April-01-2016
Last Updated: December-15-2017
© 2005-2022 GemSelect.com all rights reserved. Reproduction (text or graphics) without the express written consent of GemSelect.com (SETT Company Ltd.) is strictly prohibited.