Gemstones from Australia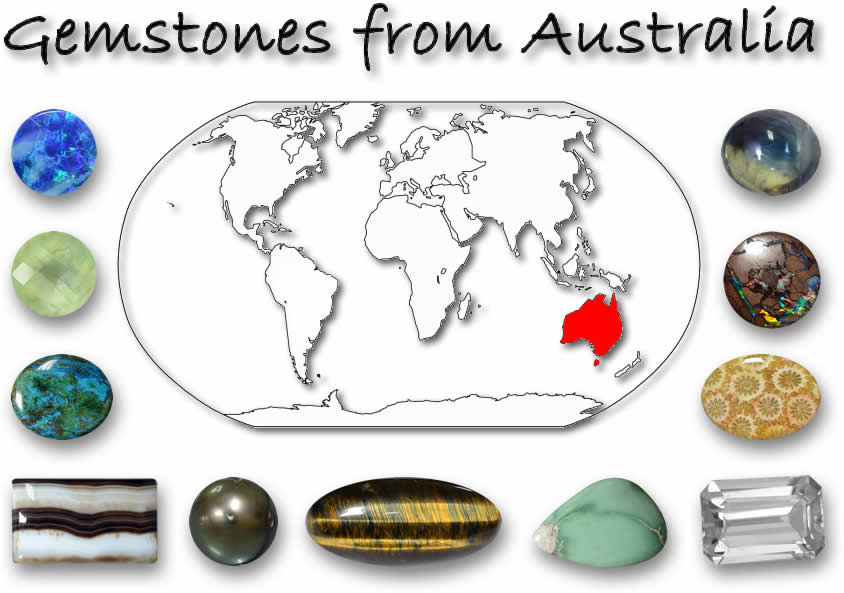 Australia is a country famous for its unique wildlife such as the cute and cuddly kangaroos and koalas, platypus and wombats as well as the downright scary snakes, spiders and jellyfish. Then there is the diverse variety of food - from decidedly delicious to downright dodgy - for every shrimp on the bbq there is a vegemite sandwich and for every juicy steak there is a 4 and 20 pie.
The landscape is as varied as it comes, arid deserts, rolling green hills and thick tropical jungles can all be found on this huge continent as well as endless white sandy beaches or jagged rocky cliffs. Busy metropolises full of shopping centers and coffee shops contrast with isolated cattle stations and sheep farms the size of small countries.
To match the assorted environments, Australia possesses natural resources that are the envy of the rest of the world and this includes a number of much sought after gemstones. You name it and Australia will probably have it!
Of course, not all material makes it to the cut, polished and faceted world of gemstone sales. For example about half of the world's garnet comes from Australia but just about all of it is for industrial use and virtually none of it ever gets to be a gorgeous ring or set of earrings.
In our 20 odd years of buying and selling gemstones worldwide we would be hard pushed to find a country with a more plentiful supply of amazing colored stones than Australia. In addition, their reputation for ethical labor laws and respect for the natural habitat is second to none so we feel very comfortable selling gemstones sourced 'down under'.
Today we are going to take a detailed look at the best in gemstones from Australia and there is really only one place to start.
With the exception of opals, the gemstones above tend to be transparent or at least translucent and are usually facet cut for jewelry making. Australia is also home to several types of gemstones which are usually opaque and can be cabochon cut and polished or made into odd shapes for unique jewelry pieces.
So there we have our choices for the best gemstones from Australia. As we mentioned above, the list of minerals from Australia is nearly endless and we could have included agate, chalcedony, sodalite, emerald, ruby, moonstone, aquamarine, peridot and more but we have kept it to gemstones that are readily available around the world.
Australian Gemstones Guide

| Gemstone | Color |
| --- | --- |
| | Multicolored |
| | Various |
| | Various |
| | Various |
| | Greenish Yellow |
| | Green |
| | Various |
| | Various |
| | Various |
| | Green |
| | Multicolored |
| | Red / Pink |
| | Green |
| | Honey Brown |
| | Multicolored |
| | Cream / Various |
First Published: May-21-2021
Last Updated: May-25-2021
© 2005-2021 GemSelect.com all rights reserved.
Reproduction (text or graphics) without the express written consent of GemSelect.com (SETT Company Ltd.) is strictly prohibited.
Article Categories
Total Number of Articles: 1733