Prehnite Gemstone Information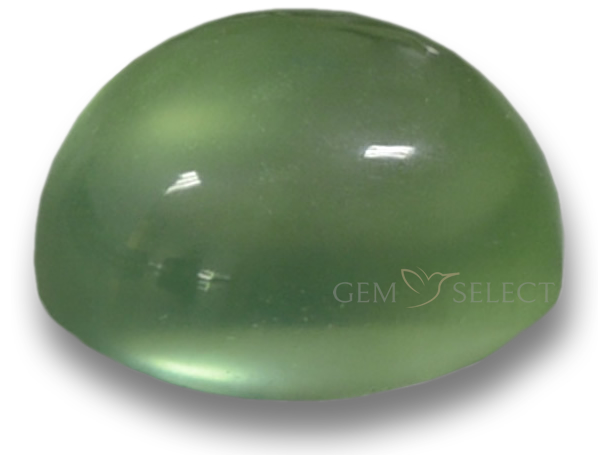 Buy Prehnite Gemstones from GemSelect
About Prehnite - History and Introduction
Prehnite is a translucent to transparent gem-quality hydrated calcium aluminum silicate. It was the first mineral to be named after an individual, and it was also the first mineral to be described from South Africa, long before South Africa became one of the most important sources for precious and semi-precious gems. It was first described in 1788 after it was discovered in the Karoo dolerites of Cradock, South Africa. Prehnite was later named after its discoverer, Colonel Hendrik von Prehn (1733-1785), a Dutch mineralogist and an early governor of the Cape of Good Hope colony.
Until recently, prehnite was a rare collector's gemstone, but new deposits have now made it more readily available. In China, prehnite is sometimes referred to as 'grape jade' owing to nodular formations which often resemble a bunch of grapes. Its color is usually a soft apple-green, which is quite unique to prehnite, but it can also occur in rarer colors including yellow, orange and blue.
| | |
| --- | --- |
| | |
Prehnite is typically semi-transparent to translucent with a chemical formula of Ca2Al(AlSi3O10)(OH)2. Its color is usually yellow-green to apple-green. Prehnite is considerably hard with a rating of 6 to 6.5 on the Mohs scale. It has a specific gravity ranging from 2.82 to 2.94 and a refractive index of 1.611 to 1.669. Prehnite is in the orthorhombic crystal class, usually found in radiating botryoidal (grape-like) aggregate forms, and rarely as tabular and pyramidal crystals. When heated, prehnite crystals can sometimes give off water. It has a brittle tenacity and an uneven fracture. When polished, prehnite has a vitreous to pearly luster. Prehnite may be confused with apatite, jade or serpentine.
Prehnite occurs in the veins and cavities of mafic volcanic rock. It is a typical product of low-grade metamorphism. Primary deposits of prehnite are sourced from several locations around the world. Some of the most important deposits come from Africa (Namibia, South Africa), Australia (Western Australia, Northern Territory), Canada, China, Germany, Scotland, France and the United States (New Jersey, Pennsylvania and Virginia).
Rare, orange colored prehnite has been discovered in South Africa. Quebec, Canada is known to produce prehnite with distinct, individual crystals.
Buying Prehnite and Determining Prehnite Value
Back to Top
Prehnite Color

Prehnite occurs in a range of green colors, including pale green to dark green and yellow- to brown-green. Prehnite may also occur gray, blue, orange, white and colorless. A soft apple green color is most desirable, while blue, pink, colorless, white and orange are considered the rarest occurrences and are highly sought after by mineral collectors.

Prehnite Clarity and Luster

Prehnite is typically translucent in clarity and is rarely transparent. It is often found in very large sizes. Transparent and facetable material is typically found only in smaller sizes. Its has a vitreous to pearly luster.

Prehnite Cut and Shape

Prehnite is often cut and polished en cabochon, but highly transparent materials are quite often faceted. Prehnite may also be tumbled or beaded and it is a popular ornamental material used for decorative carvings. The most popular shapes include traditional oval, cushion and round shapes. Fancy shapes are not as popular, but can be found, including hearts, trillions and pears. Cat's eye prehnite is known but extremely rare; these are cut en cabochon to maximize chatoyancy.

Prehnite Treatment

Prehnite is not known to be treated or enhanced in any way.
| | |
| --- | --- |
| Chemical Formula: | Ca2Al(AlSi3O10)(OH)2 Basic calcium aluminum silicate |
| Crystal Structure: | Orthorhombic; columnar, tabular crystals and aggregates |
| Color: | Yellow-green, brown-yellow, gray, white and colorless |
| Hardness: | 6 to 6.5 on the Mohs scale |
| Refractive Index: | 1.611 to 1.669 |
| Density: | 2.82 to 2.94 |
| Cleavage: | Good |
| Transparency: | Transparent to translucent |
| Double Refraction or Birefringence: | 0.021 to 0.039 |
| Luster: | Vitreous to pearly |
| Fluorescence: | None |
Please refer to our Gemstone Glossary for details of gemology-related terms.

Green Peridot
There are no closely related gemstones, but there are several gemstones which can have a very similar appearance (color and luster), including jade, apatite, serpentine, brazilianite, periclase, chrysoprase, peridot, smithsonite and hemimorphite. Prehnite is also often found and associated with many microporous, aluminosilicate zeolite minerals such as datolite, calcite, apophyllite, stilbite and heulandite.
Prehnite Mythology, Metaphysical and Crystal Healing Properties
Back to Top
Prehnite is a protective stone and it is also known as a stone of prophesy. It aids spiritual communication through meditation, visualization and even astral projection. It is considered to be a very powerful dream stone. It is believed to strengthen life force and energy. Prehnite is said to encourage composure, forgiveness and acceptance, therefore it is also excellent for meditation. Some also believe that prehnite helps sufferers of claustrophobia. Prehnite is also known as a stone of unconditional love. It is believed to connect the will and the heart.
Those who wear prehnite can experience strengthened intuition. In traditional Indian beliefs, prehnite is best used for stimulating the third eye chakra. Physically, prehnite is often used by crystal healers for treating and alleviating symptoms of gout, anemia, kidney disorders and thymus gland problems. It also helpful for shoulder and chest pain.
Disclaimer: Metaphysical and Alternative Crystal Healing Powers and Properties are not to be taken as confirmed advice. Traditional, Ceremonial and Mythological Gemstone Lore is collected from various resources and does not represent the sole opinion of SETT Co., Ltd. This information is not to replace the advice of your doctor. Should you have any medical conditions, please see a licensed medical practitioner. GemSelect does not guarantee any claims or statements of healing or astrological birthstone powers and cannot be held liable under any circumstances.
Prehnite is one the rarer and lesser-known gems. Thus, it is primarily a collector's stone. Although its use as a jewelry gemstone is not common, it is becoming more and more popular, especially because of recent finds and its excellent affordability. It is medium-hard, just slightly softer than quartz and has a brittle tenacity with good cleavage, which places prehnite on the fragile side, but with some care and protective-style settings, prehnite can be used for just about any jewelry type. However, it is unlikely that prehnite would be found in your local everyday jewelry retail store. In most cases, prehnite gemstones will need to be sourced from specialized online colored gemstone suppliers.
Owing to its fragility, prehnite is best suited for earrings, pendants, pins or brooches. Translucent cabochons can be found in very large sizes and at very affordable prices, making them perfect for bold fashion jewelry. Prehnite can also be worn in rings, but prehnite rings should be limited to occasional wear and protective-style settings. Faceted prehnite is ideal for open settings which allow the passing through of light. Cat's eye prehnite may be used in cabochon rings.
Note: Buy colored gemstones by size and not by carat weight. Colored stones vary in size-to-weight ratio. Some stones are larger and others are smaller than diamonds by weight in comparison.
Prehnite Gemstone Jewelry Care and Cleaning
Back to Top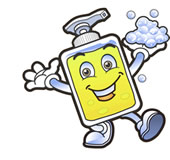 Prehnite is considerably hard, but is softer than many other popular jewelry gemstones, such as quartz, sapphire and spinel. It is also brittle and exhibits good cleavage, so care should be taken when setting and cutting it. Avoid the use of any harsh chemicals or cleaners and avoid the spraying of perfumes and hairspray onto your prehnite. Like most colored stones, it is best to avoid ultrasonic cleaners and heat steamers. You can wipe down your stones down using a plain soft cloth and warm soapy water. Always be sure to rinse well to remove any soapy residue.
Always remove gems and jewelry prior to exercising, playing sports or performing harsh household chores. When storing prehnite gemstones, store them separately and away from other gems and jewelry. It is best to wrap gems in a soft cloth and place them inside a fabric-lined jewelry box for extra protection.