Botryoidal Gemstones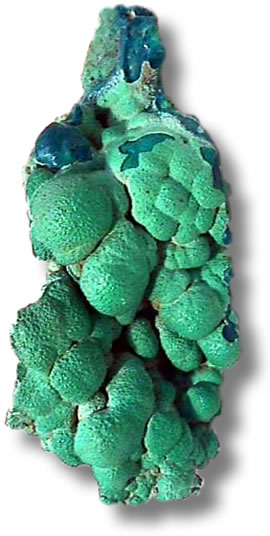 Botryoidal Chrysocolla
In nature, perfect crystals are rare. Crystal growth is constrained by the environmental conditions present at the time of formation, including variables relating to space, heat, pressure and cooling period. So crystals can form many different shapes in nature. However, crystals sometimes develop certain forms more commonly than others and the term crystal habit is used to describe the favored growth pattern of the crystals of a mineral species, whether individually or in aggregate.
Some common crystal habits of individual crystals are cubic, octahedral, tabular and bladed. Groups or aggregates of tiny crystals often adopt crystal habits that include dendritic, fibrous, reticulated and botryoidal.
The botryoidal crystal habit is interesting both for its unique shape, and the fact that it is commonly adopted by a number of quite different minerals. The word is derived from the Greek word botrus, meaning "bunch of grapes", and refers to tiny crystals occurring in closely interlocking spherical masses or "bubbles" which often look like bunches of grapes.
Several species and varieties commonly adopt the botryoidal habit, including some types of chalcedony, hematite, goethite, fluorite, malachite, chrysocolla, azurite, jade and prehnite. A variety of agate, the so-called fire agate, is actually defined by the property of being a botryoidal growth of iron oxide over layers of chalcedony.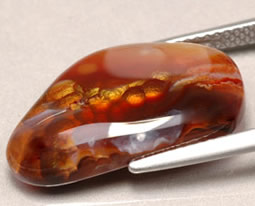 Natural Fire Agate
Botryoidal crystal formations can be quite striking and are popular with mineral collectors. Botryoidal gems are fashioned into cabochons, carvings or ornamental objects and often display fascinating patterns. There's a wide variation in appearance, based on whether the bubbles are large or small, uniform or different sizes if the botryoidal surface is confined to recesses or not, and whether or not the surface is covered with drusy crystals. In addition, gem cutters can treat the material in different ways. Sometimes the botryoidal surface is left in its natural state and sometimes it is polished so that some or all the bubbles are flattened to reveal the inner layering.
Some gemstones, such as malachite, are often found in botryoidal form, while others, such as prehnite, are quite rare in this form. If you want to add a botryoidal gem to your collection, fire agate would be the best place to start.