Treated or Untreated? Which should you buy?
Well, this certainly is a question that's been raised more than once. Unfortunately, the answer isn't as simple nor is it as straight-forward as we hoped. Weighing your decision will require the evaluation of two major factors: Your personal preference and your budget. Another factor that should also be considered is availability, especially since untreated gems are quite a rarity.
Preference
Those who are willing to sacrifice size, color and clarity of a gem for quality above all else, are likely better off purchasing untreated gems. For those on a lower-end budget, this may require settling for stones that are much smaller than one would anticipate. On the opposite end of the spectrum, there are those who simply want the largest and most beautiful gemstone they can afford. Most of these consumers aren't bothered by the idea of enhancement and since visual appeal is the most important for them, they would be better off purchasing treated gemstones. Neither behavior is considered better than the other, it's simply a matter of different strokes for different folks or as they say, to each their own.
Why Treated Gems?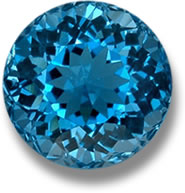 Blue Topaz
The fact is, not everyone is looking to capitalize on their purchase. Many folks do not even consider the thought of reselling their gems to make a profit. In fact, most consumers purchase gems and jewelry rather as keepsakes for sentimental value. They aren't interested in whether or not they can actually make money from their gemstone purchase, because to them, it's like purchasing any other commodity, like a new car. The new car they purchased last year isn't going to have a higher resell price after a 100,000 miles are put on the clock, so why should their gemstones?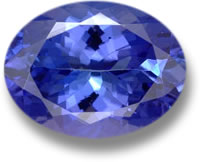 Tanzanite Gem
Most people also do not hold any strong objections to the concept of enhanced gems and why should they? It's not a sensitive subject like "blood diamonds", politics or a matter of whether or not they should sell their Hummer and "go green". It's simply a matter of what's most important to them. If you do not carry a strong opinion on the subject at the time of this reading, treated gems are likely a great option for you. You'll be able to find numerous bargains that many investment seekers look beyond and most importantly, you'll have a much bigger selection to choose from, because many of the most popular gem types today simply cannot be found untreated.
Why Untreated Gems?

Tsavorite Garnet
For investors, it would make more sense to purchase untreated gems because time has shown that they retain their value very well. However, this would also depend on your budget too. Based on past years, we can conclude that most gemstones of lower value are not going to rise significantly in value. Of course this is simply a generalization and there will always be special circumstances to consider. Also, when referring to "low value", we do not mean gems of poor value or quality, rather, we are referring only to the selling price of such gems.
Budget of $2000
For those working with a budget of less than $2000, purchasing a treated gemstone will typically yield the best value. Generally, the resale prices of gems that have been heated or treated in this price range are very similar to those left untreated. This is simply because market prices are set by premiums rather than terms of discount. So, although sapphire from Sri Lanka may demand a premium, this does not justify or warrant a discount for sapphires originating from Thailand. In other words, discounts are not given just because a gemstone has been treated.
Budget of $2,000-$10,000
If your budget is between $2000 and $10,000, personal preference is likely the determining factor. With common gem types such as topaz, citrine, quartz or beryl, large and untreated stones can typically be acquired on this budget. In most cases, you won't need to sacrifice size for quality. However, certain gem types, especially "the Big 3" - sapphire, ruby and emerald - can easily exceed this budget, especially when untreated. So, if you're in the market for a 5+ carat Kashmir or Ceylon blue sapphire, you'll likely need to settle for a treated gemstone because prices for unheated sapphire can easily topple $10,000.
Budget of $10,000+
If you have a budget of $10,000 or more, there is no reason not to focus your buying intentions toward untreated gems. Whether it's sapphire, ruby or any other gem type, you can find excellent premium-sized high quality gems in this price range. Even so, there are always exceptions; ruby, sapphire and emerald (amongst others) can easily fetch much more than this, but very few buyers can afford gems with these extravagant price tags.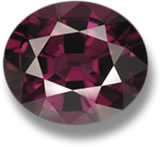 Spinel Gems
Even with the largest of budgets, there are many gemstone types that are always treated and no matter how much you have, availability will ultimately decide for you. If treatment is a concern for you, you can always consider purchasing a gem type that is typically never treated. These would include gem types such as spinel, garnet and tourmaline (to name but a few).
Rare and Unusual Gems
Each month, we showcase one of our more rare and unusual gemstones. This month we are pleased to present one of our huge gems:
A spectacular 2,590.50 carat green malachite from the Democratic Republic of the Congo!

Huge Malachite Gemstone
Malachite is a collector's gem and takes an excellent polish. Although it is relatively soft compared to other gem types, it is still very popular in jewelry use today. Its striking green colors and interesting veining patterns make this gemstone both attractive and unique. Malachite has also been used for many years as a healing gem. It carries many beliefs, including the ability to combat symptoms of chronic injury, broken bones, asthma and arthritis.
Industry News
Mr. Joe Bernstein
This month we note the passing of industry veteran Joe Bernstein. Joe Bernstein was a well respected veteran in the jewelry industry for 40 years. Until the Sterling acquisition in 1990, he held the position of Senior Vice President of Kay Jewelers. Before and since, he held several key executive positions with many of the world's most renowned jewelry companies. Joe Bernstein will be sadly missed by his family and friends, as well as many of us in the gem and jewelry industry.
2013 AGTA Annual GemFair
Get ready for the next big jewelry extravaganza. The 2013 annual AGTA GemFair will take place in Tucson, AZ from February 5th - 10th. The annual event will be hosted in the Tucson Convention Center. Nearly 100 of the biggest names in the gem industry will be exhibiting at one of the biggest gem shows of the year. To see a full listing, you can visit https://agta.org/agta-gem-fair-tucson/.
NYSE Welcomes New Gemstone Exchange-Traded Fund
The first ever exchange-traded fund debuted on the NYSE on November 29th, 2012. The PureFundsISE Gemstone Exchange-Trade Fund, trading under the name GEMS, is now holding some of the top players in the gemstone industry, including companies like Harry Winston, Blue Nile, Signet and Tiffany. The new gem exchange-trade fund is geared toward companies that are involved in the production, refinement, selling and holding of gemstone stock.
Customer Questions
Every month we answer questions of general interest from our customers. Please feel free to send your questions or suggestions to our support team at help@gemselect.com!
Question
I found some great turquoise gems on your website and was looking to purchase a few. However, when I was checking out, your system wouldn't allow me to change the quantity. It only allowed me to buy one item of each. How can I order multiple quantities of a specific item in order to save on shipping costs?
Answer
Any gemstone you find on our website is unique and because of this, only one such gem exists in the world. Each gemstone is listed and photographed individually for our website stock, and because of this, it is not possible to edit the quantity of gems you would like to order. You can still order multiple items and save on your shipping costs, but you must add each gemstone to your shopping cart individually - meaning you can order multiple
different
items but not multiple
same
items. If you need multiple matching items please
email us
and we will be happy to provide you with the best available options.
Question
I placed an order last Friday and paid for expedited FedEx shipping. I expected to receive it within 3-4 days, but my order wasn't even shipped for 3 days. Now I have to wait another 3-4 days, meaning it will take nearly a full week for my gems to be delivered. What happened? Did you miss my order or what?
Answer
Unfortunately, FedEx does not deliver packages on Saturdays. So, if you place an order with us in the middle of the work-week, your order may be delivered the following Monday, since FedEx does not deliver on Saturday or Sundays.
We hope you found this article interesting. If you have any comments or suggestions, just drop us a line. We really do read and reply to every single email we receive.
Keep up with our new arrivals before they hit the newsletter by joining our thousands of fans and followers on our social networking pages. We love interacting with our customers - you can visit us on Tumblr, LinkedIn, Twitter, Facebook or Pinterest!
To ensure you can receive our emails, please be sure to add help@gemselect.com to your list of safe contacts, or you add us into your email address book! Please feel free to contact us with any questions, comments and queries! We respond to each and every email we receive.
Happy Gem Hunting!
Your friends at GemSelect