Semi-Precious Gemstones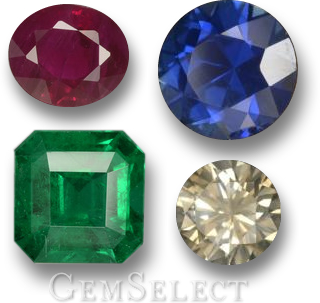 The "Precious Four" Gems
The term semi-precious is used to refer to the entire world of colored gemstones, not including the four so-called precious gems, diamond, ruby, sapphire and emerald. The terms precious and semi-precious are actually no longer used in the gem trade, and the American Gem Trade Association (AGTA) officially requires that "Members should avoid the use of the term 'semi-precious' in describing gemstones".
This rejection of the term semi-precious is a way of recognizing the incredible diversity and rarity of many colored gemstones. One of the major changes in today's gem market is a growing consumer awareness of the vast range of colored stones. These days customers ask us about sphene and iolite and other previously obscure gem varieties just as often as they ask us about sapphire or emerald.

So the world of colored gemstones needs some new classifications to replace the outdated distinction between precious and semi-precious gems. None of the trade organizations have proposed a new schema. Yet, one is definitely necessary, since we need a way to explain to buyers why some gems are highly valued and others are not.
At the very least we need a classification for what we might call premium colored gems. These are gems that have excellent gemstone characteristics - hardness, durability, brilliance, clarity and color. In most cases they are also quite rare. These could be considered to be the new precious gems. This group would include not only ruby, sapphire and emerald, but also spinel, tanzanite, tsavorite garnet, demantoid garnet, alexandrite and the finer tourmaline.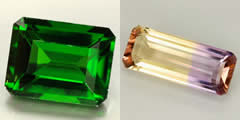 Another useful categorization is grouping gems that have good gemstone characteristics, but are widely available and very affordable. These include members of the quartz group - amethyst, citrine, ametrine, rose quartz, etc. - as well as topaz and the more common garnets. All of these stones have very good hardness (between 7 and 8 on the Mohs scale) and most have very good clarity. However, they are typically priced at well under $10 per carat.
This still leaves forty or more varieties of fascinating gems to explore. Gemologists have useful ways to categorize them, but the market has a hard time classifying them, except by the term "colored stones". These gems include andalusite, diopside, fluorite, sphene, kyanite and moonstone. Each has its own unique colors and gemological characteristics. As they become better known, connoisseurs seek out the finest examples of each variety, so that the very best peridot and rarest rhodolite specimens become premium gemstones.