Kunzite Gemstone Value
Kunzite, the pastel pink to lavender color of the mineral spodumene, was virtually unknown to most gemstone buyers until the Sotheby's auction of a very special kunzite ring in 1996. Among the jewelry from the Estate of Jacqueline Kennedy Onassis was a ring with a 47 carat cushion-cut kunzite stone surrounded by 20 round diamonds and set in 18k gold. The ring was originally purchased by President John F. Kennedy as a Christmas gift for his wife in 1963. Tragically he was assassinated in November 1963.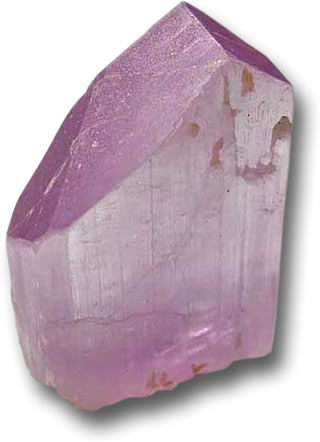 Kunzite Crystal
The kunzite and diamond ring sold for $431,250. It was a remarkably high price, since the ring had been valued at $6,000 to $8,000 prior to auction. This was clearly a case where the value was derived from the provenance of the ring.
Kunzite is actually a very affordable gemstone, even in large sizes. Kunzite gems of over 10 carats are quite common, and we often see pieces weighing over 20 carats. Occasionally we'll even see kunzite gems that weigh over 40 carats. Unlike sapphire or ruby, the price per carat for kunzite tends to remain fairly constant as the stones get larger.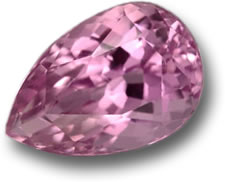 Rare, Deep Pink Kunzite
Prices of kunzite gemstones depend on color, clarity, cut and size. Most kunzite is light-pink to lavender, but more saturated pinks are sometimes found and can command high prices. Since kunzite tends to have very good clarity, clean specimens do not usually carry a higher price. Large, well-cut pieces can definitely be more expensive, but the per carat price of kunzite tends to increase slowly with size when compared with sapphire or ruby. Fine kunzite in smaller sizes - under 5 carats - often sells for about $10.00 a carat, while stones over 10 carats may sell for $15 to $20 per carat.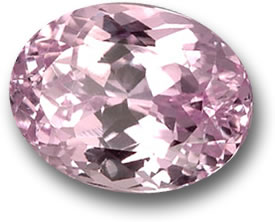 Kunzite from Afghanistan
Most of the current supply of kunzite is found in Afghanistan and Pakistan. However, kunzite was first discovered in the USA and was named in honor of George F. Kunz, the legendary American mineralogist and buyer for Tiffany & Co, who first described the gem in 1902.