November Birthstones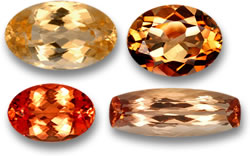 Imperial Topaz Gems
Countries all over the world have various harvest festivals in November. This is usually a time to be thankful for nature's bounty and most celebrations focus on food and family. It is not surprising that the birthstones for November are yellow citrine and topaz; the color of ripe corn and fields of gold. Indeed, the golden color of yellow topaz could be the reason why it was associated with the ancient Egyptian Sun God, Ra.
Pure topaz is white (colorless), with various colors being the result of impurities. In the case of vivid blue topaz, the color is usually produced by irradiation and heat treatment. While blue topaz is one of the best-known and most popular gems, many are not aware that topaz is available in several other colors, including white, yellow, orange, red, pink and green. As with many other gem types, the most widely available topaz colors are the most affordable and the scarcest are the most valuable. One of the most valuable topaz hues is the color of the setting sun, and is known as "imperial topaz" or "precious topaz". Traditionally, imperial topaz was defined as orange topaz with red dichroism. This means that the gem can appear orange or red depending on the angle from which it is viewed. But nowadays, the term "imperial topaz" refers also to yellow, golden-brown, pink, red, lavender-pink and peach-pink topaz gems. Sometimes, yellowish-brown to orange topaz is called "sherry topaz". The rarest color of topaz is natural purplish-pink. Purplish-pink topaz that has been enhanced with a thin coating is known as "mystic topaz". Mystic topaz may exhibit rainbow colors, blue-green or pink-purple.
Citrine Gems
Citrine is the other November birthstone, which also has golden hues. Citrine is yellow to orange and can appear very similar to imperial topaz, but the greater hardness of topaz (8 on the Mohs scale) distinguishes it from citrine, which is a variety of quartz with a Mohs hardness level of 7. While citrine is certainly more affordable than imperial topaz, it is more sought-after than most other varieties of quartz, which makes it one of the most valuable quartz gems. Citrine is closely related to the purple quartz, amethyst. Ametrine is a bicolor gemstone which exhibits both purple amethyst and yellow citrine. Since amethyst is more abundant than citrine, many citrine gems are amethyst that is heat-treated to produce an attractive yellow hue. Perhaps the golden color of citrine is the reason why it is associated with material success and referred to as "the merchant's stone". Citrine is also associated with positive energy. According to lore, citrine helps to promote successful self-expression and communication. Therefore, citrine is recommended for writers, public speakers, artists and those to whom effective self-expression is important.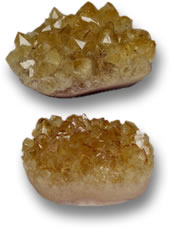 Citrine Geodes
Citrine is more readily available than imperial topaz. Like many quartz gems, extremely large citrine gems can be bought at affordable prices, and interesting gemstones known as geodes can also be found. Geodes are nodules of rock which have a crystal lining and pieces of the citrine crystals are mounted in jewelry for an interesting look. Since imperial topaz is scarcer, it has a noticeable price difference. While some citrine gems can appear like imperial topaz, citrine tends to be yellower, and lacks the subtle peachiness of imperial topaz. Imperial topaz and citrine are complemented by being set into yellow precious metal. Both gem types are suitable for many kinds of jewelry. Since citrine is available in large, affordable sizes, it is perfect for cocktail rings or other statement jewelry pieces. The higher hardness level of topaz makes it more resistant to scratches than citrine. However, like diamond, topaz possesses perfect cleavage, which means it is possible to split it with a single blow. Therefore, when set in rings that are worn daily, imperial topaz should be protected from hard blows by bezel settings rather than prongs.
If you would like a golden glowing jewel and your birthday happens to fall in the month of November, it is worth considering citrine or imperial topaz as your signature stone. Not only are golden stones beautiful, but also, as the sun lightens our days, golden gems brighten up any outfit.
First Published: April-01-2016
Last Updated: January-23-2019
© 2005-2019 GemSelect.com all rights reserved.
Reproduction (text or graphics) without the express written consent of GemSelect.com (SETT Company Ltd.) is strictly prohibited.