J.P. Morgan - History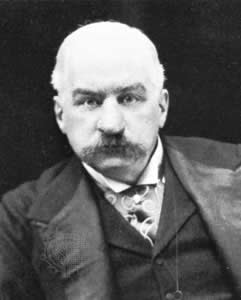 John Pierpont Morgan
J.P. Morgan was one of the most famous financiers in America in the late nineteenth and early twentieth centuries. He was also a notable gemstone collector and was responsible for funding some of the world's greatest gemstone collections.
John Pierpont Morgan was born in Connecticut on 17 April, 1837. His father was a wealthy international banker, and sent his son to be educated in Switzerland followed by the University of Gottingen in Germany. This expensive education was not wasted; JP Morgan began work in his father's financial house in London in 1856 and eventually went on to dominate American finance.
Among other major business dealings, Morgan was involved in the creation of the General Electric Company, the United States Steel Corporation, and the development of a railroad empire that merged railroads from all over the United States to form a single network. His huge fiscal power as the man behind JP Morgan and Company allowed him to save the nation from bankruptcy when the gold reserves became low in the 1890s. The president commissioned him to oversee the international purchase of gold to ensure the financial security of the US, and at the same time increase his own considerable personal fortune.
J.P. Morgan is just as important as an art, book and gemstone collector. Indeed, upon his death in 1913, he bequeathed most of his collections to the Metropolitan Museum of Art and the American Museum of Natural History in New York and the Wadsworth Atheneum Museum of Art in his hometown of Hartford, Connecticut.
His first gem collection was put together with the help of the the famous gemologist from Tiffany & Co., George F. Kunz. This collection of gems and precious stones from North America (over 1,000 pieces) was exhibited at the 1889 World's Fair in Paris. The exhibit won two golden awards and drew the attention of important scholars, lapidaries and the general public.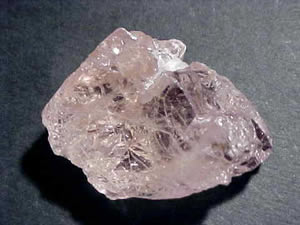 Natural Morganite Rough
In 1900, Morgan commissioned Kunz to locate and buy the best possible gem specimens from around the world, which then formed the second Tiffany-Morgan collection and consisted of 2,176 specimens. The following year, Morgan paid $100,000 for an amazing 12,300-specimen collection belonging to Philadelphia industrialist Clarence S. Bement, another passionate mineral collector known for acquiring only the best specimens. This collection became known as the Morgan-Bement collection. These collections were donated to the American Museum of Natural History in New York.
In 1911, J.P. Morgan's contribution to the gemstone world was acknowledged when Kunz was instrumental in the naming of a newly found gem; morganite. This mineral was first discovered in 1910, at Pala in California. It is a rare form of pink beryl.