Bracelets: Wrist Candy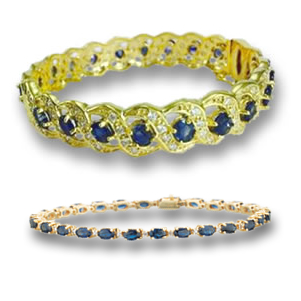 Gold, Blue Sapphire and Diamond Bracelets
Bracelets are jewelry items that are worn around the wrist or forearm. They come in many forms, such as tennis bracelets, bangles, charm bracelets, friendship bracelets, beaded bracelets and cuffs. They may slip over the hand or wrist, or have a hinge, tie or clasp fastening. Bracelets may be simple, handmade beaded items or finely rendered pieces made by skilled jewelers. Functional items such as watches can also take the form of bracelets. Some of these are incredibly intricate pieces of jewelry that are encrusted with colored gemstones. Examples of these are the Apple Watch link bracelet, the Mica bracelet and the Van Cleef & Arpels Carpe Koi watch bracelet.
Like rings and other jewelry, certain bracelet styles suit certain people. For example, a dainty chain may appear small on a large arm, while a large, chunky cuff could look a little out of place on a slender arm. Bracelets can be made especially for women or men. Alternatively, they can also be unisex. Many men's bracelets are woven from materials such as leather or hemp. Other popular styles for men include link bracelets (also known as chain bracelets). Chain or link bracelets can be many different sizes and shapes, and made from various metals. Chain bracelets may be plain or have charms, gemstones, beads or other features. There may be several rows of chains to increase width.
As with all jewelry, gemstone bracelets can incorporate birthstones, astrological stones or metaphysical healing stones, such as beaded chakra bracelets. Some believe that copper bracelets relieve arthritis pain, though scientific studies have indicated otherwise. Medical ID bracelets, also known as medical alert bracelets are useful because they show information that patients are unable to communicate when in need of treatment for conditions such as allergies, diabetes, autism and epilepsy. These can be both functional and decorative. Medical ID bracelets can be a simple loop of plastic with text printed on, a beaded bracelet or a beautifully designed piece of gold jewelry with a discreet engraving inside. Paramedics are alerted by a universal symbol that is usually on the outside of the medical alert bracelet.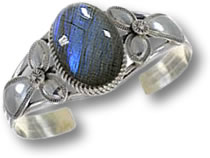 Labradorite and Silver Cuff Bracelet
Cuffs are wide bracelets with a gap on the back. The gap allows them to be easily slipped over the wrist. Cuffs may be rigid and made from metals, such as silver, gold or bronze, or they may be fashioned from flexible material like leather. Cuffs can require a lot of material because of their size, so it is important to consider the budget before choosing precious metals for a cuff. Bangles are rigid bracelets that are slipped over the hand. They are usually made of materials such as metal, wood, plastic, glass or jade. Bangles are popular in Asia, where even infants sometimes wear them. Jade bangles are popular in China and some believe that they possess protective or healing properties. Jade bangles may be green or other colors, such as lavender, pink, yellow or white.
In India, married ladies wear silver, gold or glass bangles, usually in pairs. If a glass bangle breaks, this is believed to be an unlucky sign for the couple. The colors of the bangles have special meanings, for example, yellow is said to indicate happiness. It is said that the smallest bangle that can fit over the hand will bring the most happiness. Indian brides traditionally wear several bangles. Wearing stacked bracelets is now a popular current trend all over the world. Another type of bracelet worn by Indian brides is the "hath panja", which is a bracelet connected to a ring by a chain. These are sometimes referred to as "slave bracelets" (with reference to the chain connecting the two pieces), "hand bracelets" or "hand flowers".
Since people's wrist sizes vary widely, it is important to measure for bracelets, including clasp and chain bracelets too. The inner diameter of a bracelet should be the same measurement as the length from the first to the fourth knuckle of the hand when placed on a flat surface. It is vital to check this to avoid disappointment due to a bracelet that is too loose or tight. It is a good idea to wear a bracelet on the wrist of the hand that is used the least. Thus, left-handed people should wear bracelets on their right hand and vice versa.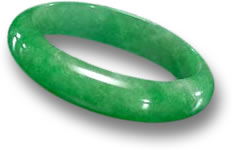 Green Jade Bangle
When it comes to precious metal and gemstone bracelets, the fastening and gemstone settings should be secure to prevent loss of valuable materials. If bracelets are worn every day, durability must be considered, since the wrists are body parts that are often knocked or rubbed against things. Rigid bracelets such as bangles and cuffs should be properly fitted since they will look strange and be uncomfortable if they are too large for the wrist. Conversely, cuffs and bangles that are too small will be impossible to wear. For those who lead an active lifestyle, it is worth considering a more durable style of bracelet, such as a tennis bracelet (also called an "in line bracelet" because of the single continuous line of gemstones around the wrist). These are specially designed with sturdy links, safety chains and clasps to prevent loss when doing sport.
There is a whole world of possibility when it comes to bracelets. Every occasion, whether it is everyday casual, sport, red carpet glamour or even a hospital visit, has an appropriate piece of wrist jewelry just waiting to be worn.