Beautiful Gemstone Brooches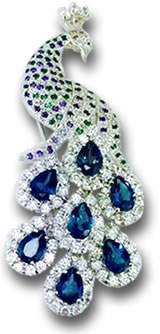 Silver, Sapphire and Tsavorite Peacock Brooch
A brooch is a piece of jewelry that can be fastened to clothing, usually by a clasp or pin. Thus, they are also known as "pins". Brooches can be purely ornamental or have a functional purpose when they are used to fasten clothing. Brooches are usually made from metal and decorated with enamel, inlay or gemstones. Some say that pins are smaller than brooches or that pins are unisex and brooches are for ladies. But the terms tend to be used interchangeably. Brooches have been used as decorations since the Bronze Age.
It is thought that a brooch can exude the personality or mood of the wearer. Brooches can be large or small, quirky, classic, weird and wonderful. They can also be extremely valuable or affordable. Those who belong to the younger generation are often of the opinion that brooches are costume jewelry for the elderly. However, if worn right, a brooch can be a perfect embellishment to any outfit. Brooches or pins should be used sparingly rather than attached here, there and everywhere. They can brighten up accessories, such as bags, as well as clothing. When attached to clothing, brooches can be worn on the left, right or centrally over a collar. These jewels add a special touch of glamour to a plain dress or everyday outfit.
One of the most valuable brooches known is a heavy silver and gold brooch set with a famous Ceylon sapphire known as the Logan Sapphire. It is a 423-carat, cushion-cut blue sapphire surrounded by 20 brilliant-cut white diamonds. It was donated to the Smithsonian Institution by Mrs Polly Logan in 1960. Possibly the most famous and valuable brooch in the world is owned by Queen Elizabeth II. It is known affectionately as "Granny's Chips", since it was inherited from the British Queen's grandmother, Queen Mary, and contains the Cullinan III and IV diamonds.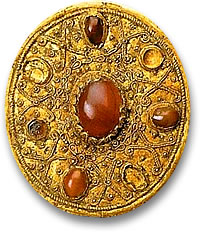 Ancient Scythian Gold and Gemstone Brooch
The history of brooches tells the story of jewelry development through the ages. The brooches that emerged during the Bronze Age were known as fibulae. These were commonly made from bronze or iron, and sometimes from silver or gold. Early brooches were often used to fasten clothing and were sometimes decorated with gemstones, coral or other materials. Brooches were used by the ancient Greeks, Scythians, Romans, Vikings and the Celts.
Brooches became extremely popular during the Victorian Era, when world trade and industry brought about an explosion of art and jewelry influenced by a wide variety of cultures. Queen Victoria wore a blue sapphire brooch on the centre of her wedding dress. The oval jewel surrounded by round diamonds was given to her by her husband, Prince Albert, on the day before their wedding, and is known as the Prince Albert Brooch. The high necklines and restrictive clothing of the Victorian period was suited to brooches, which were worn on the chest or neck. Cameos were popular around this time, and were often fashioned from agate or mother-of-pearl. Later, after the death of Prince Albert, mourning brooches were worn. These were often made of jet, onyx or even the hair of the deceased.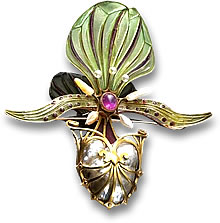 Art Nouveau Gold, Enamel, Pink Gemstone and Pearl Brooch
Modern innovations have allowed for some truly amazing brooches to be created. These include Art Nouveau pieces which replicated natural forms in breathtaking detail, using sophisticated enameling techniques to represent beautiful features such as dragonfly wings and flower petals. One example of such work is Réné Lalique's "Dragonfly Woman" brooch, which has incredibly lifelike wings, at the center of which is a miniature bust of a chrysoprase woman. Opal, moonstone and other colored stones became popular in Art Nouveau jewelry. Some of the most intricate brooches were created during this time.
Art Deco went on to showcase sumptuous jewels in geometric designs, glittering with glamour. Further developments included "Mystery-Set" pieces by Van Cleef & Arpels, which uses tiny gold rails to place gems flush against each other. This means that there are no visible prongs, leaving what appears to be an uninterrupted surface of dazzling gemstones to be admired. In a similar vein, stunning pavé-set modern jewels have been created by Joel Arthur Rosenthal (known simply as JAR). This is a technique whereby gemstones are set very closely together on settings that are so fine that they are hardly noticed. This allows the jewelry to showcase the colored gemstones without any detraction from the settings.
Nowadays, it is difficult to acquire some large gemstones, such as sapphires, without spending a fortune, due to availability. This means that recreating some of the above brooch styles can be a little difficult. Yet, new technology, such as 3D printing has presented jewelry designers with almost limitless possibilities when it comes to jewelry production. This means that brooches and pins are more varied than ever before, so there is a brooch for everyone.