Jewelry Geek Chic and Wearable Tech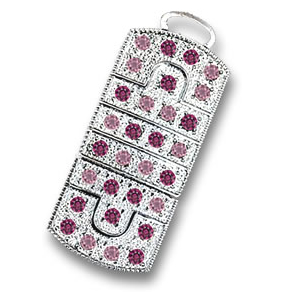 Rhodolite Garnet & Pink Tourmaline Flashdrive Pendant
We have come a long way with wearable technology. Such tools began to appear in the 1960s, as gambling gadgets, and then branched out into wearable calculators, medical devices, video cameras and even wearable computers. The dawning of the new millennium saw synchronization of technology, especially Bluetooth paired with mobile phones and music players. Wearable tech has gone into overdrive during the past few years, with Google Glass and smartwatches.
For some of us, there is something quite geeky and male about functional jewelry. For many years, men have been stuck in a jewelry rut, wearing functional items such as watches, cuff links and tie pins. Although many metrosexual men have taken to wearing jewelry for the sake of fashion over function, it will be interesting to see how wearable tech will develop to appeal to both sexes. We can already see items that are aimed at either of the sexes or both.
Fashionistas may ponder whether it is possible to have it all. Can fashion and function be truly integrated, or does one have to take precedence and the other be sacrificed? Some are of the opinion that jewelry is an art form and that art is beauty for beauty's sake. Such jewelry admirers may take some convincing before they will warm to functional tech.

Bronze and Lapis Lazuli Bullet Pendant
For those who like to "switch off" and relax, there are pros and cons of wearable tech. For example, while it may be convenient to always be online, it may also mean that we can never get away from our mobile phones and computers. This could cause more difficulty in leaving our work at the office when we go home for the day and cause, rather than solve problems of modern life. Perhaps something like the Crave Vesper vibrator necklace pendant is the answer for these issues. This is not geeky in the slightest and incorporates fun with fashion. By the way, this is a small vibrator, shaped like a nail; 3.5 inches, not 9! Incidentally, bullet-shaped necklace pendants are popular for men's jewelry and these should not be mistaken for mini vibrators.
Another problem to solve with wearable tech is that of the item forming a barrier between the wearer and the world, as dark sunglasses do, but in a different way. This could be the reason that Google Glass has not proven as popular as was originally envisaged. For a piece of wearable technology to attract users, perhaps it should be as unobtrusive as possible, or as close to similar non-tech items that are usually worn. Google Glass was going to revolutionize the world and even appeared in a New York fashion show worn by models. However, after an initial fanfare, the excitement fizzled out. Moreover, Google Glass was banned from certain places due to the idea that Glass wearers could be videotaping at any time, unbeknownst to others. There is a definite divide as to those behind or against the Glass, despite Google providing an etiquette manual, which informs users how not to be a "Glasshole". It seems that Google Glass was not meant to be worn all day as a fashion accessory, but used only when necessary.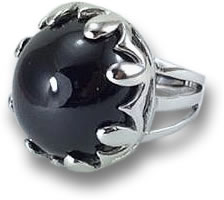 Onyx and Silver Cocktail Ring
As for more subtle forms of wearable tech, a ring would be less obtrusive. However, design is important. The Nod Bluetooth ring seems a bit cumbersome and not very attractive for jewelry lovers. For fitness freaks, a heart-monitor ring would be a bonus, but would they come in 24K gold with colored gemstones and diamonds, and a less manly appearance? The answer may be in a cocktail ring, such as the Ringly "Stargaze" ring that comes in checkerboard faceted onyx or the "Daydream" ring, with a moonstone gem. Cocktail rings are supposed to be oversized, so this enables tech designers to insert gadgets while retaining a semblance of normality. Another option here is a chunky bracelet, or "Cuff", which are GPS bracelets that appear as normal items of jewelry.
There is something geeky about wearable tech, which could be one reason why it doesn't seem to reach the mainstream. However, with the trend for "geek chic" and innovative gadgets for fun, perhaps before long, we will all be wearing our tech on our sleeves or elsewhere. Let's see, the Apple Watch will soon be unveiled. It could herald a whole host of futuristic and fashionable gadgets. Watch this space...