Ancient Armlets, Armrings & Armbands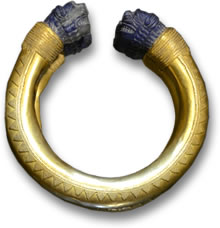 Achaemenid Armlet with Lapis Lazuli Finials
Armlets (also called armrings or armbands) are items of jewelry that are worn around the bicep of the upper arm, typically in pairs; one on each arm. Throughout history, both men and women have worn armlets. In fact, male Thai boxers still wear armlets made from woven cloth, some classical Indian dancers wear golden armlets and Sri Lankan Kandyan drummers wear silver armlets. Armlets accentuate the biceps, so they are especially attractive on men with athletic physiques. It seems that armlets may have been first worn by men, and then later adopted by women. In the Book of Exodus of the Bible, armlets are mentioned as items of jewelry, along with signet rings and other gold objects offered to the Lord.
The earliest armlets were made from materials such as shell or ivory, and then bronze and other more precious materials, including gold and gemstones. The ancient Mesopotamian men of the Sumerian civilization wore armlets. Sumerian illustrations show both men and women wearing armbands. The Assyrians of the ancient Near East were also depicted in art wearing armlets, and when the golden treasure at Nimrud was uncovered in Iraq, armlets were found among the beautifully detailed ancient artifacts. Other, incredibly beautiful gold armlets were discovered as part of the Oxus Treasure of Persia. These dated from the Achaemenid Empire. One of the finest pairs has exquisitely detailed griffin finials.
The ancient Egyptians made armlets from flint, and then gold and gemstones such as lapis lazuli. Ancient Egyptian art shows both men and women wearing pairs of armlets. An intricate gold armlet from the artifacts of Nubian Queen Amanishakheto is displayed in the State Museum of Egyptian Art, in Munich, Germany. The armlet features a gold winged goddess. Another beautiful gold armlet is exhibited in Cairo Museum bearing the name of the pharaoh, Ahmose I, founder of the 18th Dynasty.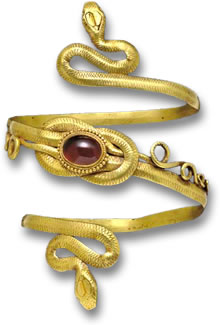 Ancient Greek Gold Armlet with Red Gemstone
The ancient Greeks and Romans also wore armlets, which were usually made from bronze or gold, and some of which were in the shape of serpents, winding plants, or embellished with images of gods and goddesses. Large, heavy armlets had hoops on the backs that attached to garments to help support their weight. Another motif in ancient Greek armlets was the Herakles knot (also known as the knot of Hercules), which is a symbol related to marriage. It is believed to have originated in ancient Egypt, and was adopted in ancient Greece and Rome, where a bride would wear a protective girdle with a knot which was ceremonially untied by the groom. The phrase "tying the knot", associated with getting married may have come from such lore. A fine example of an ancient Greek gold armlet with a Herakles knot is displayed in the Metropolitan Museum of Art in New York. It is beautifully decorated and inlaid with garnet, emerald and enamel.
The Vikings made and wore armrings typically from silver or bronze, and occasionally gold. In September 2011, over 200 items of silver jewelry and coins were discovered in Lancashire, England. These included pieces of silver armrings that had been cut up to be used as bullion. The nearby Celts also wore armlets along with torcs. Some Celtic armlets were inlaid with enamel or other materials. Others had snake-like designs, unusually shaped finials, were twisted, like torcs, or beaded. Many such items found in the UK were made from copper alloys. Celtic armlets were more commonly worn than rings, but were not as popular as torcs. A beautiful gold pair of Celtic armrings known as the Waldalgesheim armrings were found at La Tène in Switzerland. They are decorated with plant-like tendrils and faces at the center and terminals.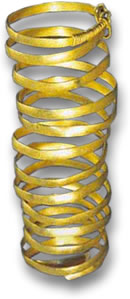 Ancient Chinese Gold Armlet
In several Asian cultures, armlets are included in some types of sleeveless national costume, such as in Indonesia and Thailand. In Indonesia and Thailand, single armlets are sometimes worn by brides when one shoulder is revealed. These are usually gold-colored and may be decorated with red, green and blue gems. Indian arm ornaments are known in Hindi as "vanki" or "bajuband". They are often worn by Rajasthani or Southern Indian brides. These armlets are often made from gold and decorated with pearls and other colored gemstones. In ancient China, armlets were made from hammered pieces of silver or gold fashioned into coils to give the impression of several rings being worn around the upper arm. Iron Age artifacts were discovered in Yayoi, Japan, including armlets made from shells found around the Okinawan Islands. Later, Yayoi armlets were made from bronze. They were thought to have been worn for ritual purposes.
The Native American Indians also fashioned armlets from shells. The Pueblo of Arizona and New Mexico of the Hohokam culture wore armlets made from clam shells or other bivalves, which were sometimes carved with animal motifs. Some ancient Mesoamerican warriors, such as the Mayans from Yucatán, wore the jawbones of slain enemies as armlet decorations. Aztec armlets were produced from gold, however, one of the Aztec rulers prohibited non-nobles from wearing gold armlets along with some other gold jewelry items.
If we look to the ancients, armlets can be seen in cultures all over the world. However, armlets are less often seen in contemporary jewelry. This may be due to the development of sleeves, which cover up the biceps. Perhaps if we continued to wear robes and sleeveless clothing, or lived in an eternal summer, armlets would become the latest fashion jewelry trend.