The Precious Jewels of the Iron Lady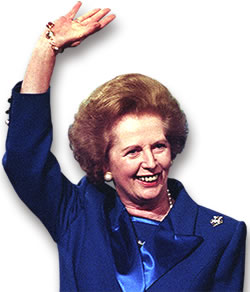 Margaret Thatcher in Her Pearls
The late Baroness Thatcher was a former British right-wing Prime Minister known as the "Iron Lady", a nickname first given to her by a Russian. She was both loved and hated in equal measure during her time in office, from 1979 until 1990. Born a grocer's daughter in 1925, Margaret Roberts lived above the family grocery store in Grantham, Lincolnshire. Her father, Alfred, was a Conservative councilor and installed conservative values in his daughter. However, her first career choice was not in politics; Margaret studied chemistry at Oxford University, followed by a position as a research chemist. It was during this time that she joined the Young Conservatives, and shortly after she stood for election in Dartford at the age of twenty-four.
She became Margaret Thatcher in 1951 upon her marriage to Denis Thatcher. Her engagement ring was fashioned from blue sapphire and diamond. It seems that Princess Diana was not the first to begin the blue sapphire trend. To her wedding, Margaret Thatcher wore a simple pearl necklace and a midnight blue velvet suit. This was one of many times when she would make a statement in blue; the color of the Conservative Party. Although she was not elected, Margaret continued to pursue a career in politics by first studying law. The next year, she gave birth to twins, Carol and Mark. In 1953, Mrs. Thatcher became a qualified barrister. By the end of the 1950s, she had won a seat in the House of Commons. This marked the beginning of a long and successful political career. In 1975, Thatcher became the leader of the opposition, which won the election in 1979, the year that she was voted the first female Prime Minister.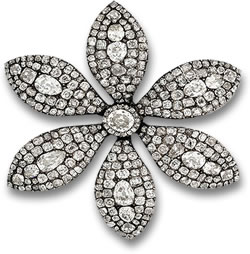 Diamond Flower Brooch Replica
Thatcher caused a bit of a stir amongst the gray-suited men of parliament. During her position as PM, she became known for power dressing and her signature look included a high-necked blouse, a pearl necklace and large pearl earrings. She received a two-strand pearl necklace from her husband upon the birth of their twins and showed it off frequently. On her right hand, she often wore a large amethyst cabochon ring, and she also favored a cabochon gemstone bracelet. For special events, she chose more dressy items, such as dangle earrings with diamonds and other gemstones. Other jewelry pieces which Mrs. Thatcher displayed prominently were gemstone brooches. One of her most treasured brooches was a floral pavé diamond brooch, which she acquired soon after becoming Prime Minister and wore for her official portrait. The George III brooch achieved $240,286 US at Christie's in December 2015, around ten times more than the pre-sale estimate. Another of her brooches was a late Victorian diamond brooch in the shape of a swallow with a ruby eye, and a more colorful one featured a purple sapphire surrounded by diamonds.
Some of the beautiful pieces of gemstone jewelry owned by Mrs. Thatcher may have been presented to her as gifts from heads of state. Among her many handbags was an exquisite gemstone-set one, which was a gift to her. The golden bag features blue sapphires, coral and white diamonds. Another gift was a diamond-set clock in the shape of a handbag, by Asprey. Mrs. Thatcher was known for her handbags, and a dressing-down doled out by her was known as a "handbagging". She also owned several colored gemstone jewelry suites which were not often seen. Perhaps one reason for this was that she liked to wear jewelry given to her by her husband, as noted in a 1975 interview with Brian Connell from The Times Newspaper. One of the most important pieces of Baroness Thatcher's jewelry in the Christie's auction was a Chaumet Art Deco emerald and diamond necklace. The platinum necklace contains eleven emerald baguettes. It achieved $240,286 US at auction; a price within the range of the pre-sale estimate.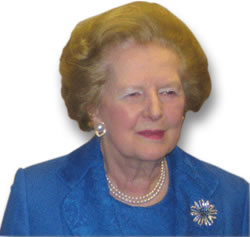 Baroness Thatcher in Pearls and a Brooch
Margaret Thatcher resigned from her position as PM in the face of pressure from her unsupportive colleagues. In 1992 she entered the House of Lords as Baroness Thatcher of Kesteven, where she continued to take part in political debates until her ailing health dictated that she give up making public speeches in 2002. Just one year later, she lost her husband of 52 years. Baroness Thatcher lived to see the release of "The Iron Lady", a movie about her life starring Meryl Streep. The Iron Lady herself passed away in 2013 at the age of 87. Thousands of people lined the streets of London to pay their last respects.
While Margaret Thatcher irked many due to her extreme right-wing politics, including her much-despised introduction of the "poll tax", she has to be admired for her dedication and perseverance. She rose from her humble upbringing to running the country with what appeared to be superhuman strength. Mrs. Thatcher was known for only needing four hours' sleep per night, and for saying, "It may be the cock that crows, but it is the hen that lays the eggs". Baroness Thatcher may be gone, but she will never be forgotten.