The Jewels of Lily Safra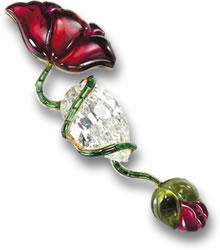 Tourmaline & Diamond JAR Brooch
According to Forbes, Lily Safra is rumored to be one of the wealthiest people in the world. She has been married four times; her second husband's estate left her extremely wealthy and her last husband was banker, Edmond Safra. The late Mr Safra was said to have been a superstitious man who carried blue gemstones to ward off the evil eye. However, these did not protect him from being killed in a fire caused by arson. Edmond Safra was a charitable man who established the Edmond J. Safra Philanthropic Foundation. During their marriage from 1976 until Edmond Safra's death in 1999, he and Lily donated large amounts of money to worthy causes, such as healthcare and education. After his death, the Foundation and Lily Safra have continued this good work. The couple also collected art and jewels, including many incredible pieces by Joel Arthur Rosenthal, who is known by his initials, JAR.
Mrs Safra is accustomed to a lavish lifestyle; it is alleged that she spent $2 million on decorating her bedroom and handed out goody bags containing a pair of Manolo Blahniks to each of her party guests. Thus it is only fitting that her jewels should be some of the most sumptuous in the world. In May 2012, the "Jewels for Hope: The Collection of Mrs Lily Safra" auction was held at Christie's Geneva. The proceeds from the $35 million sale were donated to at least 20 charitable organizations. The Collection comprised 70 of Mrs Safra's jewels, including 18 by JAR. Two of the most beautiful creations by the legendary jeweler are a tourmaline and diamond flower brooch (see image, above) and a ruby flower brooch. The tourmaline brooch makes use of pinkish-red tourmaline gems for the flowers, green tourmaline for the stem and a pear-shaped white diamond weighing over 30 carats. The brooch was made by JAR in 1982 and sold for over $1.2 million. The ruby Camellia flower brooch was made in 2003. It contains pavé-set rubies of varying sizes in silver and gold. It is a stunning red jewel that showcases JAR's gift and sold for $4.3 million.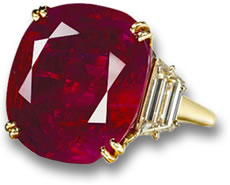 The Hope Ruby Ring
One of the most exciting gemstones of the Christie's auction was a 32-carat, pigeon's blood, cushion-cut Burmese ruby, which is surrounded by diamonds in a Chaumet ring. The ruby and diamond ring alone sold for $6.7 million to Amer Radwan of Dubai. The ruby was previously owned by Luz Mila Patiño, the Countess du Boisrouvray and daughter of Bolivian tin mine owner, Simón Patiño. The gemstone was previously known as the "Patiño Ruby" and was renamed, "The Hope Ruby". Another outstanding ring in the collection is set with a top-grade, octagonal 34-carat white diamond. This was purchased for $5.1 million. Additionally, a 31-carat baguette-shaped blue sapphire flanked by diamonds in a platinum Boucheron ring is an admirable jewel, which sold for $676.588.
When it comes to necklaces in the Christie's Jewels for Hope auction, an outstanding item was a two-strand Colombian emerald bead necklace with a diamond and emerald clasp. This item sold for $1.1 million. An additional million dollar necklace was a Cartier Belle Epoque diamond and emerald necklace. This necklace was created in 1906 and takes the form of a flower garland, with diamonds and emeralds set in gold and platinum (see image, below). Mrs Safra owned several pieces of jewelry from the same period, including a diamond and ruby evening bag. In fact, Lily Safra's jewels are not only an incredibly beautiful and valuable collection, but they are also representative of important historical eras of jewelry design, from the early 19th century through to Art Deco and beyond.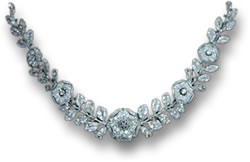 Cartier Emerald & Diamond Necklace Replica
Although she is privileged, Lily Safra has suffered some terrible tragedy. She lost her second husband to suicide, and her youngest son and grandson were killed in a tragic car accident. As if this wasn't enough, her fourth husband's shocking death in the fire of 1999 must have been heart-breaking. While some may say that Mrs Safra has merely married well and is lucky, there are not many who would give up their precious jewels for the benefit of others. At the end of the Christie's auction of her jewels, she was given a standing ovation and announced that she was "overjoyed, knowing that so many people in need around the world will benefit".