The Colored Gems & Jewelry of Elizabeth Taylor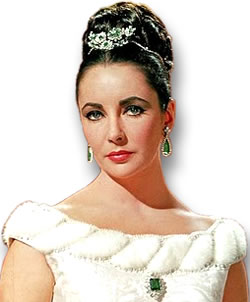 Elizabeth Taylor in an Emerald Suite
One of the most incredible collections of jewelry belonged to the late actress, Dame Elizabeth Taylor. Arguably her most incredible and celebrated jewels were her diamonds and La Peregrina Pearl, in fact, one of her best-known quotes is, "Big girls need big diamonds". But she also owned fantastic colored gemstone jewelry, some of which was given to her by her seven husbands or friends, and other items which she purchased herself. Elizabeth Taylor was born in 1932 in the UK, to American parents, and began an acting career at an early age. Her mother had been an actress before marriage and her father was an art dealer. Elizabeth Taylor appeared in "There's One Born Every Minute" at just 10 years old, and then achieved fame after starring in "National Velvet". She impressed the public with her performances and beauty, and was known for her unusual and striking "violet" eyes and double eyelashes. Ms. Taylor was a self-proclaimed jewelry lover. She famously said, "My mother says I didn't open my eyes for eight days after I was born, but when I did, the first thing I saw was an engagement ring. I was hooked.", and so began her love affair with jewelry.
While Elizabeth Taylor loved jewels from an early age, her collection did not expand until her third marriage to Michael Todd (1957-1958). Todd gave his beloved wife several exquisite pieces, including a Cartier Burmese ruby suite, which consists of a ruby and diamond bib necklace, earrings and bracelet set. These were presented to Taylor when she was swimming (while wearing her diamond tiara, also a gift from Todd), and she gazed into the water to admire the reflection of the glittering jewels. Tragically, their marriage was cut short when Todd died in a plane crash. Taylor went on to marry Todd's friend, Eddie Fisher, which caused a scandal because he was married to Debbie Reynolds when their affair began. Eddie Fisher proposed to Taylor with a 40-carat white diamond bracelet, and continued to build her jewelry collection with items such as a floral champagne, cognac and white diamond tremblant brooch by Bulgari. But it was husband number five who gifted her some of the most sumptuous jewels in her collection; Richard Burton.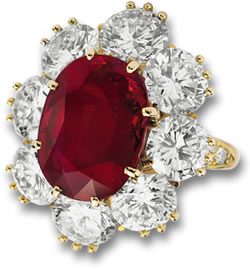 Richard Burton Ruby and Diamond Ring
In fact, Richard Burton was Elizabeth Taylor's fifth and sixth husband. They were married and divorced twice. Burton enjoyed bestowing lavish gifts of jewelry on his wife and would use any excuse to present her with breathtaking gems. Many of the jewels purchased by Burton for Taylor were historically important. These included the Taj Mahal Diamond and La Peregrina Pearl, which was a 1969 Valentine's Day gift. Another gift from Burton was an outstanding emerald and diamond suite by Bulgari. In 1960, Burton gave her Colombian emerald and diamond pendant earrings. A 23.46 carat Colombian emerald brooch was given to Elizabeth Taylor by Richard Burton on their engagement in 1962. It could also be worn as a pendant, and was later auctioned by Christie's for $6,578,500, which was a record price for an auctioned emerald. For Christmas in 1968, Burton presented Taylor with a fabulous ruby and diamond ring by Van Cleef & Arpels. The Burmese ruby weighs 8.24 carats and also achieved a record price for ruby at auction, selling for over $4 million. An incredible blue sapphire cabochon and diamond sautoir by Bulgari was another gift from Burton, this time the event was her 40th birthday. The large sapphire cabochon pendant in the Art Deco style necklace could also be worn as a brooch. The necklace achieved $5.9 million at auction in 2011. Another Art Deco piece from Richard Burton was an Egyptian Revival diamond and colored gemstone bracelet, which was previously owned by King Farouk of Egypt.
Elizabeth Taylor was not only given beautiful jewelry by her husbands, precious gifts were also given by friends and jewelry designers. World-renowned jeweler to the stars, Joel Arthur Rosenthal (known simply as "JAR") custom-designed a pair of spherical diamond and multicolored sapphire ear clips to bring out the color of her eyes. The ear clips feature light-green, violet and blue sapphires and were purchased in 2001. A year later, JAR gifted Taylor a diamond and platinum ring upon the event of her 70th birthday. Michael Jackson was a dear friend of Elizabeth Taylor's; she even married her last husband, Larry Fortensky at Jackson's Neverland Ranch in 1991. Taylor and Jackson were both childhood stars and had a mutual understanding and close relationship. He gave her several jewels, such as a diamond bracelet which was auctioned for $194,500. One of the more unusual items that Michael Jackson gave her was an elephant bag made from titanium, embellished with cultured pearls, diamonds and rubies. She was reported to have said that the pair had "exchanged elephants", since she responded by buying Jackson a real elephant.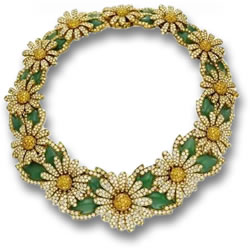 Van Cleef & Arpels Daisy Necklace
Taylor also added to her jewelry collection by purchasing items for herself. One piece of jewelry that she bought was a Van Cleef & Arpels Daisy Necklace with yellow and white diamonds and chrysoprase leaves. Taylor had borrowed the Daisy Necklace and earrings to wear to the 1993 Academy Awards where she was presented with the Jean Hersholt Humanitarian Award. She loved the Daisy Necklace so much that she promptly purchased the suite. Another item that she treated herself to was a coral, diamond and emerald lion bangle by David Webb, creator of award-winning animal themed jewelry (1967).
In her later years, after the AIDS-related death of her dear friend, Rock Hudson, Elizabeth Taylor set up an HIV/AIDS Foundation, to help research the disease and support sufferers. Elizabeth Taylor suffered from congestive heart failure, which caused her death in 2011. She will always be remembered for her acting and her marvelous jewels, which have been exhibited around the world. She once said, "I adore wearing gems, but not because they are mine. You can't possess radiance, you can only admire it." Indeed, the gemstones once worn by the legendary lady will continue to be admired for centuries to come.