Estate, Antique and Vintage Gemstone Jewelry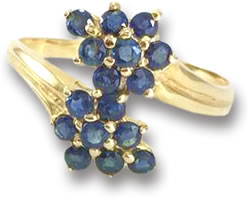 Estate Blue Sapphire Ring
There are several terms to describe previously owned jewelry and their application can be somewhat confusing. In order to gain a better understanding of how jewelry is categorized and know what you're dealing with, let's explore these terms in more detail.
Estate jewelry is usually assumed to have been part of the estate of a deceased person and is generally passed down from generation to generation. In this sense, "estate" refers to the possessions of a person, and jewelry items are part of those possessions. However, all previously owned jewelry tends to be labeled as "estate jewelry" whether the previous owner is deceased or not. To confuse matters further, estate jewelry can also be antique estate jewelry or vintage estate jewelry.
Antiques are usually defined as being old, rare, and sometimes of high quality. Antique jewelry is generally defined as being one hundred years old, or older, though jewelry from the 1920s is often called "antique". Antique jewelry is typically divided into two categories; fine jewelry and costume jewelry. Fine antique jewelry is valuable and made from natural gemstones, where costume jewelry may be made from inexpensive materials. During the Georgian and Victorian periods, affordable jewelry was made from inexpensive metals and alternatives to natural gemstones, such as paste, resin or glass. Therefore, antique jewelry may be worth a great deal or a lesser amount depending on its composition. Although it is less valuable than fine jewelry, antique costume jewelry is nevertheless collectible and treasured for its place in history.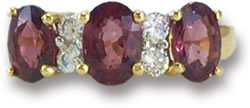 Something described as "vintage" is not considered to be modern, but is also not old enough to be antique. Thus, vintage jewelry may only be from the previous era, but will have lasting appeal, for example, it may embody the best characteristics of a particular period of time. Some would say that there is a definite difference between second-hand and vintage items. It is for this reason that we value vintage wine over "old" wine and treasure classic cars more than "used" cars. Vintage things are assumed to be high quality, collectible and valuable. Vintage jewelry is generally 20 years old or older, and often undergoes a fashion revival.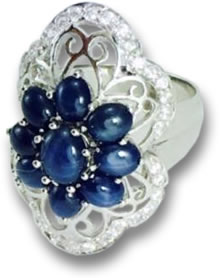 "Modern Vintage" Sapphire Cabochon Ring
The opposite of vintage is "modern", meaning "recent". Thus it is something of an oxymoron to use the phrase "modern vintage", yet it is referred to by interior designers and jewelry enthusiasts alike. Perhaps "modern vintage" pertains to something that has recently been made, but in the style of a previous era. On the other hand, "modern vintage" may simply be a mix of old and new. When referring to a piece that has been recently produced in a previous style, it should be called a "reproduction". Retro is another term that is used for fashion and refers to something reminiscent of a previous style; a throwback to the past. For example, a contemporary item made in 1960s mod-style would be retro.
While many prefer to buy new jewelry, pre-owned jewelry has its own value too. For one, antique jewelry is valued because it was painstakingly produced, rather than mass-produced in a factory setting. Sometimes, pre-owned jewelry contains gemstones that are becoming difficult to find nowadays; for example large blue sapphires or good quality rubies. Also, jewelry that was previously owned and loved often has an interesting story. By learning about jewelry through the ages, we can also learn about our history.