All Choked Up - Royal Colored Gemstone Choker Necklaces
A choker is a close-fitting necklace that is worn a little higher than a collar necklace. Choker necklaces can be narrow or wide and embellished with beautiful colored gemstones. While some prefer to wear their necklaces long, chokers are sophisticated and dramatic. Some of the finest colored gemstone chokers in the world have been worn by members of royalty. Queen consort of King Edward VII, Alexandra of Denmark, was a popular and beautiful monarch who wore pearl chokers in order to hide a scar on her neck. This led to a trend for pearl chokers.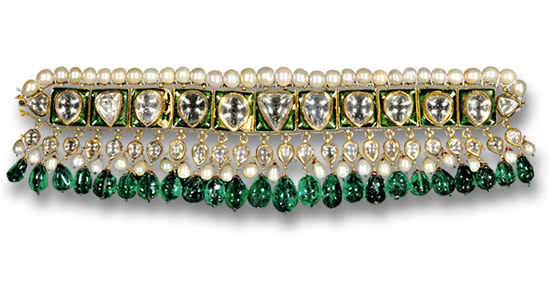 Emerald Drop, Diamond and Pearl Choker
One of the most prominent princesses who famously wore chokers was Princess Diana. She was rather fond of blue sapphires and owned several pieces of beautiful sapphire jewelry, including her famous blue sapphire engagement ring, which has now been passed on to Princess Kate, the Duchess of Cambridge. Princess Diana also owned beautiful blue sapphire chokers and even wore a blue sapphire and diamond choker as a headband. Probably the most incredible choker worn by Princess Diana was a seven-strand pearl choker with a large blue sapphire at the center. This sapphire began as a brooch, which was a wedding gift from the Queen of England, and was later refashioned into a choker that matched her engagement ring. Another famous pearl choker owned by the British Royal Family is Empress Maria Feodorovna's Sapphire Choker, which also has a central blue sapphire, surrounded by brilliant-cut white diamonds, and four strands of pearls which are separated at intervals by vertical bars embellished with white diamonds.
The Duchess of Cornwall, Camilla Parker Bowles owns several pearl chokers, one of which is a three-strand pearl choker with a large, central aquamarine. The aquamarine is in an elaborate gold and white diamond setting which is detachable, so that it can also be worn as a brooch. Queen Elizabeth herself owned an exceptional Art Deco platinum, emerald and diamond choker, which she loaned to Princess Diana (see image, left), who wore it as a headband and a necklace. It is also known as the Cambridge Emerald Choker and is said to have been made for Queen Mary out of emeralds presented to her by the Maharani of Patiala in 1911.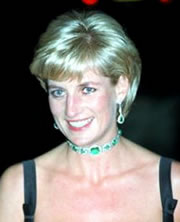 Princess Diana Wearing an Emerald Choker
One of the most beautiful ruby chokers ever made was worn by the Maharani of Patiala; one of several wives of the Maharajah of Patiala, India, Bhupinder Singh, who was known for his extravagance and love of cricket. The Maharajah of Patiala was the first man in India to own a plane and also had the world's highest cricket pitch built. The Maharajah commissioned Cartier to make the ruby choker. The choker features several strands of ruby beads, white diamonds and pearls set in platinum. This incredible piece of jewelry somehow disappeared and then surfaced later on the European market, where it was acquired by Cartier and restored to its former glory. Now the choker is part of the Al-Thani Jewelry Collection and is on display in the New York Metropolitan Museum of Art, where it can be enjoyed by many.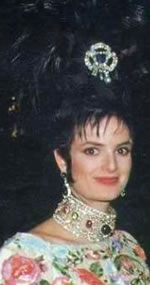 Princess Gloria von Thurn und Taxis
One of the most colorful royal chokers was worn by German Princess Gloria von Thurn und Taxis. In her younger days, she was known as "Princess TNT" and "the Punk Princess" because of her wild parties and alternative style. She once wore her hair in an 80-centimeter-tall mohawk, decorated with gemstone brooches! A beautiful white metal choker worn by her in the 1990s contained large emerald, ruby and sapphire cabochons surrounded by pearls and white diamonds. Another stunning choker worn by Princess Gloria was an Indian style necklace which featured pearls, diamonds and emerald drops (much like the top image). She owned an incredible collection of jewelry, some of which was auctioned after she was widowed.
Colored gemstone chokers are not worn by royals as often some other jewelry items, such as tiaras, earrings and brooches. Perhaps this is because they are less versatile and can be more difficult to wear due to making the neck appear shorter. For those with wide necks, slim chokers are best, whereas slender-necked ladies can carry off wide chokers. Chokers are attention-grabbing jewels that draw the eye toward the face. Therefore, chokers may only be for the most daring dignified ladies.