GemSelect Newsletter - March 2007
This month's newsletter is all about one of our favorite gemstones,
tourmaline
: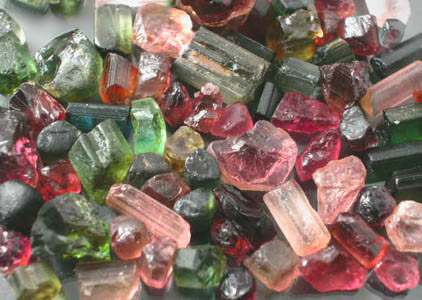 Tourmaline Rough
How Tourmaline Led the Modern Colored Stone Market
Back to Top
In 1875, the 20 year old Kunz walked into the offices of Tiffany & Co. in New York City with some fine green tourmaline that he had obtained from the Mount Mica Mine in Maine. Tiffany & Co., founded in 1837, had already become the largest jewelry business in the world, but their business was strictly in precious stones - diamond, ruby, emerald and sapphire. Kunz wanted to sell them semi-precious stones, and he brought a green tourmaline gem to convince them.
Kunz managed to get in to see Charles Tiffany on that day, and persuaded him to buy the tourmaline. It was the beginning of a long relationship. Kunz eventually became the resident gem expert at Tiffany & Co., an influential position that he held for nearly his whole life.
Tiffany became the world leader in colored gemstones and introduced many new colored gem varieties to the market in their famous jewelery designs. It is fitting that Tiffany's leadership in the colored stone market began with that tourmaline they purchased from George Kunz.
That's because tourmaline is in many respects the quintessential colored gemstone. It combines good hardness (7 to 7.5 on the Mohs scale) with excellent durability (it has no cleavage). It occurs in an astonishing array of colors, including bi-color and tri-color crystals such as the distinctive watermelon variety, that are instantly recognizable as tourmaline. The best tourmaline has excellent clarity and a vitreous luster that makes it the equal of any of the precious stones. Also, because of its tremendous color variation and pleochroism, almost every piece of tourmaline is quite unique.
Tourmaline also has some intriguing physical properties that make it a rather special mineral. If a tourmaline crystal is heated and then cooled, or has pressure applied (e.g, by rubbing), it will become electrically charged. It will then attract dust particles as well as small pieces of paper. These effects, known respectively as pyroelectricity and piezoelectricity, require tourmaline to be cleaned more often than other gemstones.
Tourmaline is found in many places in the world and it is one of the few gemstones for which the USA is famous. The first American tourmaline discoveries were made in 1822 in the state of Maine. California became a producer of tourmaline only 80 years later. In fact, tourmaline was the first gemstone mined in the United States by miners other than prehistoric man or Native Americans. Tourmaline mining began at Mount Mica, Maine, and with a few interruptions, has continued to the present day. During the early 1900s, Maine and California were the world's largest producers of tourmaline gemstones. The Empress Dowager Tz'u Hsi, the last Empress of China, loved pink tourmaline and bought large quantities for gemstones and carvings from the Himalaya Mine, located in San Diego County, California. Today most of our tourmaline supply comes Africa, particularly Nigeria and Tanzania.
Our buyers are always busy seeking out the best value gems for our customers. Here are some of the excellent buys we've made in the last few weeks:
Cornflower Blue Sapphire from Madagascar: We've finally found some more of the very popular round blue sapphires from Madagascar. These have good color and quite clean; most of the stock is VS-grade. Weights range from about 0.5 carats to 1.3 carats. These make outstanding earrings.
Chrome Diopside from Russia: We have acquired a small number of pieces of rare chrome diopside from Russia. These are vivid green diopside gems, colored by trace amounts of chromium. We find these only about once a year.
Red Pink Tourmaline Cabochons from Nigeria: We've just acquired some very fine red pink tourmaline cabochons. They have terrific color saturation and very good luster. They are quite clean for cabochon-grade material.
Rutile Quartz from Brazil: Rutile quartz is transparent quartz with inclusions of golden rutile crystals in delicate patterns. Every piece is entirely unique. A favorite with collectors. There are only a small amount of these.
Andalusite from Brazil: Andalusite is a fascinating gemstone with distinctive pleochroic qualities, meaning it has different colors when viewed from different angles. It's quite a hard gemstone (7 to 7.5 on the Mohs scale) so it's suitable for all kinds of jewelry.
Red Spinel from Burma: We think all spinel is wonderful stuff, but the red is especially valuable. We've been adding a number of very interesting pieces to our stock. You'll find red and deep red spinel in oval, octagon, cushion and trillion shapes, in gems ranging from about 1 to 3 carats. Red spinel is an excellent substitute for ruby, and in fact has some characteristics that are superior to ruby. In case you missed it, we had a good article on the topic in our December 2006 newsletter.
Moonstone from India: There is nothing quite like the delicate shimmer of light that is so distinctive of moonstone. We've just bought a new selection of some first-rate pieces, with colors ranging from smoky gray and mocha to orange. These are good sized pieces, mainly in the 10 to 25 carat weight range. They make outstanding jewelery and are very popular with collectors. We also have some interesting new star moonstone as well.
Lapis Lazuli from Afghanistan: Lapis lazuli is one of the most historically important of all decorative minerals. It's not so easy to find these days, but we were lucky to have picked up some lovely specimens. Collectors take note!
Chrome Tourmaline from Tanzania: One of the rarest and most valuable varieties of tourmaline, chrome tourmaline is colored by trace amounts of chromium and vanadium, giving it a remarkably vivid forest green hue, similar to fine emerald and tsavorite garnet. We rarely find these, especially in this quality.
Cat's Eye Tourmaline from Brazil: You rarely see them, but tourmaline gems sometimes exhibit chatoyancy (the cat's eye effect). These lovely olive green cabochons are from Brazil. Available in some larger pieces, these make very interesting jewelry.
Tsavorite Garnet from Kenya: Tsavorite garnet is rare and expensive, but we recently bought a small lot of rough stones, which we have been cutting in our shop. Tsavorite tends to have some inclusions, but its vivid green hue is unique in the gemstone world.
Agate from Brazil: Agate is a form of chalcedony that forms in layers, often producing distinctive multicolored bands. We've acquired a number of fascinating pieces from Brazil, in a variety of shapes, sizes and colors.
Top Spessartite Garnet from Namibia: We've made a great buy on some very fine mandarin spessartite garnet. These are high quality pieces, mainly VVS-VS and VS, with the top mandarin orange color. There are trillions, ovals, pears and octagons, ranging from around 1.25 ct to around 2.5 ct.
Red Orange Sapphire from Tanzania: We have been searching for these gorgeous red orange Songea sapphires for a while, and this week we found some. We were only able to buy a small amount of these, mainly weighing 1 to 1.5 ct.
Pink Sapphire from Madagascar: We often have have some lots of pink sapphire in small sizes, but we rarely find pieces weighing over one carat. We've just found a small number of pieces from 1 to 1.25 ct, with excellent color saturation and good clarity. We've had so many requests for pink sapphire, so here's your chance.
Each month our staff select some of their favorite gemstones from our inventory. This month they've chosen some special tourmaline pieces.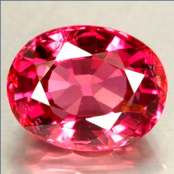 Pink Tourmaline
We've been cutting pink tourmaline in our shop in Chanthaburi during the last month and from time to time we find some truly outstanding colors. This piece is hot pink with a red secondary hue; it's probably the most saturated pink tourmaline we've seen.
3.59 VVS Tourmaline from Nigeria
A lovely bi-color tourmaline in a modern cut, with the classic hues of green and pink-red. This piece displays many of the characteristics of fine quality tourmaline - excellent clarity, a vitreous luster and complex color tones.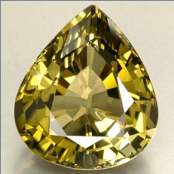 11.68 VVS Tourmaline from Nigeria
Large tourmalines are not unusual, but it is not easy to find big ones as clean as this. This well-cut pear-shaped gem has a lovely golden secondary color that really makes it sparkle.
Each month we focus on one of the lesser known gemstones. This month's featured stone is chrome tourmaline.

Chrome Tourmaline
Tourmaline is of course a well-known gemstone family. But chrome tourmaline is not well-known at all, largely because it is rare and expensive, and few people have had a chance to own it.
Chrome tourmaline is not just a tourmaline color, but is actually a distinct variety, called chrome dravite. It was first mined in Tanzania in the 1960s, so it is a recent discovery. To date, it has only been found in East Africa, specifically in Tanzania, Kenya, Zambia and Namibia. Like emerald and tsavorite garnet, fine chrome tourmaline is pure "forest" green with slightly yellowish to bluish secondary hues. The blue will normally show itself in incandescent light; the yellow will be more visible in daylight. A blue secondary hue, as in the photo above, is preferred to yellow.
Every month we answer questions of general interest from our customers. Please feel free to send your questions or suggestions to our support team at help@gemselect.com!
Question
Why are many tourmalines cut in long narrow bars? I don't see many other gems cut that way. Is it just the fashion now? Thanks in advance, JL, USA.
Answer
Tourmaline forms in long crystals with a triangular cross section and rounded sides. Since gem cutters strive to preserve as much of the rough stone as possible, you often see tourmaline cut in long bars, octagons or baguettes. Additionally, a lot of tourmaline has interesting color variations in these long crystals and these cuts also tend to preserve and showcase these unique color characteristics.
Question
How many distinct varieties of tourmaline are there? BB, Germany.
Answer
There a number of names for tourmaline that have been used in the gem trade, including rubellite, indicolite, verdelite and siberite. But these are not strictly varieties of tourmaline; they really refer to different colors of tourmaline. Mineralogy distinguishes a number of different tourmaline varieties according to their chemical composition. By far the most common of these is elbaite or lithium tourmaline.
Keep up with our new arrivals before they hit the newsletter by joining our thousands of fans and followers on our social networking pages. We love interacting with our customers - you can visit us on Tumblr, LinkedIn, Twitter, Facebook or Pinterest!
To ensure you can receive our emails, please be sure to add help@gemselect.com to your list of safe contacts, or you add us into your email address book! Please feel free to contact us with any questions, comments and queries! We respond to each and every email we receive.
Happy Gem Hunting!
Your friends at GemSelect