GemSelect Newsletter - December 2006
In our newsletter this month:
One of the most famous gemstones in the world is the Black Prince's Ruby, which is in the Imperial State Crown of the United Kingdom. You can see it on public display in the Tower of London (or see the photos below). This almost 5 cm long, glowing red uncut stone is estimated to weigh 170 carats. It has been in the possession of the British Royal Family since 1367.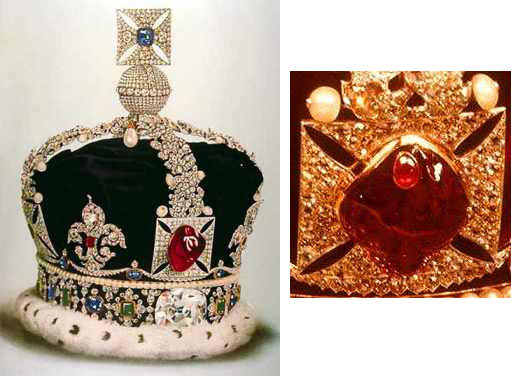 Black Prince's Ruby
The Black Prince's Ruby is a remarkable stone. But one of the most remarkable things about it is that it's not a ruby at all. It's a red spinel.
Prior to the scientific study of minerals, all red gems were called 'ruby'. In 1783, mineralogist, Rome de Lisle, was the first scientist to clearly distinguish the differences between true ruby and spinel. But the Black Prince's Ruby was not correctly identified as spinel until recently.
Spinel is composed of magnesium aluminate, colored by chromium and iron. It is quite hard (8 on the Mohs scale), and forms as cubic crystals like diamond. Spinel occurs in octahedral crystals, and has a complete absence of cleavage (unlike diamond). Due to spinel's excellent dispersion, spinel gems can possess vivid fire. The intensity of spinel color is partly due to the fact that spinel is singly refractive.
Spinel is usually formed as a contact metamorphic mineral in limestone. It is discovered as rolled pebbles in sand and gravel pits. Nowadays, spinel is mined primarily in Burma and Sri Lanka, usually alongside corundum (ruby and sapphire). Large stones are very rare; spinel gems weighing ten carats are practically nonexistent.
The most desirable colors that are sought after by collectors are red, hot pink and flame orange. Any spinel weighing over two carats is rare. The most valuable spinel is red or reddish-orange. One of the attractions of spinel is that it comes in a wide range of gorgeous colors. For red spinel, the finest colors tend to be similar to ruby, i.e. a rich, intense red, similar to that of a red traffic signal. However, spinel tends to be a bit more of a brick red than ruby (which is slightly more purplish). Like all gems, the most coveted are those with intense color, whilst being neither too light nor too dark. The value of red spinel tends to decline as the color diminishes into either light pink or 'garnety' (brownish) red.
So what is the great secret of spinel? The answer is that spinel is in many respects the equal of ruby and sapphire. Though ruby is slightly harder (9 on the Mohs scale), spinel contains fewer inclusions than ruby, and spinel has greater fire and brilliance. Spinel is never heated nor treated in any way; indeed, there is no known treatment for improving the color or clarity of spinel. Conversely, virtually every affordable ruby is treated in some way these days. Also, since spinel is singly refractive and ruby is doubly refractive, the primary color in red spinel appears purer and more intense than the red seen in many rubies. Yet, spinel is typically purchased for 20-50% less than ruby. That makes spinel tremendous value since prices for fine gems are rising every year.
Why then isn't spinel better known and more highly valued? The simple answer is that supply is very limited, and the jewelry industry doesn't market what it can't get. So spinel continues to be mainly a collector's stone. Here at GemSelect we are lucky to be located close to the source of the finest spinel in Burma, and our home of Chanthaburi is a major cutting and trading center for Tanzanian spinel. Although spinel supply is limited, we have better access to the supply than most gem dealers. Therefore, spinel is still a secret, but it's a secret we like to share with our customers.
We keep a large inventory at GemSelect; typically over 7,000 gemstones. We love to buy new and interesting gems, so from time to time we need to do a bit of housecleaning and clear out some excess stock. This is your chance to pick up some excellent bargains. Each day we offer 20 gems on our bargain page at a 40% discount, with a new choice offered each day. So if you see something you like, don't hesitate!
Our buyers are in the market every day finding the best value for our customers. Here are some of the excellent buys we've made in the last two weeks. Click on the gem names to view the latest samples.
Emerald from Colombia: Looking for a fine emerald at an outstanding price? We just acquired some wonderful pieces in sizes up to 3 carats, in ovals, octagons and pairs. These are the best value emeralds we've found all year.
Blue Sapphire from Nigeria: We've been looking hard for some large blue sapphires. We've just made a super buy on some Nigerian sapphire, in blue and deep blue. These are well sized for rings, weighing about 1.9 to 2.3 carats, and quite clean (most pieces are VVS-VS). The pricing on these is extremely attractive at about $150 per carat.
Spessartite Garnet from Namibia: Spessartite is incredibly popular these days, and we had sold out most of our stock. Here are some new pieces, in mandarin and red. The mandarin gems weigh up to 2 carats and are various shapes. The reds are a bit unusual - very clean pieces in octagonal bars.
Sea Green Apatite from Madagascar: Neon green-blue is a very hot color in gemstones these days. With Paraiba tourmaline becoming impossibly expensive, this apatite from Madagascar is a highly regarded and affordable alternative. We've found some specimens with that real electric Paraiba-like color, in a variety of shapes. Many of the pieces are eye-clean.
Red Spinel Pairs from Burma: Beautiful red spinel is terrific value. We've just bought some matching round pairs, ideal for earrings, in a perfect red hue.
Prehnite from South Africa: Last month we acquired some new prehnite cabochons. Now we've added some oval checkerboard faceted pieces with a fascinating luster. These are marvelous and unique pieces at a very affordable price.
Star Moonstone from India: There is nothing quite like the magical shimmer of light over the surface of moonstone. We've added some lovely new pieces from India in the 14-18 carat range.
Amethyst from Uruguay: Amethyst is always in good supply here and the prices are attractive. We've been adding to our stock in the last few weeks with some very fine rich violet pieces, some interesting carvings, and a huge variety of shapes and cuts. We now have over 400 pieces in our amethyst stock, all at very affordable prices.
Black Diamond from India: In response to customer interest, we've started stocking some colored diamonds. We've just added some stunning natural black diamonds from India, diamond cut, weighing 1 carat to almost 2 carats.
The traditional birthstone for December is turquoise. Turquoise, known for thousands of years, has long been appreciated as a holy stone, a good-luck-charm or a talisman found in every type of jewelry. It is believed to promote good fortune, happiness and a long life. Recently, tanzanite was added to the list of birthstones for December by the American Gem Trade Association, the first time a change had been made to the birthstone list since 1912.
Fluorite is quite a soft stone (scoring 4 on the Mohs scale), so is best used for pendants, brooches or earrings. It is quite a difficult stone to cut, so it needs an expert lapidary to do it justice. But the colors are splendid, and it is a relatively inexpensive gem that is available in good sized pieces. We even have a few pieces weighing over 50 carats that are suitable for collectors. For more information see our fluorite information page.

Fluorite Gemstone
Every month we answer questions of general interest from our customers. Please feel free to send your questions or suggestions to our support team at help@gemselect.com!
Question
Why are certain rubies referred to as having the color of "pigeon's blood"? Thanks! BP, USA.
Answer
The purest red was described as having the color of the first two drops of blood from the nose of a freshly killed Burmese pigeon. We have to admit that we haven't tested this ourselves. Pigeon's blood was thought to have no tinge of blue or pink, just like the finest Burmese rubies.
Question
What is the most cost-effective and reliable shipping method to use for delivery during the holiday season? CG, USA.
Answer
The fastest and most reliable shipping method to most places in the world is FedEx. Standard FedEx service takes around 3-4 days from Thailand, and packages are fully insured and trackable online. If you live in a country outside the USA where gemstones are subject to customs duties (there is no customs tariff on gemstones imported to the USA), EMS shipping is a better option since it usually avoids additional fees. See our
shipping
page for more details.
Keep up with our new arrivals before they hit the newsletter by joining our thousands of fans and followers on our social networking pages. We love interacting with our customers - you can visit us on Tumblr, LinkedIn, Twitter, Facebook or Pinterest!
To ensure you can receive our emails, please be sure to add help@gemselect.com to your list of safe contacts, or you add us into your email address book! Please feel free to contact us with any questions, comments and queries! We respond to each and every email we receive.
Happy Gem Hunting!
Your friends at GemSelect