GemSelect Newsletter - May 2008
In our newsletter this month: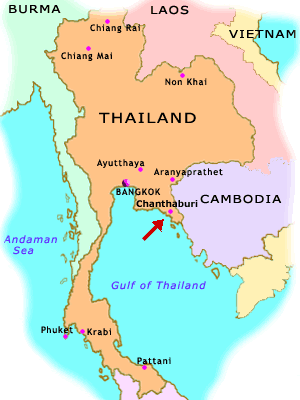 Thailand Map - Chanthaburi
GemSelect is based in Chanthaburi, Thailand, a town of about 50,000 people located 245 km southeast of Bangkok (see map). It is not a very well known tourist attraction. In fact you'll hardly find it mentioned in the average guidebook. In the gemstone world, however, it's a different story - Chanthaburi is one of the international centers for cutting and trading colored gemstones, as important as Jaipur in India or Idar-Oberstein in Germany. Chanthaburi's weekend gemstone market is a rare experience for any gemstone lover.
Chanthaburi is also a wonderful place to live and work. As expatriates who've settled in Thailand for some years, we've come to love the life here. Though living and doing business in a developing country can be challenging - we've survived a major flood and a minor military coup in the last couple of years - the quality of life and the hospitable Thai people more than compensate for the occasional difficulties.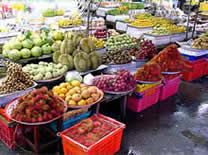 Local Fruit Market in Chanthaburi Thailand
While foreign tourists have not yet discovered us, Thai people know Chanthaburi as an area of great natural beauty and outstanding food. Located on a plain between the Gulf of Thailand and the rugged Chanthaburi Mountains, Chanthaburi is one of the few places in Thailand where you can enjoy both unspoiled beaches and mountain waterfalls. With an annual rainfall of more than 3,000 mm, Chanthaburi is famous for its tropical fruit, particularly durian, rambutan, mangosteen and longan. We also have abundant seafood, especially shrimp, much of it exported; and Chanthaburi is an important producer of high quality white and black pepper.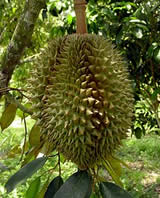 World Famous Durian Fruit from Chanthaburi
Chanthaburi also has quite a fascinating history. When Ayutthaya, the historical capital of the Kingdom of Siam, was attacked and completely destroyed by the Burmese in 1767, the country was thrown into chaos. A Thai military commander named Phraya Taksin retreated to Chanthaburi, where he built up a force to repel the Burmese. After the defeat of the Burmese, Taksin became King of Thailand in 1768 and started to rebuild the nation.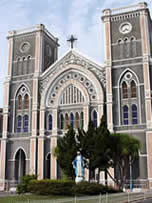 Catholic Cathedral in Chanthaburi, Thailand
Though they fought a series of wars with Burma, the Thais are proud that they have never been colonized. While all the other countries in the region - Vietnam, Cambodia, Laos, Burma, Malaysia and Indonesia - were once colonies of the French, British or Dutch, Thailand remained independent. Chanthaburi, however, was a temporary exception. When Thailand tried to exert control over Laos and Cambodia in the 19th century, it led to a conflict with France in 1893, known as the Paknam crisis. This resulted in the French occupation of Chanthaburi until a peace treaty was signed in 1905. Signs of the French occupation can still be seen in the French architecture of the old town and the largest Catholic cathedral in Thailand.
With its flourishing gem trade, and fruit and seafood industries, Chanthaburi is a prosperous town; probably one of the wealthiest in Thailand. It has a small but significant foreign population, though most are African gem traders, not Westerners. English is not widely spoken, but foreign visitors are warmly welcomed.
We add hundreds of new gems to our inventory every day and we upload new content to our site each week, in the form of articles and reference material.
Recently we've added new articles on topics including Zultanite, synthetic corundum and the gemstone cutting process. For useful buying information, see our new articles on untreated gemstones and buying tourmaline.
In a new feature beginning this month, we focus on a rare and unusual gem from our recent acquisitions. This month's featured gem is a huge sphene from Sri Lanka:

Natural Heart Shaped Sphene at GemSelect
Sphene, also known as "titanite", is a brilliant yellowish-green, green or brown gemstone of high luster, unique shades of color and an intensive fire, comparable to that of diamond. Although it is always in demand, sphene is a rare gem and very large sphene gems with excellent clarity are extremely rare.
This 12.18 carat heart-shaped piece is the largest sphene we have ever been able to buy, and also one of the cleanest. Sphene tends to be included, but this piece is so clean we've graded it VVS. The brilliance and fire of this sphene is difficult to capture in a photograph; this gem glitters like very few colored gems we've seen. This large sphene is perfectly sized for a very impressive pendant.
Every month we answer questions of general interest from our customers. Please feel free to send your questions or suggestions to our support team at help@gemselect.com!
Question
I was just wondering ... why do so many gemstone names end in "ite"? Thanks for your thoughts. MM, USA.
Answer
The "ite" suffix is derived from the Greek word, lithos meaning rock or stone (the adjectival form of lithos is "-ites"). It is a convention in the mineral world that new minerals are given names ending in "ite." The Commission on New Minerals, Nomenclature and Classification of the International Mineralogical Association publishes guidelines for naming new minerals (or renaming old ones).
Question
Is there a difference between brilliance and luster in gemstones? Or do they have the same meaning? FB, Australia.
Answer
Brilliance and luster have loose meanings in everyday language, but they are technical terms in gemology.
Brilliance
refers to the light reflected from the interior of a gem. Thus only a transparent gemstone can be said to have brilliance.
Luster
, on the other hand, refers to the light reflected from a gem's surface. Brilliance is graded from low to high, but luster is usually described in terms such as
vitreous
(glass-like), adamantine (diamond-like), silky, resinous, dull and greasy.
Keep up with our new arrivals before they hit the newsletter by joining our thousands of fans and followers on our social networking pages. We love interacting with our customers - you can visit us on Tumblr, LinkedIn, Twitter, Facebook or Pinterest!
To ensure you can receive our emails, please be sure to add help@gemselect.com to your list of safe contacts, or you add us into your email address book! Please feel free to contact us with any questions, comments and queries! We respond to each and every email we receive.
Happy Gem Hunting!
Your friends at GemSelect