GemSelect March 2014 Newsletter: Siamese Sapphires
Chanthaburi Provincial Logo and Motto
Chanthaburi (pronounced "Jantaburi" , but officially transliterated into English as "Chanthaburi") is a small, unassuming town on the Eastern Seaboard of Thailand that shares a border with Cambodia. Those not involved in the gem trade will probably have never heard of it. In fact most tourists tend to pass through Chanthaburi on their way to tropical islands such as Koh Chang in Trat. However, Chanthaburi is the jewel in the crown of Thailand's gem trade and an international center for colored gems. In fact, the local university, Burapa, has a faculty of gems and offers special courses in gemology and jewelry.
Chanthaburi is home to not only mineral wealth, but a wealth of expertise when it comes to processing gemstones.
It all began with the local mining of rubies and sapphires. A local legend says that the gems of Chanthaburi came from a bright light that shone over the night sky and then fell to earth. In the place where it fell, villagers saw a green glow coming from a hole in the ground, which they named "the mother of gems". However, when they tried to touch the mother of gems, she flew away, followed by her babies. It is said that the baby gems left behind in the earth are the gems of Chanthaburi.
These mineral deposits were mined from as early as the 1400s and while most deposits are now depleted, there are still small mines in operation to this day. The main gem rush occurred from around the mid 1800s, when the Siamese jewels were mined by the Shan people, who came from Burma.
Chanthaburi Gem Market
The mineral wealth of Chanthaburi led to it being a center for gem trade, and despite the main gem rush being over now, Chanthaburi still hosts a busy gem market at the weekends. The interesting thing about the weekend gem market is that the buyers sit at a desk and the sellers are the ones who walk around.
Chanthaburi has remained a colored gem center because the gemologists of Chanthaburi have diversified their gem processing to include colored gems of many types. Although nowadays most rubies and sapphires that are traded here come from outside Thailand, these precious stones still pass through Chanthaburi, where they arrive rough, to be fashioned into the shining gems that are made into fine jewelry.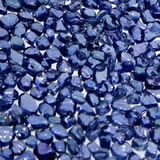 Chanthaburi Rough Sapphires
Sapphires from Chanthaburi can still be found here in several interesting colors, as well as the traditional blue. Chanthaburi also has rare black star sapphires, which have rutile inclusions that cause asterism (the star effect). The black and gold star sapphire is indigenous to Thailand. Other Chanthaburi sapphires include golden yellow sapphires, sometimes referred to as "Mekong whisky sapphires" due to their golden hue. Also there are green sapphires in shades from deep green to bluish-green and yellowish-green.
Green Chanthaburi Sapphire
The stone on the right is a beautiful oval faceted, green sapphire with flashes of blue, from Chanthaburi. Sapphires belong to the corundum family. Red corundum is known as ruby and all other colors are referred to as sapphire. Green sapphire is colored by small amounts of iron. With a Mohs scale hardness score of 9, sapphire is an extremely durable gemstone. Sapphires are also the birthstone for September.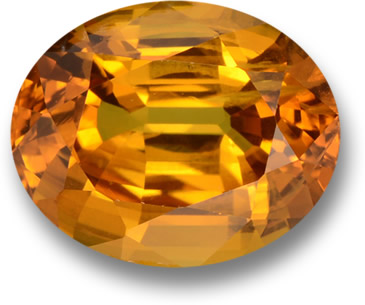 Yellow Golden Sapphire
The above is a "Mekong whisky" golden yellow Chanthaburi sapphire. As with the green sapphire, its color comes from traces of iron. Professional gemologists in Chanthaburi have developed ingenious ways to enhance sapphires and bring out their rich yellow hue. Yellow sapphires range in color from pale yellow to a deep honey or deeper orange color. According to metaphysical beliefs, yellow sapphire brings wealth, prosperity and success.
Black Star Sapphire
This black star sapphire is also from the "sapphire capital of the world", Chanthaburi. This star effect, known as asterism, is the result of tiny rutile inclusions, also referred to as "silk". When there are two sets of inclusion; rutile and hematite, a twelve-rayed star can occur. In order to display asterism, star sapphires are cut into cabochons.
Remarkable Australian Sapphire Discovery
A huge 753 carat blue sapphire was found in Queensland Australia last month. A local man made the lucky find when he was on the lookout for gemstones after the rain. As they say, every cloud has a silver lining.

Horse Year Spurs Gold Sales
Chinese New Year has seen a boost in jewelry sales because the year of the horse is seen as an auspicious time for weddings and starting families. Sales have increased by 26% since December 2013. The most popular items are gold and feature horse motifs, which have been trotting off the shelves.

Huge Diamond Found in Sierra Leone
A 153 carat diamond, valued at over US$6 million has been discovered in Sierra Leone by a licensed exporter. The discovery was announced by the National Minerals Agency on 19th February and surpasses the largest find of 2013. It was said that its price could only be met or surpassed by a fancy pink or blue diamond.
| | | | |
| --- | --- | --- | --- |
| Event Name | Location | Venue | Dates |
| HKTDC, Hong Kong International Diamond, Gem and Pearl Show | Hong Kong SAR | Hong Kong Convention and Exhibition Centre | March 3 - 7, 2014 |
| Al Ain Jewelry and Watch Exhibition 2014 | United Arab Emirates | Wedding Hall Al Khubaisi, UAE | March 3 - 8, 2014 |
| Best Adornments of Russia | Moscow, Russia | All-Russian Exhibition Centre, Moscow, Russia | March 6 - 9, 2014 |
| International Gem and Jewelry Show, Seattle | Seattle, USA | Seattle Center | March 7 - 9, 2014 |
| ASD Las Vegas Jewelry 2014 | Las Vegas, USA | Las Vegas Convention Center, Las Vegas, USA | March 16 - 19, 2014 |
| Amberif 2014 | Poland | Gdansk International Fair Grounds, Gdansk, Poland | March 19 - 22, 2014 |
| Global Gem and Jewelry Fair (GGJF), Dubai | Dubai | Dubai Multi Commodities Centre, Dubai | March 20 - 22, 2014 |
| Istanbul Jewelry Show | Istanbul, Turkey | Istanbul Fair Center (CNR Expo) | March 20 - 23, 2014 |
| Jewelers International Showcase (JIS) | Miami, USA | Miami Beach Convention Center, Miami Beach, USA | March 29 - 31, 2014 |
| Baselworld 2014, The World Watch and Jewellery Show | Basel, Switzerland | Messe Basel, Switzerland | March 27 - April 3, 2014 |
Every month we answer questions of general interest from our customers. Please feel free to send your questions or suggestions to our support team at Help@GemSelect.com!
| | |
| --- | --- |
| Q: | I notice that the emeralds on your website seem to have a lot of inclusions, is this normal? |
| A: | Yes, actually, inclusions are a characteristic of emerald and can be used to identify emerald gemstones. Inclusions in emeralds are part of the package. When buying emeralds, color is key and the most valuable emeralds are highly prized for their color above all else. Most emeralds are treated with oil or resin to fill in the tiny fissures, which also helps to identify them as natural. |
| Q: | I am having problems buying gems on your website, can I pay over the phone? |
| A: | Unfortunately we do not take payments over the phone. This is because the safety of your personal information is at risk. Paypal payments, direct bank transfers and Western Union transfers are much more secure, so these are the best ways to accept payment. |
We hope you found our topics interesting. Please feel free to send us your questions, comments or feedback!
To ensure you can receive our emails, please be sure to add help@gemselect.com to your list of safe contacts, or you add us into your email address book! Please feel free to contact us with any questions, comments and queries! We respond to each and every email we receive.
Happy gem hunting,
Your friends at GemSelect