Shop By
You Selected (1365): Gemstones from Thailand
Clear All
ID: 329169

2

pcs
7.82 ct Spinel
10 x 8.1 mm
$
15.64
Item in Stock
ID: 267554

4

pcs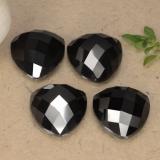 17.01 ct Spinel
10.1 x 9.9 mm
$
85.05
Item in Stock
ID: 328987

2

pcs
8.03 ct Spinel
10.1 x 8.1 mm
$
16.06
Item in Stock
ID: 329178

2

pcs
7.86 ct Spinel
10 x 8.1 mm
$
15.72
Item in Stock
ID: 378997

2

pcs
15.54 ct Spinel
11.8 x 11.8 mm
$
46.62
Item in Stock
Gemstones from Thailand
Every year, travelers from all over the world flock to tropical Thailand not only for fascinating culture, spicy ethnic foods and pristine beaches, but also to seek gem and
jewelry bargains
. It is no secret that Thailand is world-famous when it comes to gemstones. Not only is it considered an international center for gem processing and the world's hub for the trading of colored gems, but the Kingdom also is known to mine and commercially produce many different exotic gemstones, in addition to uniquely specific 'varieties' of gem types, such as
black star sapphire
. As of recent statistics, gemstones and jewelry make up the fourth largest source for Thailand's export income.
There are many gemstone regions in Thailand, such as Kanchanaburi, Trat, Mae Sot, Mae Sai, Chiang Mai and Bangkok, but the real heart of the gem trade lies within
Chanthaburi
, a province in South-East Thailand. Some of fine
Thai gemstone types
include sapphire, star sapphire, fine quality spinel, and of course, Thai tiger's eye and Thai tiger's eye matrix.